You are currently browsing the monthly archive for January 2016.
March 7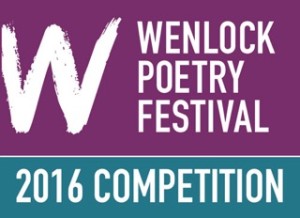 Wenlock International Poetry Competition 2016
http://www.wenlockpoetryfestival.org/competitions
February 14
Hurry!
Only three week's to go
to get your entry in for the York Literature Festival / YorkMix.com Poetry Competition.


http://www.yorkliteraturefestival.co.uk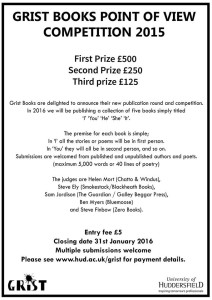 January 31
GRIST BOOKS POINT OF VIEW COMPETITION 2015 (sic)
Calling all amateur and published writers! Grist Books are delighted to announce that they are publishing a collection of 5 books in 2016 simply titled 'I', 'You', 'He', 'She', 'It'.
http://mhm.hud.ac.uk/grist//competitions/index.htm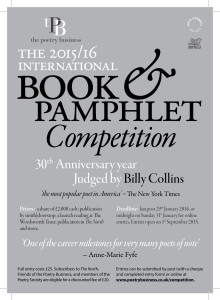 January 29
The 2015/16 International Book & Pamphlet Competition
and the Yorkshire Poetry Prize
30th Anniversary Year
www.poetrybusiness.co.uk/competition. 
January 31
Torriano Poetry Competition 2015
(Proceeds to the Torriano Meeting House Support Fund)
January 13
@ Barn Owl Trust Open Poetry Competition
"Poetry Competition" Barn Owl Trust, Waterleat, Ashburton, Devon TQ13 7HU
January 26
Ó Bhéal's Five Words Competition
Weekly closing date Tuesday at noon
Must feature the five words on the website:
www.obheal.ie
January 15
Guernsey International Poetry Competition 2016
 www.guernseyliteraryfestival.com
Your poem read by thousands, on buses and posters all over the beautiful island of Guernsey. Please view online samples. Prizes: £600, £400, £200, poems 14 lines maximum. Entries @ £4 per poem, 3 poems @ £10, young people FREE. Categories: Open Poetry, Channel Islands' Poetry, Young People's Poetry.
15 finalists, plus 18 more, chosen for exhibition by Judge Ian McMillan.
Write to poetry@cwgsy.net, or
Poems on the Move, Guernsey Literary Festival, PO Box 174, St Peter Port, Guernsey GY1 3LG, Channel Islands, UK.
Entry forms at www.guernseyliteraryfestival.com: COMPETITIONS, Poems on the Move, Competition Leaflet 2016 Read the rest of this entry »
Kent & Sussex Poetry Society
 OPEN POETRY COMPETITION