Ghost: The Musical
March 5-9
Touring until May 4
Storeyhouse, Chester
Reviewed for North West End: www.northwestend.co.uk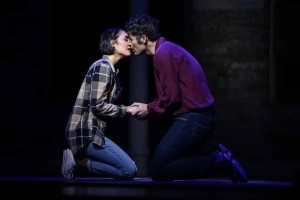 4*
I can't deny there have been times when it feels like I'm the only one in the theatre not laughing – it's a damn sight worse if it looks like it's just you with the giggles. When Molly first sits down at the potter's wheel, she's probably aiming to create a bowl but what emerges is, shall we say, unfeasibly perpendicular… You get the picture, I'm sure… This is not in fact what has been referred to, curiously, as the 'infamous image'; unfortunately, the one most of us would describe as iconic, hero and heroine entwined over said wheel, is so abruptly cut short, you barely have time to catch your breath. However, the other thing we all remember, that song, is the most heartbreaking duet and must have had most of the audience in tears.
It was interesting to discover that Dave Stewart and Glen Ballard are responsible for the music and lyrics, and a shame that we weren't given the opportunity to thoroughly appreciate all the songs with some of them drowned out; not a clue what opened the second half, and ok, the ending is a kind of triumphal apotheosis but too much Brian May guitar hammered out, destroying any sense of poignancy. Just as bad, Act 1 draws to a close with the three main characters battling it out at the top of their lungs, resulting in cacophony, although the return match is more muted and thus more effective. All the more ironic since the first time, it's done as friends, the second, as enemies. It is also oddly curious seeing city suits and secretaries engaged in a jaunty routine, but the best numbers, inevitably, belong to Oda Mae.
The staging is excellent, giving you a first class view of New York, even if some of the scenery was occasionally recalcitrant. It was particularly inventive to see the scene set when Molly and Tom move into their new apartment because of course, the props and furnishings are quite literally being delivered. Likewise, the special effects, for example, the dead transforming into ghosts; the bad, doomed to Hell; the Subway Ghost demonstrating his powers. Both Lovonne Richards and his opposite, James Earl Adair, the Hospital Ghost, played their part to the hilt, angry and fearsome and sweetly sad respectively.
And those three main characters? You can sort of see what's coming with Sergio Pasquariello as Carl: too good to be true, charming and caring; a very plausible villain. But Rebekah Lowings and Niall Sheehy as Molly and Sam are simply divine as a couple, a match made in Heaven, totally convincing as star-crossed lovers. It's as moving to watch their love and passion as it is to witness their grief. And their singing voices – wow. Her crystalline tones are equalled by his powerful renditions.
The applause they justly received was nearly on a par with that for Jacqui Dubois. And well deserved as scene stealer, Oda Mae, the medium with the most who discovers to her horror that she really does have the gift when Tom suddenly materialises. Not that she can see him, which is utilised to extract most of the humour.The scene where he uses her to turn the tables on Carl is brilliantly funny from start to finish, as well as the one where she is introduced, flanked by Clara (Sadie-Jean Shirley) and Ortisha (Chanelle Anthony), all Gospel enthusiasm and spiritually evangelical in every way.
I'm going to resist the temptation to tell you that the audience went absolutely potty for this lively, delightfully entertaining production, but you could say this review was ghost written because it virtually wrote itself.