You are currently browsing the monthly archive for December 2013.
mstcreativewriting@conted.ox.ac.uk
Apply by January 24
MSt IN CREATIVE WRITING
JANUARY 12th
HENSHAW PRESS SHORT STORY COMPETITION
Kudos 98
WINTER 2013
                        Runs mainly from December right up to the end of March,
                                                                            and beyond in some cases
£5 (Subs: £18/4 pa)       
                                                                            Once Upon A Time,
                         there lived a writer, and they won an award,
                           and so they lived happily ever after…
FEBRUARY 28TH
# THE MANCHESTER WRITING FOR CHILDREN PRIZE 2014
Open internationally
1st Prize: £2000
Shortlist: invitation to appear alongside Poet Laureate Carol Ann Duffy
at a special event at the 2014 Manchester Children's Book Festival
Longlist: anthology publication
Fee: £12. Length: portfolio of 3-5 poems.
Judges: Mandy Coe, Imtiaz Dharker and Philip Gross
Over 16s.
Details on website; postal entry pack can be downloaded.
Or ring 44 (0) 161 247 1787, email, or
SEND SAE: The Manchester Writing School,
Manchester Metropolitan University, Rosamond Street West,
Off Oxford Road, Manchester M15 6LL
mcbf@mmu.ac.uk
And across the seas to Ireland we go for plenty of variety from Fish, Limnisaand Ó Bhéal –
further afield yet, when it's translations for John Dryden.
With big prizes when writing for little people (not leprechauns, children):Manchester
Back home, Second Light offer an anthology of women's writing
Her Wings of Glass, and Oxford have an MSt in Creative Writing
Here comes some poetry in the fast lane: Slipstream, or Frogmore, Southport, Ver and Ware, which you could match, with York/YorkMix, David Burland and Poetry Space
Expanding into short stories, we've got
Henshaw, Chapter One, Mslexia and Verulam
Or bridging the gap: Bridport and Biography from Earlyworks
And curiously enough, there's also: The Christopher Salmon Extravaganza; Five 'n Ten; Papatango; Prole; Sampad; Synesthaesia; Big Moose
and CrazyHorse
MARCH 3rd
The Edwin Morgan Poetry Award
Biennial: for best collection of poems, recently published
or as yet unpublished, by a Scottish poet aged 30 or under:
born in Scotland; of Scottish parentage; brought up in Scotland;
currently resident in Scotland for the last two years.
£20,000 awarded in August.
Three copies to be submitted by poet or publisher
Submissions welcome in Scots, English and Gaelic;
Meg Bateman, Gaelic adviser.
Judges: Stewart Conn and Jen Hadfield.
Theatre Review
December 3-January 11
Unity Theatre, Liverpool
http://www.unitytheatreliverpool.co.uk/whats-on/the-pied-piper.html
Reviewed for Whatsonstage
4*
'Is that a pipe in your pocket or are you just pleased to see me' is of course the kind of thing you would never ever hear in a panto – oh no you wouldn't. The Unity after all is known for the moral of its tales, and the originality of adaptations. OK, there's a wee bit of tampering with the ending, although there are various stories and some quite sinister since he's the Rattenfänger,and in one version, the children have departed with their families, not disappeared – or maybe not, since they have gone to to Transylvania… it's poor little Orphan Annie kind of thing rather than a little boy but this is one seasonal production which rarely fails to deliver the goods: charming, inventive and completely heartwarming, mastering the art of entertaining the entire family.
Basic scenery and costumes are put to good use with a variety of ingenious touches: the video backdrop and coat rack for props may now be virtually inevitable but the bonus is in the detail, for example, the village of Hamlin cunningly represented by a large mobile. And the songs are brilliant, whether jaunty or poignant – the music, of course, is most enticing.
The cast on the whole are exceptional, with laurels for a hilarious gruesome twosome: super slick mayor (Nathan Smith) and his dozy sidekick, Slime (Emma Hirons). However, while James Micheal Doolan does appear otherwordly as the Piper, he occasionally gives the impression of trying too hard, though the rest of the cast slip easily into their various roles: first rats, then villagers, mad scientists and so on; Edwina Lea is appealing in the pivotal role of the orphan, with a lovely singing voice.
A genuine Christmas treat, the message as ever: you mustn't miss this magical show.
Congratulations to Orbis subscriber/contributor Jonathan Edwards (#165, and joint winner of the Orbis 153 Readers' Award): 2 poems shortlisted for the Basil Bunting Award
An addition to quite a tally, including 2nd in the 2012 Cardiff International Poetry Competition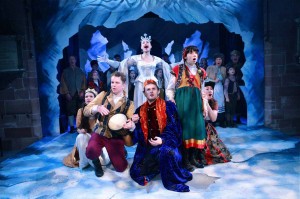 December 5 – January 11
The Snow Queen
St Mary's Centre, Chester
http://theatreinthequarter.co.uk/
Reviewed for Whatsonstage
3*
An interesting choice of Christmas show to play in a church: very gothic.
December 31
WriteStars' Chapter One competition
www.writestars.co.uk