Fancy a closer look?
Introductory offer: 2 back issues for just £7, down from £5 each,
and that includes p+p: £1.60 (saving £3) –
because reading magazines helps judge the best match with your work
in order to maximize publication opportunities.
Overseas, 2 back issues: £16 (€18/$22),
down from £10 each, saving £4
NB, 'back issues' does what it says on the can,
ie here, it doesn't mean current and previous issue
because they're still on sale,
although most issues sell out pretty swiftly:
#170 – #173; #175- #184.
Information is posted at regular intervals,
regardless of what the date counter says
(because I keep forgetting to update it), unless –
I'm busy thinking, finally got to the bottom
of Deadwater Fell but rather disappointing;
not many sympathetic characters, were there?
Subs: £18/4 pa. Single issue: £5, all including p+p
Overseas:  £40/€50/$60. Single issue: £11/€14/$16
NB, cheques payable to me, not to ORBIS.
Paypal: please use Contact Form or post request for email address 
Also, via LinkedIn or Facebook:
https://www.facebook.com/groups/53636000056/?ref=br_tf&epa=SEARCH_BOX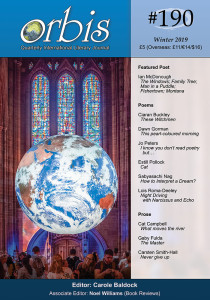 Orbis 190
£5 (Overseas: £11/€14/$16); Subs: £18/4 pa (Overseas: £40/€50/$60)
Front cover artwork: 'Gaia', Luke Jerarm, photograped by Peter Raymond
back cover, detail from image: www.prphoto.co.uk
It's a whole new world out there – and in here, and like Bianca Pellet,
that must give you Hope, especially when the … pearl-coloured morning
(Dawn Gorman) is slowly giving way to brighter skies, if not quite as early as
Mike Bedford, at 2 am. And we cover some BIG themes, like Jami Macarty
and Leviathan… Moving swiftly on, since David Heidenstam is discussing
Improbabilities, you may want to know  more about Clown's crossing by
Caroline Price, how cute is Foxy (Christina Buckton), and why Ralph Mold
is writing about the life in Brian. Not only that, if you are intrigued,
like Alessio Zanelli,  about The Missing Words,
well, maybe James B. Nicola knows how to find the answer:
One Reason Why I Use a Big Old Dictionary.
Or look up something just as fascinating in this issue:
Featured Poet,
Ian McDonough: (The Windows; Family Tree; Man in a Puddle; Fishertown; Montana
Poems from
Ciaran Buckley, These Witchmen; Dawn Gorman,This pearl-coloured morning;
Jo Peters, I know you don't read poetry but…; Estill Pollock, Cat;
Sabyasachi Nag, How to Interpret a Dream?;
Lois Roma-Deeley, Night Driving with Narcissus and Echo
Prose from
Cat Campbell, What moves the river; Gaby Fulda, The Master;
Carsten Smith-Hall, Never give up
Past Master
Merryn Williams on Arthur Symons
Article
James B. Nicola on Snow in the Suburbs by Thomas Hardy
Reviews by Maria Isakova Bennett, David Harmer, Clairr O'Connor, D. A. Prince,
Theresa Sowerby, Lynne Taylor and Noel Williams
Orbis 190 contributors also include
Veronica Beedham; Glenn Bradford; Arthur Broomfield; Peter Burrows;
Terese Coe; Gail Dendy; Andy Eycott; Robin Gilbert; Paul Green;
Pauline Hawkesworth; Andrew Heath; Lance Lee; MaryEllen Letarte;
Sheila Martin; Mark Paffard; Jo Peters; Tanya Prudente; Donna Pucciani ;
Gwen Sayers; Pam Stocker; Robin Lindsay Wilson; Dorothy Yamamoto