Fancy a closer look?
Introductory offer: 2 back issues for just £7, down from £5 each,
and that includes p+p: £1.60 (saving £3) –
because reading magazines helps judge the best match with your work
in order to maximize publication opportunities.
Information is posted virtually every day,
regardless of what the date counter says, unless –
I'm busy thinking: maybe most Americans got entirely the wrong idea
from listening to Alanis Morissette…
Subs: £18/4 pa. Single issue: £5, all including p+p
NB, cheques payable to me, not to ORBIS.
Paypal: please use Contact Form or post request for email address 
Also, via LinkedIn or Facebook:
www.facebook.com/n/?group.php&gid=53636000056
And the Poetry Library:
http://www.poetrymagazines.org.uk/magazine/index.asp?id=52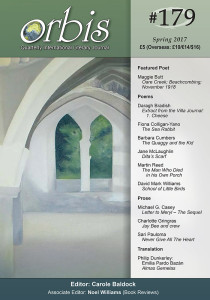 Orbis 179, Spring
£5 (Overseas: £10/€14/$16); Subs: £18/4 pa (Overseas: £38/€50/$60)
Front cover artwork: 'Waverley Abbey' by Melanie Zohrabi 
back cover, detail from image: www.artgallery.co.uk/artist/melanie_zohrabi_2
It's easy to get confused: do you need to be a Mystic,
like Marilyn Donovan, to be able to understand what lies Beyond,
as Nick Conrad says, or even fathom out the Rubber Hand Trick
with the help of Sue Norton. Coming From Here with Nick Carding,
you can find out why the Half-Light at Scarborough is important to
Sue Spiers, before learning from Helen Harvey, who is Coming Home to Roost?
On a more serious note, Lavinia Kumar tells us about
A Slave Catching God's Eye, and there's a warning from
Jill Boucher: Droit du seigneur. But you can still enjoy Michael Swan's Ballade
and relish Audrey Molloy explaining why Envy is a Daylily,
then let Antony Johae tell you all about an African Epiphany. So remember,
if Marlon Brando makes his Debut on a Shopping Channel (Peter Ebsworth),
you're all welcome to make yours here in Orbis…
Featured Poet: Maggie Butt: Oare Creek; Beachcombing;November 1918
Poems from: Daragh Bradish, Extract from the Villa Journal. Cheeses;
Fiona Colligan-Yano, The Sea Rabbit; Barbara Cumbers, The Quaggy and the Kid;
Jane McLaughlin, Dita's Scarf; Martin Reed,The Man Who Died in his Own Porch;
David Mark Williams. School of Little Birds
Prose from: Michael G. Casey, Letter to Meryl – The Sequel;
Charlotte Gringras, Jay Bee and crew; Sari Pauloma, Never Give All The Heart
Translation: Philip Dunkerley: Emilia Pardo Bazán, Almas Gemelas
Past Master: Pat Galvin on William Butler Yeats 2
Article: Lyn Cooper: Poet from 19 to 91 by Marti Cooper
Reviews by Maria Isakova Bennett, Clairr O'Connor,
Angelina d'Roza, David Harmer, D. A. Prince, Lynne Taylor,
David Troman and Noel Williams
Orbis 179 contributors also include:
Marti Cooper; Clive Donovan; Michael Farry; Doreen Hinchliffe; Charlie Jones;
Marie Lecrivain John McOwat; Lee Nash; Tanya Nightingale; Charles Osborne;
Felix Purat; Zara Raab; Lynne Taylor; Li C. Tien; John Whitehouse