Fancy a closer look?
Introductory offer: 2 back issues for just £7, down from £5 each
(and that includes p+p: £1.60) -
because reading magazines helps judge the best match with your work
in order to maximize publication opportunities.
Information is posted virtually every day,
regardless of what the date counter says, unless I'm too busy wondering  -
why this website does not do what it says on the can:
everything looks fine when typed in but you'd never guess to look at it…
Subs: £17/4 pa. Single issue: £5, all including p+p
Yes, I will get a Paypal button sorted, soonish (see above)
but meanwhile, please use the Contact Form or post request. 
Also, via LinkedIn or Facebook:
www.facebook.com/n/?group.php&gid=53636000056
And the Poetry Library:
http://www.poetrymagazines.org.uk/magazine/index.asp?id=52
Not forgetting, for people who prize writing:
www.kudoswritingcompetitions.com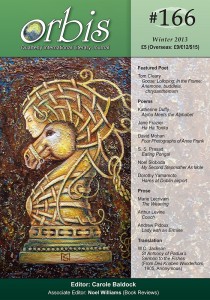 Orbis 166 Winter 2013
£5 (Overseas: £9/€12/$15)
Front cover artwork: 'Knight' by Sergey Malkov;
back cover, detail from image: http://fineartamerica.com/profiles/sergey-malkov.html
Featured Poet
Tom Cleary: Goose; Lolloping; In the Frame; Anemone, buddleia, chrysanthemum
Poems from:Katherine Duffy, Alpha Meets the Alphabet; Jane Frazier, Ha Ha Tonka;
David Mohan, Four Photographs of Anne Frank; S. S. Prasad, Eating Pongal;
Noel Sloboda, My Second Stepmother As Mole; Dorothy Yamamoto, Hares at Dublin airport
Prose from: Marie Lecrivain, The Weaning; Arthur Levine, Couch;
Andrew Pidoux, Lady with an Ermine
Translation:W.D. Jackson, St Anthony of Padua'sSermon to the Fishes (From Des Knaben Wunderhorn, 1905; Anonymous)
Past Master: Michael Henry on Francis Bourdillon
Reviews by Angelina Ayers,Ross Cogan,David Harmer, Afric McGlinchey,
Jennifer A. McGowan, Clairr O'Connor,D.A. Prince and Noel Williams
Orbis 166 contributors also include:
Sharon Black; Terence Brick; Arthur Broomfield; Alison Chisholm; Gladys Mary Coles;
Claire Dyer; Scott Elder; Mike Gallagher; Patricia Griffin; Katie Hale; Alan Hester;
Eluned Jones; Pat Jourdan; Eamonn Lynskey; Shirley McClure; Tom Moody; Jilly Munro;
Tanya Nightingale; William Park; Stuart Pickford; Susanna Roxman; Sheila Spence;
Ellen Storm; Brian Wake; Christopher Williams; Frank Wood