Fancy a closer look?

And get to know us better: a whole year's worth as pdfs (OS, £20)
+ 1 back copy of the actual magazine: £12 (UK; inc p+p)
Because reading magazines helps judge the best match with your work
in order to maximize publication opportunities.
****
Information is posted at regular intervals,
regardless of what the date counter says
(because I keep forgetting to update it), unless –
I'm busy wondering how come time flies
when you're in Lockdown again,
and hoping it really is 3rd time lucky…
Subs: £18/4 pa. Single issue: £5, all including p+p
Overseas:  £40/€50/$60. Single issue: £11/€14/$16
NB, cheques payable to me, not to ORBIS.
Paypal: please use Contact Form or post request for email address 
Also, via LinkedIn or Facebook:
https://www.facebook.com/groups/53636000056/?ref=br_tf&epa=SEARCH_BOX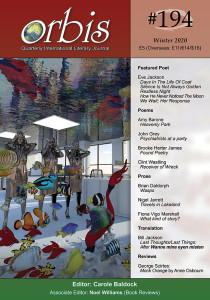 Orbis 194, Winter 2020

£5 (Overseas: £11/€14/$16); Subs: £18/4 pa (Overseas: £40/€50/$60)

Front cover artwork: 'Life in the Office Two' by Richard Hopkinson
back cover, detail from image: https://richard-hopkinson.pixels.com/
Oh yes it is, Winter Orbis – out in December, for the very first time.
And yes indeed, full of seasonal cheer because, by gum, we are in need of it…
Well, sort of; lot of shenanigans on Eamonn Shanahan's Christmas Day,
then you've got Glumgit's New Year blog as related by Theresa Sowerby.
In-between time (Anne Donnellan), hardly surprising if you want to go back
12 months when you could join Sue Norton at Christmas 2019.
For a bit more excitement, however, try travelling on the Night Train
with C. P. Nield though Benjamin Macnair has A Warning for you,
if rather different from Kha to His Wife Meryt (Jennifer McGowan).
They do say never judge a book by its cover but virtually no office parties anyway,
and more brass monkeys outside than wise one anywhere –
so come on in and enjoy this issue
Featured Poet
Eve Jackson: Days In The Life Of Coat; Silence Is Not Always Golden;
Restless Night; How He Never Noticed The Moon; We Wait; Her Response
Poems from Amy Barone (Heavenly Park);
John Grey (Psychiatrists at a party);
Brooke Herter James (Found Poetry); Clint Wastling (Receiver of Wreck)
Prose from Brian Daldorph (Wasps); Nigel Jarrett (Travels in Lakeland);
Fiona Vigo Marshall (What kind of story?)
Translation: Bill Jackson
(Last Thoughts/Last Things, after Wanne mine eyen misten)
Reviews include George Szirtes on Mock Orange by Anne Osbourn
Past Master: Merryn Williams on Charlotte Smith
Reader's Response,
Jill Boucher: Some Thoughts on Poetry Writing Workshops
Reviews by Philip Dunkerley, David Harmer, Jenny Hockey,
D. A. Prince, Theresa Sowerby, George Szirtes and Lynne Taylor
Orbis 194 contributors also include
Rosie Adamson-Clark; Elaine Alarcon-Totten; Denise Bennett; A. C. Clarke;
Robin Daglish; Frank De Canio; Carol Featherstone; Oz Hardwick;
Alex Howard; Jenny Johnson; John-Christopher Johnson; Kasimma;
Miles Larmour; Chris Luck; Gill McEvoy; Mary Muir; Marilyn Ricci;
Barnaby Smith; Christopher Southgate; Judith Wilkinson; Nicky Winder
---