Fancy a closer look?
Introductory offer: 2 back issues for just £7, down from £5 each,
and that includes p+p: £1.60 (saving £3) -
because reading magazines helps judge the best match with your work
in order to maximize publication opportunities.
Also, Kudos: for people who prize writing

www.kudoswritingcompetitions.com
You can use the contact form
to request a complimentary copy of the Autumn issue
Back to Orbis: information is posted virtually every day,
regardless of what the date counter says, unless -
finally completed #170, and just gone to the printers…
Subs: £17/4 pa. Single issue: £5, all including p+p
Paypal button still needs sorting: please use Contact Form or post request. 
Also, via LinkedIn or Facebook:
www.facebook.com/n/?group.php&gid=53636000056
And the Poetry Library:
http://www.poetrymagazines.org.uk/magazine/index.asp?id=52
Not forgetting, for people who prize writing:
www.kudoswritingcompetitions.com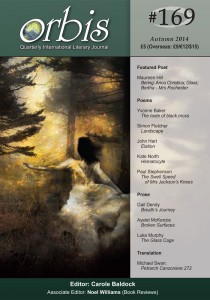 Orbis 169
Front cover artwork: 'When The Forest Calls' by Theresa Tahara;
back cover, detail from image: http://theresa-tahara.artistwebsites.com/
Featured Poet
Maureen Hill: Bering; Anna Christina; Glass; Bertha – Mrs Rochester
Poems from:Yvonne Baker:The taste of black moss; Simon Fletcher:Landscape;
John Hart: Elation; Kate North: Hematocyte; Paul Stephenson:The Swell Speed of Mrs Jackson's Knees
Prose from: Gail Dendy: Breath's Journey; Ayelet McKenzie: Broken Surfaces;
Luke Murphy: The Glass Cage
Translation: Michael Swan: Petrarcha Canzoniere 272
Past Master: Dave Troman on Edgar Allan Poe
Article: Enda Coyle-Greene: One Woman's Voice – the poems of Sheila Wingfield
Reviews by:Angelina Ayers,Maria Isakova Bennett, Suzannah Evans,
David Harmer, Afric McGlinchey, Jennifer McGowan,
Clairr O'Connor, Lynne Taylor, D.A. Prince
Orbis 169 contributors also include:
Niamh Boyce; Séamas Carraher; Ross Cogan; Ian Colville; Stella Davis;
Siobhan Daffy; Eliza Dear; Marianne Dissard; Martin A. Egan; Margaret Gleave;
Cora Greenhill; Oz Hardwick; Chris Hardy; Gloria Keeley; Noel King;
Simon Leonard; Luke Palmer; Ali Pardoe; Kathleen M Quinlan;
Marilyn Ricci; Marg Roberts; Catherine Rockwood;
Phil Ruthen; Martha Street; Alec Taylor; Linda White