Fancy a closer look?
Introductory offer: 2 back issues for just £7, down from £5 each,
and that includes p+p: £1.60 (saving £3) –
because reading magazines helps judge the best match with your work
in order to maximize publication opportunities.
Information is posted virtually every day,
regardless of what the date counter says, unless –
still busy thinking how ironic, Alanis Morissette's song that is…
Subs: £18/4 pa. Single issue: £5, all including p+p
NB, cheques payable to me, not to ORBIS.
And yes, Paypal button still needs sorting:
please use Contact Form or post request. 
Also, via LinkedIn or Facebook:
www.facebook.com/n/?group.php&gid=53636000056
And the Poetry Library:
http://www.poetrymagazines.org.uk/magazine/index.asp?id=52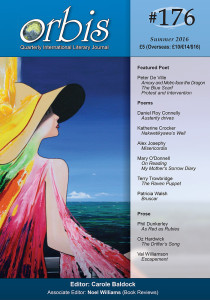 Orbis 176, Summer
£5 (Overseas: £9/€12/$16); Subs: £17/4 pa (Overseas: £35/€42/$58)
Front cover artwork: 'Horizon' by Peter Leslie Wilks
back cover, detail from image: www.artgallery.co.uk/artist/peter_leslie_wilks
Still waiting for the sunshine? Maybe this issue will brighten things up
with Helen Ashley and some Borrowed Light, whether you join
Grahaeme Barrasford Young, Playing, Lorna Sherry up in Edinburgh,
Nicki Griffin, In Carnadoe Waters, or go with Juli Jana on a Bus Ride
Further still: Alec Taylor's Space Ilimad. And humming along to
Lara's Theme (John Arnold), you could enjoy Miraculous Kashgar,
a Story told by Li Suo and Liang Yujing, and Watching The Invisible Man
with Patrick Deeley. But fine weather or not, unlike Hilaire, (I make no) Apology,
because to experience anything fully,as Bibhu Padhi tells us,
what's needed is: Touch, Taste, and Time –
all of which you can have with Orbis
Featured Poet

Peter De Ville:
Amoxy and Metro face the Dragon; The Blue Scarf; Protest and Intervention
Poems from: Daniel Roy Connelly: Austerity drives;
Katherine Crocker: Nakwetikyawa's Well;
Alex Josephy: Misericordia:
Mary O'Donnell: On Reading My Mother's Sorrow Diary;
Terry Trowbridge: The Raven Puppet; Patricia Walsh: Bruscar
Prose from: Phil Dunkerley: As Red as Rubies;
Oz Hardwick: The Drifter's Song;
Val Williamson: Escapement
Past Master: Sean Howard on Charles Sorley
Reviews: Maria Isakova Bennett, Philip Dunkerley, David Harmer,
D. A. Prince, David Troman and Noel Williams
Orbis 176 contributors also include:
Gary Beck; Jane Blanchard; C M Buckland; Lucinda Carey;
Jim Conwell; Stella Davis; Judith Dimond; Frances Galleymore;
Chris Hardy; Ashleigh John; Gloria Keeley; Richard Livermore;
Tim Love; Terry Quinn; Chelsea Ruxer;
Caroline Smith; Jean Taylor; F. J. Williams