Fancy a closer look?
Introductory offer: 2 back issues for just £7, down from £5 each,
and that includes p+p: £1.60 (saving £3) –
because reading magazines helps judge the best match with your work
in order to maximize publication opportunities.
Information is posted virtually every day,
regardless of what the date counter says, unless –
busy wishing I was back in Seville;
cannot beat Xmas with lovely hotel, lots of good food – and sunshine
Subs: £18/4 pa. Single issue: £5, all including p+p
NB, cheques payable to me, not to ORBIS.
And yes, Paypal button still needs sorting:
please use Contact Form or post request. 
Also, via LinkedIn or Facebook:
www.facebook.com/n/?group.php&gid=53636000056
And the Poetry Library:
http://www.poetrymagazines.org.uk/magazine/index.asp?id=52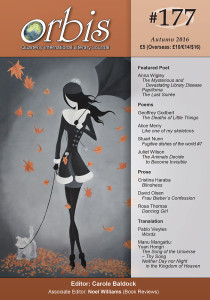 Orbis 177, Autumn
£5 (Overseas: £10/€14/$16); Subs: £18/4 pa (Overseas: £36/€50/$60)
Front cover artwork: 'Copper Rain' by Kelly Marie Davidson
back cover, detail from image: www.artgallery.co.uk/artist/kelly_marie_davidson_2
Singing in the Rain, and Walking the Dog; as you may guess
from the cover, plenty here to be making a song and dance about,
rather than having to think about Xxxx…present buying,
unless a copy of the magazine of course, could be Contained,
Alison Chisholm claims, while Jenny Hockey makes the case more strongly:
Why not end your days without because you and Bobbie Sparrow both,
could be awaiting The quiet intercession of Eros,
or savouring the sound of Noctilucence with Noel Williams.
Isn't that The key (John Brooke)?
Craig Dobson tells us all about Water's Way,
but the way we do things at Orbis is to ensure
that you continue enjoying the magazine.
Featured Poet

Anna Wigley:The Mysterious and Devastating Library Disease;
Papilloma; The Last Soirée
Poems from:Geoffrey Godbert: The Deaths of Little Things;
Alice Merry: Like one of my skeletons;
Stuart Nunn: Fugitive dishes of the world #7;
Juliet Wilson: The Animals Decide to Become Invisible
Prose from: Cristina Haraba: Blindness; David Olsen: Frau Bieber's Confession;
Rosa Thomas: Dancing Girl
Translation: Pablo Vieytes: Words;
Manu Mangattu:Yuan Hongri:The Song of the Universe – Thy Song;
Neither Day nor Night in the Kingdom of Heaven
Past Master: Stuart Nunn on Alexander Pope
Reviews: Maria Isakova Bennett, Philip Dunkerley, David Harmer,
D. A. Prince, David Troman and Noel Williams
Orbis 177 contributors also include:
Christopher Allan; James Aitchison; Anne Banks; Stephen Bett;
Jo Burns; Mark Czanik; Adele Fraser; David Harmer; Richard Hughes;
David Lloyd; Michael Loveday; Eamonn Lynskey; James McKee;
Olha Matso; Kathy Miles; Anita Ouellette; Ali Pardoe; Sari Pauloma;
Fred Pollack; Neil Reeder; Marilyn Ricci; Marg Roberts; Davide Trame;
Jay Whittaker; Helen Whitten; Nicky Winder