Fancy a closer look?
Introductory offer: 2 back issues for just £7, down from £5 each,
and that includes p+p: £1.60 (saving £3) –
because reading magazines helps judge the best match with your work
in order to maximize publication opportunities.
Overseas, 2 back issues: £16 (€18/$22),
down from £10 each, saving £4
NB, 'back issues' does what it says on the can,
ie here, it doesn't mean current and previous issue
because they're still on sale,
although most issues sell out pretty swiftly:
#170 – #173, and #175- #178.
Information is posted virtually every day,
regardless of what the date counter says, unless –
I've been wondering: does Alex Turner
really sound more and more like Bowie?
Subs: £18/4 pa. Single issue: £5, all including p+p
Overseas:  £38/€50/$60. Single issue: £10/€14/$16
NB, cheques payable to me, not to ORBIS.
Paypal: please use Contact Form or post request for email address 
Also, via LinkedIn or Facebook:
www.facebook.com/n/?group.php&gid=53636000056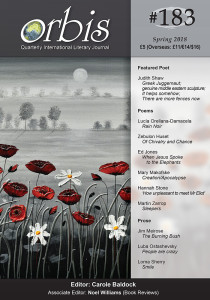 Orbis 183, Spring
£5 (Overseas: £11/€14/$16); Subs: £18/4 pa (Overseas: £40/€50/$60)
Front cover artwork: 'Dragonflies First Flight' by Amanda Dagg
back cover, detail from image: www.dagg.co.uk

Who wouldn't love to know More About the Marmoset? Fortunately,
Max Gutmann can explain. And why is Alex Josephy writing
On Not Going into the Garden? It's a Gift,
says Sarah Lindon, like creating poems such as Julie Maclean's Light Wave
and Particles of Icarus, and John Timothy Robinson: A Keepsake
in Handfuls of Memory Earth.Or even when you know things like
This is how it feels before the rain, as Ben Macnair tells us.
Meanwhile, Yvonne Adami can be discovered Walking the Merri,
whilst Katherine Swett is a Wanderer Above the Sea of Fog.
Mark Carson however reveals the grim details of being an Apprentice;
like John-Christopher Johnson, think Frankenstein. On that rather dark note,
let us reassure you there's plenty here to make you Smile, thank you,
Lorna Sherry; you're sure to enjoy this issue,
along with Grahaeme Barrasford Young – Because I say so.
And finally, or rather, with Tony Hendry,
simply And…

Featured Poet, Judith Shaw: Greek Juggernaut; genuine middle eastern sculpture;
it helps somehow; There are more fences now
Poems from Lucía Orellana-Damacela, Rain Noir:
Zebulon Huset, Of Chivalry and Chance;
Ed Jones, When Jesus Spoke to the Elephants;
Mary Makofske, Creation/Apocalypse;
Hannah Stone, 'How unpleasant to meet Mr Eliot';
Martin Zarrop, Sleepers
Prose from Jim Meirose, The Burning Bush;
Luba Ostashevsky, People are crazy;
Lorna Sherry, Smile
Past Master: Eamonn Lynskey on Eugene Lee Hamilton
Reviews by Maria Isakova Bennett, Philip Dunkerley, David Harmer,
Afric McGlinchey, D. A. Prince, Andrew Taylor, Lynne Taylor and Noel Williams

Orbis 183 Contributors also include