Fancy a closer look?
Introductory offer: 2 back issues for just £7, down from £5 each,
and that includes p+p: £1.60 (saving £3) –
because reading magazines helps judge the best match with your work
in order to maximize publication opportunities.
Overseas, 2 back issues: £16 (€18/$22),
down from £10 each, saving £4
NB, 'back issues' does what it says on the can,
ie here, it doesn't mean current and previous issue
because they're still on sale,
although most issues sell out pretty swiftly:
#170 – #173, and #175- #178.
Information is posted virtually every day,
regardless of what the date counter says, unless –
I've been thinking: Spring around the corner?
Which blooming corner?
Subs: £18/4 pa. Single issue: £5, all including p+p
Overseas:  £38/€50/$60. Single issue: £10/€14/$16
NB, cheques payable to me, not to ORBIS.
Paypal: please use Contact Form or post request for email address 
Also, via LinkedIn or Facebook:
www.facebook.com/n/?group.php&gid=53636000056
And the Poetry Library:
http://www.poetrymagazines.org.uk/magazine/index.asp?id=52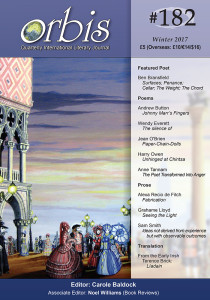 Orbis 182, Winter
£5 (Overseas: £10/€14/$16); Subs: £18/4 pa (Overseas: £38/€50/$60)
Front cover artwork: 'Venice Costume Drama' by John Penney
back cover, detail from image: www.artistjohn.co.uk/
Have those long, dark nights had you observing, along with Jo Peters,
It's not that I don't believe in ghosts? Well, as we head into the light, finally,
we can echo Laura Ciraolo and Go lightly through life, especially if January
involved a bit of a Dry Patch (Mat Riches) – or were you as determined as
Jenny Johnson, declaring I Am Swift Purpose? Although, as Brian Daldorph
explains, there is an art in knowing  when it's Time to go, while Oz Hardwick
will tell you the Rudiments of Practical Philosophy, something about which
the Ancients knew a thing or two. But rather than making Bronze Offerings
In The Water, along with Tim Miller, maybe we should pour A Libation,
thanks to Ginny Sullivan. And to everybody who enjoys poetry –
Orbis is filled with some excellent samples.

Featured Poet, Ben Bransfield: Surfaces; Penance; Cellar; The Weight; The Chord
Poems from
Andrew Button (Johnny Marr's Fingers); Wendy Everett; (The silence of);
Jean O'Brien; (Paper-Chain-Dolls): Harry Owen (Unhinged at Chintsa);
Theresa Sowerby (A Charm of Gates);
Anne Tannam (The Poet Transformed Into Anger)
Prose from Alexa Recio de Fitch (Fabrication); Grahame Lloyd (Seeing the Light):
Sam Smith (Ideas not derived from experience but with observable outcomes)
Translation From the Early Irish: Terence Brick (Líadain)
Past Master: Becca Menon on Isolde Kurz
Reviews by
Angelina d'Roza, Philip Dunkerley, David Harmer, Clairr O'Connor,
D. A. Prince, Lynne Taylor, David Troman and Noel Williams
Orbis 182 Contributors also include
Sheila Aldous; Jean Atkin; Veronica Beedham; Martin Bennett;
C M Buckland; Ann Flynn; A. P. Fraser; Adrian Green; Jenny Hamlett;
Simon Leonard; Kathleen McPhilemy; Frances Nagle; Carsten Smith-Hall;
Laura Solomon; Jonathan Totman; Richard Williams; Jim C. Wilson