Fancy a closer look?
Introductory offer: 2 back issues for just £7, down from £5 each,
and that includes p+p: £1.60 (saving £3) –
because reading magazines helps judge the best match with your work
in order to maximize publication opportunities.
Overseas, 2 back issues: £16 (€18/$22),
down from £10 each, saving £4
NB, 'back issues' does what it says on the can,
ie here, it doesn't mean current and previous issue
because they're still on sale,
although most issues sell out pretty swiftly:
#170 – #173; #175- #184.
Information is posted virtually every day,
regardless of what the date counter says, unless –
I'm busy thinking, not exactly a Tarentino fan,
but my goodness, latest film is fantastic
Subs: £18/4 pa. Single issue: £5, all including p+p
Overseas:  £40/€50/$60. Single issue: £11/€14/$16
NB, cheques payable to me, not to ORBIS.
Paypal: please use Contact Form or post request for email address 
Also, via LinkedIn or Facebook:
www.facebook.com/n/?group.php&gid=53636000056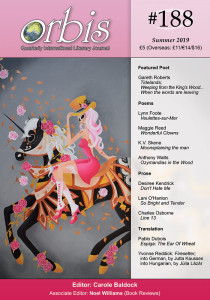 Orbis 188 (Summer)
£5 (Overseas: £11/€14/$16); Subs: £18/4 pa (Overseas: £40/€50/$60)
Front cover artwork: 'Key to madness' by Kelly Marie Davidson
back cover, detail from image: https://www.artgallery.co.uk/work/293532

We like to do what it says on the can, or rather, the cover,
so contents always range far and wide, in time as well as space,
and of course, from contributors all over the world. OK, maybe
it's just a Meeting in an Upstairs Room, with Vivienne Hanna-Artt,
but Will Daunt welcomes you to dear old England, and times gone by,
with Adlestrop,  and you can go back to Thira with Wendy Goulstone,
or aim for The Starry Outer Paradise with Yuan Hongri
(Translated by Manu Mangattu). Eamonn Lynskey takes you Walking
on the Via Vittoria Colonna, Rome, but you'd be surprised where
Andrew Curtis is headed in Bang to time; maybe even more so
when Sheila Aldous reveals The Secret of Breathing. Indeed, lean in to
Kevin Griffin, because he's talking Sotto Voce, revealing perhaps that
Royston Tester is Still in love with the bass player,
the truth about Odin and the Caterpillar, from Warren Mortimer
and what Stuart Pickford's up to in Big Nose and Fat Man.
So, like Cat Campbell, do you know what you Want?
In the end, let Taylor Strickland show you: @RestAndBeThankful,
there's plenty to enjoy in Orbis…

Featured Poet Gareth Roberts (Tidelands; Weeping from the King's Wood…;
When the words are leaving)
Poems from: Lynn Foote (Veulettes-sur-Mer); Maggie Reed (Wonderful Clowns);
K. V. Skene (Moonsplaining the man); Anthony Watts (Ozymandias in the Wood)
Prose from: Desiree Kendrick (Don't Hate Me);
Lani O'Hanlon (So bright and tender); Charles Osborne (Line 13)
Translation: Pablo Dubois (Espiga: The Ear Of Wheat);
Yvonne Reddick (Firesetter;
into German, by Jutta Kaussen; into Hungarian, by Júlia Lázár)
Past Master: Benjamin Keatinge on Konstantin Miladinov
Reviews: Maria Isakova Bennett, David Harmer, Jenny Hockey, Afric McGlinchey,
Clairr O'Connor, D. A. Prince, Andrew Taylor and Noel Williams
Orbis 188 Contributors also include
Sheila Aldous; Cat Campbell; Andrew Curtis; Will Daunt;
Maggie Davison; Miranda Day; Linda Ford; Wendy Goulstone;
Kevin Griffin; Vivienne Hanna-Artt; Alice Harrison; Paul Jeffcutt;
L. B. Jørgensen; Lavinia Kumar; S. W. Layzell; Chris Luck;
Eamonn Lynskey; Nancy Anne Miller; Warren Mortimer;
Robert Nisbet; Katherine Noone; Gabrielle O'Donovan;
Stuart Pickford; Theresa Sowerby; Taylor Strickland;
Royston Tester; Robin Thomas; Hongri Yuan