Fancy a closer look?
Introductory offer: 2 back issues for just £7, down from £5 each,
and that includes p+p: £1.60 (saving £3) -
because reading magazines helps judge the best match with your work
in order to maximize publication opportunities.
Also, Kudos: for people who prize writing

www.kudoswritingcompetitions.com
Back to Orbis: information is posted virtually every day,
regardless of what the date counter says, unless -
yes, I have been away a lot, and off again next week
Subs: £17/4 pa. Single issue: £5, all including p+p
Paypal button still needs sorting: please use Contact Form or post request. 
Also, via LinkedIn or Facebook:
www.facebook.com/n/?group.php&gid=53636000056
And the Poetry Library:
http://www.poetrymagazines.org.uk/magazine/index.asp?id=52
Not forgetting, for people who prize writing:
www.kudoswritingcompetitions.com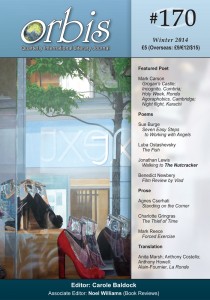 Orbis 170, Winter 2014
£5 (Overseas: £9/€12/$15); Subs: £17/4 pa (Overseas: £35/€42/$58)
Front cover artwork: 'Church Street' by Steve Williams;
back cover, detail from image: http://steve50wicks.wix.com/paintings

Of course you want to know what happened
on the road to Ploubalay with Chrissy Banks,
though admittedly risking a peek over John Paul Davies's shoulder into
Jack The Ripper's Bedroom will makes you Perfectly Blue, Faye Boland warns.
Nobody, including Aidan Baker would classify it asThe Finest-Hour Syndrome. -
best stick to the Facts, provided by Fokkina McDonnell
because you never know just what will squeeze out of the Genie's Bottle (Li C. Tien).
Or do you have an answer for Susan Lindsay:
Shall We Get Swept Away By Lunch-time?
Why not find out? Will you be attracted to the shining lights in this issue of Orbis,
along with a surprising number of moths…

Featured Poet
Mark Carson: Grogan's Castle;
Incognito, Cumbria; Holy Week, Ronda
Agoraphobics, Cambridge; Night flight, Karachi
Poems from: Sue Burge: Seven Easy Steps to Working with Angels;
Luba Ostashevsky; The Fish; Jonathan Lewis:Walking to The Nutcracker; Benedict Newbery: Film Review by Vlad
Prose from: Ágnes Cserháti: Standing on the Corner; Charlotte Gringras: The Thief of Time; Mark Reece: Forced Exercise
Translation: Anita Marsh; Anthony Costello; Anthony Howell: Alain-Fournier, LaRonde
Past Master: Merryn Williams on W.H. Davies
Article: Reading Poetry Aloud by William Alderson
Reviews: Angelina Ayers, Maria Isakova Bennett, Clairr O'Connor, David Harmer,
Afric McGlinchey, Jennifer A. McGowan, D. A. Prince, David Troman and Noel Williams
Orbis 170 contributors also include:
John Ashley; Nick Burbridge; Jennie Christian; Annemarie Cooper; Barbara Cumbers; Fiona Donaghy;
Richard George; Alice Harrison; Liz Horrocks; Mary Lee; Jim Lindop; Richard Martin; Jean O'Brien;
Anita Ouellette; Edward Ragg; Rachel Spence; John Whitehouse; Alessio Zanelli