Fancy a closer look?
Introductory offer: 2 back issues for just £7, down from £5 each,
and that includes p+p: £1.60 (saving £3) –
because reading magazines helps judge the best match with your work
in order to maximize publication opportunities.
Overseas, 2 back issues: £16 (€18/$22),
down from £10 each, saving £4
NB, 'back issues' does what it says on the can,
ie here, it doesn't mean current and previous issue
because they're still on sale,
although most issues sell out pretty swiftly:
#170 – #173, and #175- #178.
Information is posted virtually every day,
regardless of what the date counter says, unless –
I'm busy wondering why a male journalist would praise a book
for its 'womb-trembling quote'? What does that even mean?
Subs: £18/4 pa. Single issue: £5, all including p+p
Overseas:  £40/€50/$60. Single issue: £11/€14/$16
NB, cheques payable to me, not to ORBIS.
Paypal: please use Contact Form or post request for email address 
Also, via LinkedIn or Facebook:
www.facebook.com/n/?group.php&gid=53636000056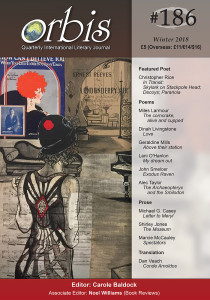 Orbis 186
£5 (Overseas: £11/€14/$16); Subs: £18/4 pa (Overseas: £40/€50/$60)
Front cover artwork: 'Art Deco' by Phillip Ward
back cover, detail from image: www.artgallery.co.uk/artist/phillip__ward

A Raven and a Crow walked into a bar? No joke ,
but a tale you're sure to want to sample, about Ted Hughes, and John Smelcer.
And indeed, such a good start to the year with an issue ranging far and wide,
literally from the Sublime to the Ridiculous, if via the rather Grim:
Self Portrait with Death Playing the Fiddle, anyone? Thanks to Kevin Densley.
So perhaps I should ask myself, like Christine Curtis, Am I doing this right?
And move swiftly on to the practical, to watch Lorraine Carey, Patching up Loulou,
or fathom out the perplexing, in Keith Moul's description of Avid Disinterest:
the Yogi, the Mentor, the Model. Or we could join Camino Victoria Garcia
By the Aspetuck River, well, rather than following Eurydice's Husband,
in Úna Ní Cheallaigh's version. while David Mark Williams can bring us
back to Reality in Light Programme Avenue. Then we'll finish off
with Love from Dinah Livingstone – and from Orbis, wishing you all the best for 2019.
Featured Poet
Christopher Rice: In Transit; Skylark on Stackpole Head; Decoys; Paranoia
Poems from: Miles Larmour, The Corncrake, Alive and Cupped;
Dinah Livingstone, Love; Geraldine Mills, Above their station;
Lani O'Hanlon, My dream out; John Smelcer, Exodus Raven;
Alec Taylor, The Archaeopteryx and the Smilodon
Prose from: Michael G. Casey, Letter to Meryl; Shirley Jones,The Museum;
Marcie McCauley, Spectators
Translation: Dan Veach: Conde Arnoldos
Past Master: Sue Tyson on Edward FitzGerald
Reviews by Angelina d'Roza, Philip Dunkerley, David Harmer,
Jenny Hockey, D. A. Prince, Lynn Taylor and Noel Williams
Orbis 186 Contributors also include
David Ball, Clare Bevan, J. E. G. Blanchard, Sheena Bradley,
Jennifer Compton, Robin Ford, Richard George, Caroline Gill, Chris Hardy,
Derek Healy, Ashleigh John, Tim Love, Elspeth McLean, John McOwat,
Keith Moul, Natalie Scott, Roger Singer, Sue Tyson and Robert Penn,
Olivia Walwyn, Helen Whitten, Richard Williams