Fancy a closer look?
Introductory offer: 2 back issues for just £7, down from £5 each,
and that includes p+p: £1.60 (saving £3) –
because reading magazines helps judge the best match with your work
in order to maximize publication opportunities.
Information is posted virtually every day,
regardless of what the date counter says, unless –
Orbis 173 now at the printers…
Subs: £17/4 pa. Single issue: £5, all including p+p
Yes, Paypal button still needs sorting: please use Contact Form or post request. 
Also, via LinkedIn or Facebook:
www.facebook.com/n/?group.php&gid=53636000056
And the Poetry Library:
http://www.poetrymagazines.org.uk/magazine/index.asp?id=52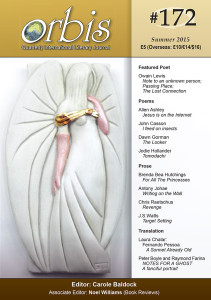 Orbis 172, Summer 2015
£5 (Overseas: £9/€12/$16); Subs: £17/4 pa (Overseas: £35/€42/$58)
Front cover artwork: 'Heart Angel' by Garry White;
back cover, detail from image: www.garrywhitesculptures.com
Summertime –
that usually means something like The Zoo in the rain (Brian Daldorph),
and sadly, it does appear to be raining cats and dogs
in Letters and After They Have Gone
by Richard Dinges Jr, so you may prefer Tariq Latif's
view of Dawn by Victoria Parade.
Wondering what a Souvenir of Lowestoft means to Peter Wallis,
or Zen Romance: Reflections, to Michelle R. Disler?
And what would happen if Sheila Wild's
Cassowary at the Court of Louis XIV got a Foothold (Susan Rouchard)?
Well, you can learn about Naming from Maggie Butt
and Tooth Wisdom from Andrew Pollard,
and look forward to many a happy, fairytale ending.
Or maybe not, because according to Yuko Minamikawa Adams –
Mickey Has Chopped off Dumbo's Left Ear

Featured Poet: Owain Lewis,
Note to an unknown person; Passing Place; The Lost Connection
Poems from Allen Ashley, Jesus is on the Internet; John Casson, I feed on insects;
Dawn Gorman,The Looker; Jodie Hollander, Tomodachi
Prose
from Brenda Bea Hutchings, For All The Princesses;
Antony Johae, Writing on the Wall;
Chris Raetschus, Revenge; J.S.Watts,Target Setting
Translation
Laura Chalar: Fernando Pessoa, A Sonnet Already Old
Peter Boyle and Raymond Farina, NOTES FOR A GHOST: A fanciful portrait
Past Master: Chris Raetschus on Constantine P. Cavafy
Article: Simon Fletcher interviewed by Neil Leadbeater
Reviews
Maria Isakova Bennett, Angelina D'Roza, David Harmer, Jennifer A. McGowan,
Clairr O'Connor, D.A.Prince, Andrew Taylor, David Troman and Noel Williams
Orbis 172 contributors also include:
Veronica Beedham; John Casson; David Crann; John Dixon; Lee Nash;
Jocelyn Page; John Perrault; Peter Phillips; Zara Raab;
Gerard Smyth; Angela Topping; Phil Walsh