Fancy a closer look?

And get to know us better: a whole year's worth as pdfs (OS, £20)
+ 1 back copy of the actual magazine: £12 (UK; inc p+p)
Because reading magazines helps judge the best match with your work
in order to maximize publication opportunities.
****
Information is posted at regular intervals,
regardless of what the date counter says
(because I keep forgetting to update it), unless –
I'm busy wondering about what
The Protoganist in Tenet said to the Villain
at his dinner party which saved
him from being killed.
Answers on a postcard please.
Or an email.
Subs: £18/4 pa. Single issue: £5, all including p+p
Overseas:  £40/€50/$60. Single issue: £11/€14/$16
NB, cheques payable to me, not to ORBIS.
Paypal: please use Contact Form or post request for email address 
Also, via LinkedIn or Facebook:
https://www.facebook.com/groups/53636000056/?ref=br_tf&epa=SEARCH_BOX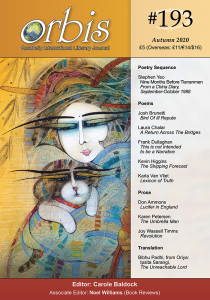 Orbis 193, Autumn 2020

£5 (Overseas: £11/€14/$16); Subs: £18/4 pa (Overseas: £40/€50/$60)
Front cover artwork: "Haiku' by Albena Vatcheva
back cover, detail from image: https://albena-vatcheva.pixels.com/
'Season of mists and mellow fruitfulness', or perhaps melancholy, for some.
Although for many, cosiness is a warm puppy as they say… So what have we here
to help keep you cheerful? Well, appropriately, you can visit Miyajima, with Sally,
and Alexandra Corrin-Tachibana, or advise Antony Johae how to avoid
a Lebanese Lapse whilst heeding Kevin Higgins: The Shipping Forecast.
And did you start thinking 'Simon'? when Daniel Boland tells you Saturn Says?
Or were you wondering about Barbara Crooker's
Poem lightly threaded with clouds, not to mention Jounce,
from Pamela Gormally? Ah well, with Annie Klier Newcomer
and Jamie Lynn Heller speculating about Corona,
maybe no getting away from it all –
except for a little while, engrossed in this issue of Orbis
Poetry Sequence
Stephen Yeo: Nine Months Before Tiananmen
From a China diary, September-October 1988
Poems from Josh Brunetti (Bird Of Ill Repute); Laura Chalar
(A Return Across The Bridges);
Frank Dullaghan (This is not Intended to be a Narrative);
Kevin Higgins (The Shipping Forecast);
Karla Van Vliet (Lexicon of Truth)
Prose from Don Ammons (Lucifer in England);
Karen Petersen (The Umbrella Man);
Joy Wassell Timms (Revolution)
Translation: Bibhu Padhi, from Oriya: Ipsita Sarangi, The Unreachable Lord
Past Master: Jack Houston on Keith Castellain Douglas
Reviews by Maria Isakova Bennett, Philip Dunkerley, David Harmer,
Jenny Hockey, D. A. Prince, Theresa Sowerby and Lynne Taylor
Orbis 193 contributors also include
Anne Banks; Sarah Barr; Sheena Bradley; Terence Brick; Anne-Marie Brumm;
Vuyelwa Carlin; Caroline Carver; Laura Ciraolo; Richard Halperin;
Tariq Hassan; Michael Henry; Graham High; David Holliday; Kuli Kohli;
Dorrie Johnson; John McOwat; Tom Moody; Michael Spinks; Georgina Titmus
---