Fancy a closer look?
Introductory offer: 2 back issues for just £7, down from £5 each
(and that includes p+p: £1.60) -
because reading magazines helps judge the best match with your work
in order to maximize publication opportunities.
Information is posted virtually every day,
regardless of what the date counter says, unless -
I'm too busy thinking what an amazing actor Jon Voight is – so much conveyed in just the blink of an eye, literally…
Subs: £17/4 pa. Single issue: £5, all including p+p
Yes, I will get a Paypal button sorted, soonish (see above)
but meanwhile, please use the Contact Form or post request. 
Also, via LinkedIn or Facebook:
www.facebook.com/n/?group.php&gid=53636000056
And the Poetry Library:
http://www.poetrymagazines.org.uk/magazine/index.asp?id=52
Not forgetting, for people who prize writing:
www.kudoswritingcompetitions.com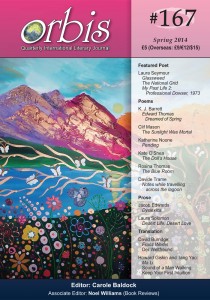 Orbis 167 Spring 2014
£5 (Overseas: £9/€12/$15); Subs: £17/4 pa (Overseas: £35/€42/$58)
Front cover artwork: 'White butterflies and magical flowers at Peyto Lake' by Casimira Mostyn; back cover, detail from image: www.casimirasquirkyart.com/ 
Featured Poet
Laura Seymour: Glassweed; The National Grid; My Past Life 2; Professional Dowser, 1973
Poems from: K. J. Barrett: Edward Thomas Dreamed of Spring; Clif Mason: The Sunlight Was Mortal; Katherine Noone: Pending; Kate O'Shea:The Doll's House; Rosina Thomas: The Blue Room; Davide Trame: Notes while travelling across the lagoon
Prose from: Jacob Edwards: Dyslexica; Laura Solomon: Desert Life, Desert Love
Translation
David Burridge: Franz Werfel, Der Weltfreund; Howard Giskin and Tang Yao: Ma Li, Sound of a Man Walking; Keep Your First Intuition
Past Master: Anne Lawrence on William Shakespeare
Reviews by Angelina Ayers, Maria Isakova Bennett, David Harmer, S.J. Holloway, Clairr O'Connor,
Lynne Taylor, Dave Troman and Noel Williams
Orbis 167 contributors also include:
Vivienne Artt; William Alderson; Caroline Ashley; Jane Blanchard; Daragh Bradish;
Louis Daniel Brodsky; Andrew Button; Al Campbell; Kathryn Daszkiewicz; Christine Despardes; Jane Penaz Eisner;
June English; Jilly Funnell; Adrian Green; Maureen Jivani; Pete Langley;
Lance Lee; Amitabh Mitra; Keith Moul; Kate O'Shea; Helen Overell; Helen Pizzey; Jimmy Rodda;
Paul Saville; Tom Sharp; K.V. Skene; Julia Stothard; F. J. Williams