Fancy a closer look?
Introductory offer: 2 back issues for just £7, down from £5 each,
and that includes p+p: £1.60 (saving £3) –
because reading magazines helps judge the best match with your work
in order to maximize publication opportunities.
Information is posted virtually every day,
regardless of what the date counter says, unless –
I've been thinking, you really would expect everybody, finally,
to get David Bowie's name correct.
A real shock, but so glad I went to his 1973 concert
Subs: £18/4 pa. Single issue: £5, all including p+p
Yes, Paypal button still needs sorting: please use Contact Form or post request. 
Also, via LinkedIn or Facebook:
www.facebook.com/n/?group.php&gid=53636000056
And the Poetry Library:
http://www.poetrymagazines.org.uk/magazine/index.asp?id=52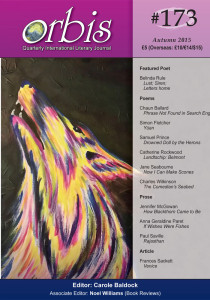 Orbis 173, Autumn 2015
£5 (Overseas: £10/€14/$16); Subs: £18/4 pa (Overseas: £36/€50/$60)
Front cover artwork:
'Night wolf' by Lolita Parekh;
cover, detail from image:
http://atlolis1989.artweb.com/
But you're all right now… as the old joke goes.
And so is Linda Benninghof,
with Gas, food, lodging, Patricia Griffin,
despite having to battle
The Wind from the West,and Pat Farrington,
back From the Underworld.
There, she may well have encountered
That Man (Breda Spaight),
Pete Langley's Airside Bagatelle Lady
or The Cern Archivist (Julian Turner).
No wonder Sharon Black enquires Are My God So Different From Yours?
And thank goodness Maurice Devitt provides a Beginner's Guide to Escapology.
But if you do go Astray with Clifton Redmond,
or end up feeling a bit Lost, like Patrick Moran,
at least you'll find something good to read in here, all 96 pages of it.
Although of course, as they always say,
and Lavinia Kumar points out, It's Not the Size…
Featured Poet: Belinda Rule: Lust; Siren; Letters home
Poems from Chaun Ballard: Phrase Not Found in Search Engine; Simon Fletcher:Yüan; Samuel Prince: Drowned Doll by the Herons;
Catherine Rockwood: Landtschip: Belmont; Jane Seabourne: Now I Can Make Scones; Charles Wilkinson:The Comedian's Seabed 
Prose from Jennifer McGowan: How Blackthorn Came to Be;
Anna Geraldine Paret: If Wishes Were Fishes; Paul Saville: Rajasthan
Article: Venice by Frances Sackett

Past Master: Peter Butler on Robert Bloomfield
Reviews by Ross Cogan, Angelina D'Roza, David Harmer,
D. A. Prince, Lynne Taylor, David Troman and Noel Williams
Orbis 173 contributors also include:
William Alderson; Tara Ballard; Denise Bennett; David Burridge; Keith Chandler;
Scott Elder; Jonathan Greenhause; Pauline Hawkesworth; Claire Louise Hunt;
Patricia Leighton; James B. Nicola; Ilse Pedler; Tanya.Prudente; Jimmy Rodda