Fancy a closer look?

And get to know us better: a whole year's worth as pdfs (OS, £20)
+ 1 back copy of the actual magazine: £12 (UK; inc p+p)
Because reading magazines helps judge the best match with your work
in order to maximize publication opportunities.
****
Information is posted at regular intervals,
regardless of what the date counter says
(because I keep forgetting to update it), unless –
Doesn't time fly,
even when you're stuck in Lockdown;
very fortunate to have work
to keep you occupied, and gardening…
Subs: £18/4 pa. Single issue: £5, all including p+p
Overseas:  £40/€50/$60. Single issue: £11/€14/$16
NB, cheques payable to me, not to ORBIS.
Paypal: please use Contact Form or post request for email address 
Also, via LinkedIn or Facebook:
https://www.facebook.com/groups/53636000056/?ref=br_tf&epa=SEARCH_BOX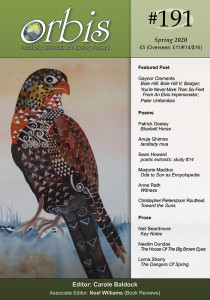 Orbis 191, Spring 2020

£5 (Overseas: £11/€14/$16); Subs: £18/4 pa (Overseas: £40/€50/$60)
Front cover artwork: 'Hawk' by Jan FitzGerald
back cover, detail from image: www.paintingpoets.co.nz
It's a whole new world out there – unfortunately prophetic words
to introduce the last issue. So now it's poetry in the time of you-know-what
(Hell on Earth); Dave Martin is not far wrong), something to cheer and inspire
and at least take our minds off it for a little while granting us Grace Evangelical
(Tina Tocco), following A Simple Act; Complex Antecedents as Sam Smith points out.
Well, we could sympathise with Jack Debney's The Cack-Hander's Lament,
especially when, like Mike Barlow, The voice takes a break.  And we can always
escape, visit Richard Hughes, to appreciate some Variations at a taverna,
then the City Of Tulum with Kathryn MacDonald
(although you ask me, ignorance is bliss when it comes to the Maya),
or find out more about All those myths in the dark forest from
Penny Sharman, or The numen (Jan FitzGerald)  and what's inside
the Powder Closet, Southside House… Ben Bransfield knows. Meanwhile,
Finola Scott can tell you all about Spoils and Divisions, although you need to read
David Greenslade to work out Calf. Overall, could be you'll agree with Beth Booth:
Splendid is a good description of Orbis
Featured Poet,
Gaynor Clements: Bole Hill; Bole Hill II; Badger;
You're Never More Than Six Feet From An Elvis Impersonator; Pater Unfamilias
Poems from Patrick Deeley, Bluebell Horse; Anuja Ghimire, landlady mua;
Sean Howard, poetic extracts: study #14;
Marjorie Maddox, Ode to Son as Encyclopedia;
Anne Rath, Witness; Christopher Pieterszoon Routheut, Toward the Suns
Prose from Neil Beardmore, Key Notes; Neelim Dundas,
The House Of The Big Brown Eyes; Lorna Sherry, The Dangers Of Spring
Past Master
Michael Spinks on The book of Job
Article
Pauline Hawkesworth on A. S. J. Tessimond – The 'Lesser' Poet
Reviews by Maria Isakova Bennett, Jenny Hockey, David Harmer,
Clairr O'Connor, D. A. Prince, Theresa Sowerby and Lynne Taylor
Orbis 191 contributors also include
Aidan Baker;Maggie Butt; Claudia Court;Natalie Crick; Bill Dodd;
Isabel Greenslade; Derek Healy; Doreen Hinchliffe; George Hopewell;
Jack Houston; Richard Hughes; Gloria Keeley; Simon Leonard;
Rozanne McCoy; Simon Perchik; Peter Sutton; Anne Symons