Fancy a closer look?
Introductory offer: 2 back issues for just £7, down from £5 each,
and that includes p+p: £1.60 (saving £3) –
because reading magazines helps judge the best match with your work
in order to maximize publication opportunities.
Information is posted virtually every day,
regardless of what the date counter says, unless –
I'm busy thinking p…p…pick up a penguin
and drop it from a great height if it's that blasted British Gas bird…
Subs: £18/4 pa. Single issue: £5, all including p+p
NB, cheques payable to me, not to ORBIS.
And yes, Paypal button still needs sorting:
please use Contact Form or post request. 
Also, via LinkedIn or Facebook:
www.facebook.com/n/?group.php&gid=53636000056
And the Poetry Library:
http://www.poetrymagazines.org.uk/magazine/index.asp?id=52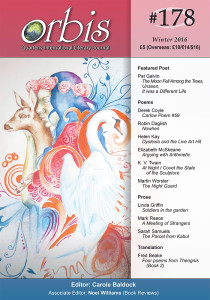 Orbis 178, Winter
£5 (Overseas: £10/€14/$16); Subs: £18/4 pa (Overseas: £36/€50/$60)
Front cover artwork: 'Underneath the Grove of Sycamore" by Gavin Singleton
back cover, detail from image: https://www.artgallery.co.uk/artist/gavin_singleton
Not long now, surely…Saving the Light (Tom McFadden) tells us
Spring is on the way.and we'll all be outside, tucking into Haagen Dazs
alongside Geroge Saito,somewhere, oh I don't know, perhaps overlooking
a Harbour Scene, sharing the view with Jack Little.
We could be looking for Charlie Baylis and his Mermaids, or even
The Witch, Her Book in Martha Street's tale.However, given the English weather,
more likely we'll be thinking Sarah Sibley's got it right: The wind is a curse,
if not quite as bad as what Vuyelwa Carlin says concerning
a Rat in the Frosty Garden. But let's get serious and discover
what Dorothy Yamamoto knows about A brief history of footwear.
Or should that be Surreal? Courtesy of Michael Henry, Je suis un mouchoir –
because you can enjoy all sorts, even the unexpected, in Orbis.
Featured Poet
Pat Galvin: The Moon Fell Among the Trees; Unseen; It was a Different Life,
Poems from: Derek Coyle, Carlow Poem #59; Robin Daglish, Nowhen;
Helen Kay, Dyslexia and the Live Art Hit; Elizabeth McSkeane,
Arguing with Arithmetic; K. V. Twain, At Night I Covet the State of the Sculpture;
Martin Worster, The Night Guard
Prose from: Linda Griffin, Soldiers in the garden;
Mark Reece, A Meeting of Strangers; Sarah Samuels, The Parcel from Kabul
Translation: Fred Beake, Four poems from Theognis (Book 2)
Past Master: Philip Dunkerley on Cora Coralina
Reviews by
Ross Cogan, Clairr O'Connor, David Harmer, Afric McGlinchey,
D. A. Prince, Lynne Taylor, David Troman and Noel Williams

Orbis 177 contributors also include:
Mark Behan; Denise Bennett; Gail Dendy; Richard George;
Ann Gibson; Alan Hester; Dorrie Johnson; Fred Johnston; Robert Kennedy;
Mary Lee; Michael McCarthy; Dave Medd; Nancy Anne Miller;
Simon Perchik; Jenna Plewes; Joan Sheridan Smith; Ginny Sullivan;
Peter Sutton Merryn Williams; Martin Worster