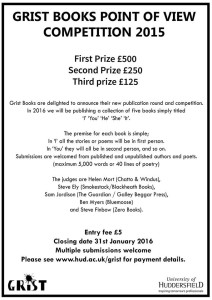 January 31
GRIST BOOKS POINT OF VIEW COMPETITION 2015 (sic)
Calling all amateur and published writers! Grist Books are delighted to announce that they are publishing a collection of 5 books in 2016 simply titled 'I', 'You', 'He', 'She', 'It'.
http://mhm.hud.ac.uk/grist//competitions/index.htm
Entrants should submit either short stories or poetry and can submit multiple entries. Each book is written in a different narrative voice and the entries should by either from a first, second or third person perspective. Names will be also be removed from entries when being judged.
The top three winners of the competition will win prize money and have their work showcased at a prestigious literary event; the winners from last year had their books launched at the Huddersfield Literature Festival. This is a great opportunity for amateur writers to have their work published alongside established authors. Previous publications from competition winners include A Call in the Night by Gabrielle Leimon, Cowbody Genes by Wes Lee and Escape Kit by William Thirsk-Gaskill. 
The competition will be judged by five published writers, Helen Mort, Steve Ely, Sam Jordison, Ben Myers and Steve Finbow. Helen Mort is a published poet whom has received many awards for her work including the Fenton Aldeburgh First Collection Prize and, in 2014, she was named as a 'Next Generation Poet'. Steve Ely is a poet and novelist who has been nominated for several awards for his poetry collections and has recently published a biography of Ted Hughes. Sam Jordison is a writer and journalist for The Guardian and the co-director of Galley Beggar Press and of the Crap Towns series of books. Ben Myers is a novelist, poet and biographer who has won and been shortlisted for many prestigious literary awards. Steve Finbow is a writer and lecturer who has written for the stage, as well as writing novels and biographies.
ENTRY DETAILS:
CLOSING DATE: 31st January 2016
Entry Fee: £5
Multiple submissions welcome
Maximum 5,000 words or 40 lines of poetry
First prize £500, Second Prize £250, Third Prize £125