You are currently browsing the monthly archive for November 2018.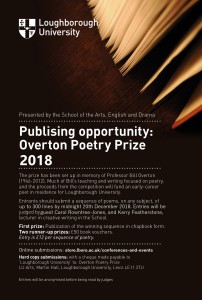 20th December 2018
Overton Poetry Prize 2018
www.lboro.ac.uk/departments/english-drama/events/poetry-prize/
Still Alice
November 6-10
On tour until November 17
Liverpool Playhouse
https://www.everymanplayhouse.com/
3*
Is it just me, or do we tend to think of Alzheimer's as peculiarly British? In fact, am I allowed to say, there seems plenty of evidence that it seems to be rife in America… One thing's for sure, it's something we must all dread, especially as we grow older; every time we forget something , become disorientated or do something daft (how can you possibly mislay a slice of pizza? OK, binned or eaten most likely, but still). Yes, of course, we all do all of those things, and we still all worry.
They Don't Pay? We Won't Pay!
October 30 – November 3
On tour until December 2
Liverpool lLayhouse
https://www.everymanplayhouse.com/
4*
What a difference a day makes, or a decade or several of them, since 'Can't Pay, Won't Pay' was originally written in 1974, and yes, indeed, plus ça change. So how does it translate? Exceedingly well, thanks to Deborah McAndrew, and what a difference is made by those two pronouns, plus a slight tweak for the title, and for Marx's statement that history repeats itself, ' first as tragedy, then as farce'. What we have here is even more than that: the tragic situation of far too many people today, underlined by the use of surreal farce.
Reviewed for North West End: www.northwestend.co.uk

The Unreturning
October 16-20
On tour until March 1
Liverpool Everyman
https://www.everymanplayhouse.com/
4*
'War, war! That's all you ever think about, Dick Plantagenet!' has to be the worst opening line for a review; dreadful piece of film dialogue. But a subject damn near as old as the human race is one which presents any number of obstacles for any playwright and any theatre company. We've seen and heard it all a million times; how do you create something different to evoke the pity of war, and all its horrors? And that yearned for homecoming, to comfort and security? Or isolation?
Reviewed for North West End: www.northwestend.co.uk
FUP
October 9-15
On tour until October 20
Liverpool Everyman
https://www.everymanplayhouse.com/
4*
So this is a modern fable? It could certainly be classed as a fairytale, being extremely grim in places, the tale of orphan Tiny, adopted by his apparent reprobate of a grandfather. The boy grows up to be obsessed with building fences, literally keeping things in as well as out. And having lost father then mother under tragic circumstance, still haunted by the latter, he takes to caring for the eponymous Fup, yes, it has to be said, like a duck to water…
Reviewed for North West End; shorter version appears on their website: www.northwestend.co.uk
October 9-13
Persuasion
On tour until April, 2019
Liverpool Playhouse
https://www.everymanplayhouse.com/
4*
Yes, you may be familiar with the story, yet this production keeps you on the edge of your seat: will Anne Elliot ever find true love with Frederick Wentworth, the happy ending she truly deserves? It's been eight long years since her family dissuaded her from accepting his proposal: no means; no
Reviewed for North West End: www.northwestend.co.uk
The Animals and Children Took to the Streets
October 17-20
Liverpool Playhouse
https://www.everymanplayhouse.com/
3*
We're off to a good start, free bags of sweeties being passed around. Or are we? Along with the not so goodies, there's no indication in the notes as to who plays which main role. And the title does not do what it says on the can: no animals appear, apart from one cat. However, easy to imagine the anarchic 1927 company having a giggle about that. Or simply indulging in a Gallic shrug.
And we're off to the seediest of slums, Bayou Masions, along with Agnes Eaves (and daughter Evie), and she is full of good intentions despite the horribly grim environment where nobody dares venture out at night because of the feral children swarming everywhere. Agnes is convinced they just need a little love and understanding; the sinister Council has ideas of quite a different nature to solve the problem.
Her love interest, well, he should be so lucky because she really is not interested, is the Caretaker, and the two other main characters are the owner of the Second Hand Shop and her daughter, Zelda, head of a gang of the children, known as the Pirates, their clarion call being 'we want what you have out there'. But it's impossible to tell who plays what, particularly as The Caretaker, with a shock of Struwwelpeter hair, and Robert in 'The Golem' look similar yet are played by different actresses. By a process of elimination, Rowena Lennon, I think, is the delightful, demure Agnes as well as naughty Zelda, then perhaps Felicity Sparks is the Caretaker, who, along with Agnes, garners most of our sympathy; both of them stubborn yet reluctantly brave. Which leaves Rowena Lennon, maybe, as the enchantingly roguish Madame Whateverhernamewas, dry wit, dodgy dealer and Molly Parkin lookalike.
The basic design is the facade of the tenements, windows popping up all over the place, and scenes and scenery change at a bewildering pace, sometimes split with each half left and right of the stage. The scattergun switching of images can be confusing; when news headlines are projected on the backdrop, words and letters are every which way making them difficult to read. Again, you suspect this is all done on purpose, so you should just sit back and enjoy the show, admiring the Russian and Parisian influences on what is basically a cartoon or graphic novel brought to life before your very eyes. However, quite a few devices are the same as those in 'The Golem', particularly the animation and the pounding music accompanying the Caretaker when administering silly walks as he marches along or runs around. The whole thing, nevertheless, is startling, and bizarre, and very, very clever with delicious word play and exquisite rhymes, interrupted by the occasionally rude and risqué, and enhanced by wonderfully jaunty music and satirical comment enunciated in cut-glass tones.
Such a vividly original story, created with a loving, old fashioned attention to details, it could easily become a classic. You may not believe you should clap hands if you believe in fairies, but this dystopian fairy tale earned plenty of applause from a thoroughly captivated audience. Think Roald Dahl, think 'Cabaret', think Tim Burton – and just think what'll you be missing if you don't experience this show for yourself.
Reviewed by Carole Baldock
October 17
The Inaugural Manning's Pit Poetry Competition
CLOSING DATE: 30/11/2018
Postal entries only
Ms. B Snowden, Fig Tree Cottage, Bellaire,
Barnstaple, Devon, EX31 1QZ, UK
Café Writers Open Poetry Competition 2018
Sole Judge Daljit Nagra (no filtering)
Closing Date 30th November
# Wundor Poetry Contest 2018
Over 16s
Deadline: November 30, 2018
https://wundoreditions.submittable.com/submit/124513/wundor-poetry-contest-2018