You are currently browsing the monthly archive for December 2017.

Historical Novel Society New Novel Award
Deadline: December 31
For an unpublished novel; online submission only
http://historicalnovelsociety.org/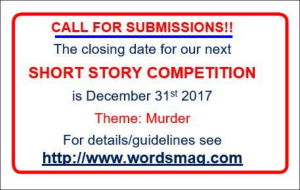 31st December 
Words Short Story Competition 2017
www.wordsmag.com

January 1, 2018
Tongues&Grooves Prose Poem Prize 2018
https://tonguesandgrooves.com/2017/03/08/international-prose-poem-2017/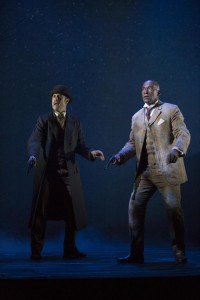 December 9-January 13
Baskerville
A Sherlock Holmes Mystery by Ken Ludwig
Liverpool Playhouse
Reviewed for North West End
www.northwestend.co.uk
3*
Off to a cracking start, with a huge clap of thunder, opening onto a desolate stage and five mysterious figures. In many ways, tonight's special effects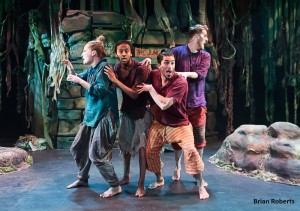 Photograph: Brian Roberts
December 1 – January 6
Jungle Book
Unity Theatre: www.unitytheatreliverpool.co.uk
Reviewed for North West End;
shorter version appears on their website: www.northwestend.co.uk
4 *
Have the Unity gone and done it again again – or have they over-done it this time: bitten off
Other
December 15
0 New Media Writing Prize
Interactive fiction or non-fiction written specifically for digital delivery
Fancy a closer look?
Introductory offer: 2 back issues for just £7, down from £5 each,
and that includes p+p: £1.60 (saving £3) –
because reading magazines helps judge the best match with your work
in order to maximize publication opportunities.
Information is posted virtually every day,
regardless of what the date counter says, unless –
I've been thinking: the worst thing of all in the current climate is that
so many people have had to remain silent for so long, unable
to bring themselves to say anything about the way they have been treated
Subs: £18/4 pa. Single issue: £5, all including p+p
Overseas:  £38/€50/$60. Single issue: £10/€14/$16
Overseas, 2 back issues: £16 (€18/$22), saving £4
NB, cheques payable to me, not to ORBIS.
Paypal: please use Contact Form or post request for email address 
Also, via LinkedIn or Facebook:
www.facebook.com/n/?group.php&gid=53636000056
And the Poetry Library:
http://www.poetrymagazines.org.uk/magazine/index.asp?id=52
Orbis 181, Autumn
£5 (Overseas: £10/€14/$16); Subs: £18/4 pa (Overseas: £38/€50/$60)
Front cover artwork: 'Bridge Over Troubled Waters' by Shanina Conway
https://shanina-conway.pixels.com/index.html?tab=images&page=3
The Long and the Short and the Tall? Well, long poems this time, certainly,
and a lot that rhyme  (which perhaps this should do in honour of the occasion),
except – Helen Harrison's  The Rhythm of Wood. Plus a couple under 10 lines,
and maybe you'll agree with  Gregory Arena, that We're all Dr Who?
Yes, quite a few Tales of the Unexpected: ever come across
The Patagonian Su? Let Colin Sutherill explain. Or you could visit  Mt. Hiei
in the company of Pauline Flynn, perhaps pay a Cold Call, with Martin Malone.
Meanwhile, Lay by Gale Acuff is entirely open to interpretation,
and better pay heed to Marie Dolores's suggestion: Beware the Meek.
What exactly does Cathy Whittaker have in mind, saying, I will buy a trunk?
No prizes however for guessing whom Grahame Lloyd's
Trumpery Trumpety Trump is about. And forgive us
if we seem to be blowing our own trumpet, Because reading the magazine –
you'll soon see why…
Featured Poet

Lyn Moir: Life Drawing; Playing Deck Shuffleboard with Somerset Maugham, 1948;
At the Movies, Ohio 1942
Poems from Matt Barnard, A Portrait of the Artist as a Sasquatch;
Judith Drazin, A Blue Time; Jonathan Edwards, Best Man;
Eve Jackson, The Dutch Circus Came To Town and They Missed It;
Grahame Lloyd,Trumpery Trumpety Trump
Prose from
Gregory Arena, Examination: the Italian English Certification Centre Cambung ©;
Christine Despardes, MassCity; Joanne Feltham, Perspectivo (Translation):Perspective
Past Master: David Troman on Johann Wolfgang von Goethe
Article: Carol Sausman: On Rhyme and Reason
Reviews by Maria Isakova Bennett, Ross Cogan, Angelina d'Roza,
David Harmer, Lindy Newns, Lynne Taylor, David Troman and Noel Williams
Orbis Contributors also include
Kevin Barrett; Jane Blanchard; A. C. Clarke; Michael Coy;
David Crann; Fiona Donaghey; Kieran Egan; Scott Elder;
Aidan Fadden; Leo Holloway; Patricia Leighton; Tim Love; Julie Lumsden;
Patricia McCaw; D. A. Prince; Tanya Prudente; Alexandra Sashe;
A. K. S. Shaw; Anne Symons; Philip Williams; Alessio Zanelli