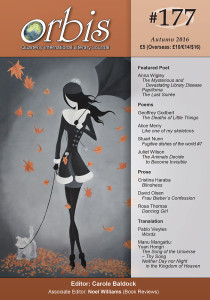 Orbis 177, Autumn
£5 (Overseas: £10/€14/$16); Subs: £18/4 pa (Overseas: £36/€50/$60)
Front cover artwork: 'Copper Rain' by Kelly Marie Davidson
back cover, detail from image: www.artgallery.co.uk/artist/kelly_marie_davidson_2
Singing in the Rain, and Walking the Dog; as you may guess
from the cover, plenty here to be making a song and dance about,
rather than having to think about Xxxx…present buying,
unless a copy of the magazine of course, could be Contained,
Alison Chisholm claims, while Jenny Hockey makes the case more strongly:
Why not end your days without because you and Bobbie Sparrow both,
could be awaiting The quiet intercession of Eros,
or savouring the sound of Noctilucence with Noel Williams.
Isn't that The key (John Brooke)?
Craig Dobson tells us all about Water's Way,
but the way we do things at Orbis is to ensure
that you continue enjoying the magazine.
Featured Poet
Anna Wigley:The Mysterious and Devastating Library Disease;
Papilloma; The Last Soirée
Poems from:Geoffrey Godbert: The Deaths of Little Things;
Alice Merry: Like one of my skeletons;
Stuart Nunn: Fugitive dishes of the world #7;
Juliet Wilson: The Animals Decide to Become Invisible
Prose from: Cristina Haraba: Blindness; David Olsen: Frau Bieber's Confession;
Rosa Thomas: Dancing Girl
Translation: Pablo Vieytes: Words;
Manu Mangattu:Yuan Hongri:The Song of the Universe – Thy Song;
Neither Day nor Night in the Kingdom of Heaven
Past Master: Stuart Nunn on Alexander Pope
Reviews: Maria Isakova Bennett, Philip Dunkerley, David Harmer,
D. A. Prince, David Troman and Noel Williams
Orbis 177 contributors also include:
Christopher Allan; James Aitchison; Anne Banks; Stephen Bett;
Jo Burns; Mark Czanik; Adele Fraser; David Harmer; Richard Hughes;
David Lloyd; Michael Loveday; Eamonn Lynskey; James McKee;
Olha Matso; Kathy Miles; Anita Ouellette; Ali Pardoe; Sari Pauloma;
Fred Pollack; Neil Reeder; Marilyn Ricci; Marg Roberts; Davide Trame;
Jay Whittaker; Helen Whitten; Nicky Winder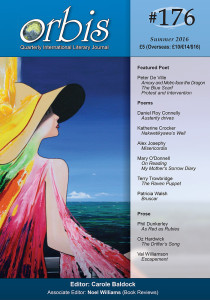 Orbis 176, Summer
£5 (Overseas: £9/€12/$16); Subs: £17/4 pa (Overseas: £35/€42/$58)
Front cover artwork: 'Horizon' by Peter Leslie Wilks
back cover, detail from image: www.artgallery.co.uk/artist/peter_leslie_wilks
Still waiting for the sunshine? Maybe this issue will brighten things up
with Helen Ashley and some Borrowed Light, whether you join
Grahaeme Barrasford Young, Playing, Lorna Sherry up in Edinburgh,
Nicki Griffin, In Carnadoe Waters, or go with Juli Jana on a Bus Ride
Further still: Alec Taylor's Space Ilimad. And humming along to
Lara's Theme (John Arnold), you could enjoy Miraculous Kashgar,
a Story told by Li Suo and Liang Yujing, and Watching The Invisible Man
with Patrick Deeley. But fine weather or not, unlike Hilaire, (I make no) Apology,
because to experience anything fully,as Bibhu Padhi tells us,
what's needed is: Touch, Taste, and Time –
all of which you can have with Orbis
Featured Poet
Peter De Ville:
Amoxy and Metro face the Dragon; The Blue Scarf; Protest and Intervention
Poems from: Daniel Roy Connelly: Austerity drives;
Katherine Crocker: Nakwetikyawa's Well;
Alex Josephy: Misericordia:
Mary O'Donnell: On Reading My Mother's Sorrow Diary;
Terry Trowbridge: The Raven Puppet; Patricia Walsh: Bruscar
Prose from: Phil Dunkerley: As Red as Rubies;
Oz Hardwick: The Drifter's Song;
Val Williamson: Escapement
Past Master: Sean Howard on Charles Sorley
Reviews: Maria Isakova Bennett, Philip Dunkerley, David Harmer,
D. A. Prince, David Troman and Noel Williams
Orbis 176 contributors also include:
Gary Beck; Jane Blanchard; C M Buckland; Lucinda Carey;
Jim Conwell; Stella Davis; Judith Dimond; Frances Galleymore;
Chris Hardy; Ashleigh John; Gloria Keeley; Richard Livermore;
Tim Love; Terry Quinn; Chelsea Ruxer;
Caroline Smith; Jean Taylor; F. J. Williams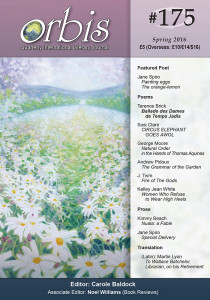 Orbis 175, Spring
£5 (Overseas: £9/€12/$16); Subs: £17/4 pa (Overseas: £35/€42/$58)
Front cover artwork: 'White lacy April in Sussex' by Gill Bustamante
back cover, detail from image: www.gillbustamante.com
Can we tempt you, since Di de Woolfson
is providing a Lure, to accompany us, and Sheri Vandermolen, on Holi Days,
or perhaps observe St. Kevin and the Otter with Mark D. Hart.
Or how about a visit, indeed, a visitation, from David J. Costello's Angel,
although that may lead to States of emergency, Michael Bartholomew-Biggs,
warns us, in which case, like Anne Rees, you'll be thinking:
May the Force be with you. But you could take refuge with Luke Palmer,
In the house of lying-in, where Kevin Griffiths is getting Next to the Skin,
because, as Neil McCarthy says, it's Something of a sign –
you do not want to be missing out on this issue.
And then find out from Sean Heslin, maybe, the result of A Courtroom Drama…

Featured Poet: Jane Spiro: Painting eggs; Half, Whole
Poems from: Terence Brick: Ballade des Dames de Temps Jadis;
Susi Clare: CIRCUS ELEPHANT GOES AWOL;
George Moore: Natural Order n the Hands of Thomas Aquinas;
Andrew Pidoux:The Grammar of the Garden; J. Twm: Fire of The Gods;
Kelley Jean White: Women Who Refuse to Wear High Heels
Prose from: Kimmy Beach: Nuala: a Fable; Jane Spiro: Special Delivery
Translation: (Latin): Martin Lyon: To Wallace Batchelor, Librarian, on his Retirement
Past Master: Peter De Ville on Sidney Royse Lysaght
Reviews by: Maria Isakova Bennett, Ross Cogan, Angelina d'Roza,
David Harmer, Jennifer A. McGowan, Clairr O'Connor,
D.A. Prince, Andrew Taylor and Lynne Taylor
Orbis 175 contributors also include:
Ruth Arnison; Prue.Chamberlayne; Kathryn Daszkiewicz; Richard Halperin;
Jenny Hill; V. B. Irons; Tom Kelly; Jenny King; Simon Leonard;
Caroline Maldonado; Lindy Newns; William Oxley; Cedric Picken;
Anne Rees; Roger G. Singer; Sue Spiers;
Rosamund Taylor; Peter Viggers; Lyn White; Howard Wright
Orbis 174, Winter
£5 (Overseas: £9/€12/$16); Subs: £18/4 pa (Overseas: £35/€42/$58)
Front cover artwork: 'Contemplation' byChristopher Langley;
back cover, detail from image: www.christopherlangley.net
The light is brightening, finally, dawning you could say, with much to contemplate. For example,
Richard Toovey and Thirty-Six-Immortal-Poets-Japanese-Asian-Culture-/360314130089 pt=Art
_Prints&hash=item53e4. But keep a very close watch on Colin Sutherill's Snake Eyes
when accompanying Andy Hickmott andZoology 101. Instead, you could head for the coast
to watch Carolyn Oulton watching the Ebb-Tide, or join Beth Somerford
at Ditchling Beacon, steering clear of The Hound of the Baskervilles (Will Kemp)
and David Greenslade's Wicker Basket Tank if it comes at you, maybe After a minor medical hiatus
(Elizabeth Birchall)… So, back where we started, and Antony Mair is Thinking of Shelley in the Winter Gales,
John Vickers pondering The white shadow, while Paul Connolly considers the Night and Stars
Indisputable Truth (Bogusia Wardein), that's what you are mostly going to find in this issue –
though maybe best take it easy with Jenny Hamlett and The Enchanted Cakes at Capenhurst
Featured Poet
Michael Coy: Ambrose Clues-Up Augustine; Hitler's Watercolours
Poems from: Roger Caldwell: John Steed in retirement remembers Mrs Peel;
Jane Houston: Piddocks; Eve Jackson: It isn't easy being sea;
Jules Whiting: Tucked Between the Pages of a Wordless Glance; Jeremy Young: Metamorphosis
Prose from: Michael Coy: McBurney's Urn; Jilly Funnell; Dinner Date;
Laura Solomon (with Kya Solomon, Zoe Solomon and Nadia Smith): Castle
Translation: David Ball: François Migeot: Faces
Past Master: Jean O'Brien on Dora Sigerson Shorter
Reviews by David Harmer, Jennifer A. McGowan, Clairr O'Connor, D. A. Prince,
Lynne Taylor, David Troman and Noel Williams
Orbis 174 contributors also include:
Arthur Broomfield, Shane Doheny, Julie Lumsden, Achilleas Katsaros,
Rupert M Loydell, Katherine Noone, Ann Osbourn, Rob Packer,
Donna Pucciani, Adam Rooke, Alexandra Sashe,
K.V. Skene, Sheila Spence, Jean Stevens, Marc Swan, Frank Wood
Orbis 173, Autumn 2015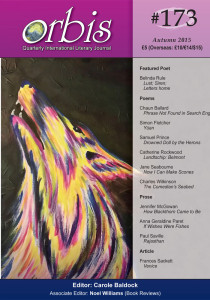 £5 (Overseas: £10/€14/$16); Subs: £18/4 pa (Overseas: £36/€50/$60)
Front cover artwork:
'Night wolf' by Lolita Parekh;
cover, detail from image:
http://atlolis1989.artweb.com/
But you're all right now… as the old joke goes.
And so is Linda Benninghof,
with Gas, food, lodging, Patricia Griffin,
despite having to battle
The Wind from the West,and Pat Farrington,
back From the Underworld.
There, she may well have encountered
That Man (Breda Spaight),
Pete Langley's Airside Bagatelle Lady
or The Cern Archivist (Julian Turner).
No wonder Sharon Black enquires Are My God So Different From Yours?
And thank goodness Maurice Devitt provides a Beginner's Guide to Escapology.
But if you do go Astray with Clifton Redmond,
or end up feeling a bit Lost, like Patrick Moran,
at least you'll find something good to read in here, all 96 pages of it.
Although of course, as they always say,
and Lavinia Kumar points out, It's Not the Size…
Featured Poet: Belinda Rule: Lust; Siren; Letters home
Poems from Chaun Ballard: Phrase Not Found in Search Engine; Simon Fletcher:Yüan; Samuel Prince: Drowned Doll by the Herons;
Catherine Rockwood: Landtschip: Belmont; Jane Seabourne: Now I Can Make Scones; Charles Wilkinson:The Comedian's Seabed 
Prose from Jennifer McGowan: How Blackthorn Came to Be;
Anna Geraldine Paret: If Wishes Were Fishes; Paul Saville: Rajasthan
Article: Venice by Frances Sackett

Past Master: Peter Butler on Robert Bloomfield
Reviews by Ross Cogan, Angelina D'Roza, David Harmer,
D. A. Prince, Lynne Taylor, David Troman and Noel Williams
Orbis 173 contributors also include:
William Alderson; Tara Ballard; Denise Bennett; David Burridge; Keith Chandler;
Scott Elder; Jonathan Greenhause; Pauline Hawkesworth; Claire Louise Hunt;
Patricia Leighton; James B. Nicola; Ilse Pedler; Tanya.Prudente; Jimmy Rodda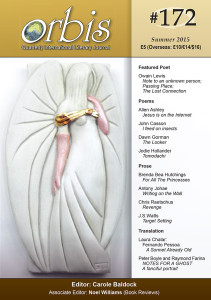 Orbis 172, Summer 2015
£5 (Overseas: £9/€12/$16); Subs: £17/4 pa (Overseas: £35/€42/$58)
Front cover artwork:
'Heart Angel' by Garry White;
back cover, detail from image:
www.garrywhitesculptures.com
Summertime –
that usually means something like
The Zoo in the rain (Brian Daldorph),
and sadly,
it does appear to be raining cats and dogs
in Letters and After They Have Gone
by Richard Dinges Jr,
so you may prefer Tariq Latif's view of Dawn by Victoria Parade.
Wondering what a Souvenir of Lowestoft means to Peter Wallis,
or Zen Romance: Reflections, to Michelle R. Disler?
And what would happen if Sheila Wild's Cassowary at the Court of Louis XIV
got a Foothold (Susan Rouchard)? Well, you can learn about Naming from
Maggie Butt and Tooth Wisdom from Andrew Pollard,
and look forward to many a happy, fairytale ending.
Or maybe not, because according to Yuko Minamikawa Adams –
Mickey Has Chopped off Dumbo's Left Ear

Featured Poet: Owain Lewis,
Note to an unknown person; Passing Place; The Lost Connection
Poems from Allen Ashley, Jesus is on the Internet;
John Casson, I feed on insects;Dawn Gorman,The Looker;
Jodie Hollander, Tomodachi
Prose
from Brenda Bea Hutchings, For All The Princesses;
Antony Johae, Writing on the Wall;
Chris Raetschus, Revenge; J.S.Watts,Target Setting
Translation
Laura Chalar: Fernando Pessoa, A Sonnet Already Old
Peter Boyle and Raymond Farina, NOTES FOR A GHOST: A fanciful portrait
Past Master: Chris Raetschus on Constantine P. Cavafy
Article: Simon Fletcher interviewed by Neil Leadbeater
Reviews
Maria Isakova Bennett, Angelina D'Roza, David Harmer,
Jennifer A. McGowan, Clairr O'Connor, D.A. Prince,
Andrew Taylor, David Troman and Noel Williams
Orbis 172 contributors also include:
Veronica Beedham; John Casson; David Crann; John Dixon; Lee Nash;
Jocelyn Page; John Perrault; Peter Phillips; Zara Raab;
Gerard Smyth; Angela Topping; Phil Walsh
Orbis171, Spring 2015
£5 (Overseas: £9/€12/$15); Subs: £17/4 pa (Overseas: £35/€42/$58)
Front cover artwork: 'Birds' by Tammy Ruggles;
back cover, detail from image: http://tammyruggles.deviantart.com/gallery/46117265/
If there's one thing we've got plenty of, it's Stories (Bibhu Padhi),
sometimes artful, like The Yellow Cow by Jennie Osborne,
sometimes dark and mysterious, with David Banks Exorcising Gehenna,
or Geraldine Clarkson's After-woods, and often both,
when you join Robin Thomas and Edward In The Garden.
You're off on A Strange Journey, as Kathy Miles will tell you.
Spend a Moment with Roxy Dunn, enjoy Michael Henry's Nocturne in Biarritz,
play Rock, Paper, Scissors with Richard Williams, or discoverKimmeridge, courtesy of Khadija Rouf.
Yes, follow E. Kristin Anderson's instructions: "A Nearby Fence, Pull" –
then all will be revealed…
Featured Poet: Bethany Pope
Hanging, Among the Oranges; My Mother, Masking; A Taint in the Blood
Poems from: Jean Atkin: Itsuarpok;
Alex Dreppec, [INSERT TITLE OF THE POEM HERE];
Cathy Whittaker, Waiting; Alan Zhukovski, The End of Oblivion
Prose from: Julie Maclean, Animal Rites; Don Mulcahy, Back There;
Bethany Pope, Teamwork; John Short, Nobody Talks Anymore
Translation: Judith Wilkinson: Menno Wigman, Herostratos; Stramien
(with support from the Dutch Foundation for Literature)
Past Master: Helen Ashley on Matthew Arnold
Article: Orbis: Genesis and Exodus by founder Robin Gregory
Reviews: Angelina Ayers, Maria Isakova Bennett, Ross Cogan,
David Harmer, Jennifer A. McGowan, D.A.Prince,
Andrew Taylor, David Troman and Noel Williams
Orbis 171 contributors also include:
E. Kristin Anderson; Anne Banks; David Banks; Fred Beake;
Geraldine Clarkson; Monica Corish; Dagmar Drabent; Roxy Dunn;
Nausheen Eusuf; David Harmer; Michael Henry; Jenny Hockey;
Kathleen Kummer; Simon Lewis; G. P. Manuell; Kathy Miles;
Caroline Natzler; Jennie Osborne; Bibhu Padhi;
Jeff Phelps; Khadija Rouf; Gerry Stewart; Ginny Sullivan; Declan Sweeny;
Robin Thomas; Olivia Walwyn; Richard Williams; Jim C. Wilson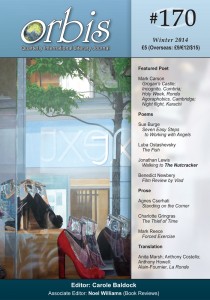 Orbis170, Winter 2014
£5 (Overseas: £9/€12/$15); Subs: £17/4 pa (Overseas: £35/€42/$58)
Front cover artwork: 'Church Street' by Steve Williams;
back cover, detail from image: http://steve50wicks.wix.com/paintings
Of course you want to know what happened
on the road to Ploubalay with Chrissy Banks,
though admittedly risking a peek over John Paul Davies's shoulder into
Jack The Ripper's Bedroom will makes you Perfectly Blue, Faye Boland warns.
Nobody, including Aidan Baker would classify it asThe Finest-Hour Syndrome. –
best stick to the Facts, provided by Fokkina McDonnell
because you never know just what will squeeze out of the Genie's Bottle (Li C. Tien).
Or do you have an answer for Susan Lindsay:
Shall We Get Swept Away By Lunch-time?
Why not find out? Will you be attracted to the shining lights in this issue of Orbis,
along with a surprising number of moths…
Featured Poet
Mark Carson: Grogan's Castle;
Incognito, Cumbria; Holy Week, Ronda
Agoraphobics, Cambridge; Night flight, Karachi
Poems from: Sue Burge: Seven Easy Steps to Working with Angels;
Luba Ostashevsky; The Fish; Jonathan Lewis:Walking to The Nutcracker; Benedict Newbery: Film Review by Vlad
Prose from: Ágnes Cserháti: Standing on the Corner; Charlotte Gringras: The Thief of Time; Mark Reece: Forced Exercise
Translation: Anita Marsh; Anthony Costello; Anthony Howell: Alain-Fournier,LaRonde
Past Master: Merryn Williams on W.H. Davies
Article: Reading Poetry Aloud by William Alderson
Reviews: Angelina Ayers, Maria Isakova Bennett, Clairr O'Connor, David Harmer,
Afric McGlinchey, Jennifer A. McGowan, D. A. Prince, David Troman and Noel Williams
Orbis 170 contributors also include:
John Ashley; Nick Burbridge; Jennie Christian; Annemarie Cooper; Barbara Cumbers; Fiona Donaghy;
Richard George; Alice Harrison; Liz Horrocks; Mary Lee; Jim Lindop; Richard Martin; Jean O'Brien;
Anita Ouellette; Edward Ragg; Rachel Spence; John Whitehouse; Alessio Zanelli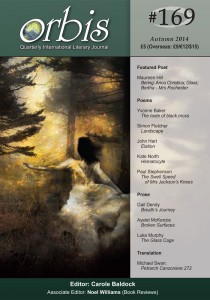 Orbis 169
Front cover artwork: 'When The Forest Calls' byTheresa Tahara;
back cover, detail from image: http://theresa-tahara.artistwebsites.com/
Featured Poet
Maureen Hill: Bering; Anna Christina; Glass; Bertha – Mrs Rochester
Poems from:Yvonne Baker:The taste of black moss; Simon Fletcher:Landscape;
John Hart: Elation; Kate North: Hematocyte;Paul Stephenson:The Swell Speed of Mrs Jackson's Knees
Prose from: Gail Dendy: Breath's Journey; Ayelet McKenzie: Broken Surfaces;
Luke Murphy: The Glass Cage
Translation: Michael Swan: Petrarcha Canzoniere 272
Past Master: Dave Troman on Edgar Allan Poe
Article: Enda Coyle-Greene: One Woman's Voice – the poems of Sheila Wingfield
Reviews by:Angelina Ayers,Maria Isakova Bennett, Suzannah Evans,
David Harmer, Afric McGlinchey, Jennifer McGowan,
Clairr O'Connor, Lynne Taylor, D.A. Prince
Orbis 169 contributors also include:
Niamh Boyce; Séamas Carraher; Ross Cogan; Ian Colville; Stella Davis;
Siobhan Daffy; Eliza Dear; Marianne Dissard; Martin A. Egan; Margaret Gleave;
Cora Greenhill; Oz Hardwick; Chris Hardy; Gloria Keeley; Noel King;
Simon Leonard; Luke Palmer; Ali Pardoe; Kathleen M Quinlan;
Marilyn Ricci; Marg Roberts; Catherine Rockwood;
Phil Ruthen; Martha Street; Alec Taylor; Linda White