You are currently browsing the monthly archive for September 2014.

November 30
FISH PUBLISHING
Short Story Competition 2014/15
www.fishpublishing.com
September 10-13
Lord of the Flies
Liverpool Empire
4*
Not quite what I was expecting, but no denying that dance is probably perfect to capture this novel, all that primitive passion exploding on stage.
Such a powerful work of imagination however does require a lot of imagination to follow exactly what's happening… although the conch is replaced by a drumstick, it is still evoked by the sound of horns, but a heavily symbolic metal door, on an island? And racks of clothes apparently veer from jungle bushes to (OK, perhaps) a sign of missing authority. At times, it's bit too busy, with a cast of thousands, and while actions are said to speak louder than words, and the book's sinister essence is brutally conveyed, some of its complex ideas are not clear: rather than the horrific Beelzebub, at first it seems that Simon is faced with Pinky and Perky. Nonetheless, the stark staging chills, the music is brilliant, and the choreography inventive, from the opening jaunty march to soaring music,
Oh but the dancers are exceptional. Star of the show is Layton Williams, an incredible performance as Simon, though so closely matched by Sam Plant (bullied brainbox, Piggy), Sam Archer as good old Ralph and Danny Reubens as a genuinely menacing Jack. Dan Wright is cruel bully, Roger, while victim, Leonardo Bertamini, who innocently sets off a witch hunt with his belief in monsters, is remarkable – the ensemble is made up of local newcomers but every one of the performers was superb.
A novel once read never forgotten, this shockingly enthralling version is also destined to become a classic.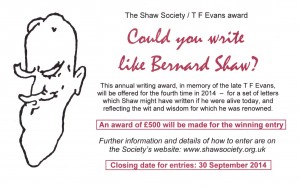 Playwriting
September 30
THE SHAW SOCIETY / T F EVANS AWARD 2014
www.shawsociety.org.uk
September 30
Chorley & District Writers' Circle
national short story competition
www.chorleywriters.org.uk  and www.fictionfeedback.co.uk

September 1-6
One Man, Two Guvnors
Liverpool Empire
4*
It's a long, long way from 18th century Italy, and this version may be a long way off the original, updated to 1963 and happily embracing much of traditional British humour. But in short, it's one of those rare occasions when the entire audience, nearly the entire time, was in complete hysterics.
Fair play to Richard Bean, who adapted Goldoni's farce: the satire is scathing, dialogue incandescent. As for describing the plot, however, that's as confusing as life becomes for your man, Francis Henshall. He is trying to work everything out while working for gangster Crabbe at the same time as Crabbe's nemesis, Stanley Stubbers. Just to make things even more complicated, or just one thing, rather, Stubbe's beloved is Rachel Crabbe. Chuck in star-cross'd lovers, threatening fathers plus a couple of waiters from the Manuel School of Silver Service, and if incredibly far-fetched here and there, with a slight slowing down of pace in the second half, what a mad merry-go-round this all is.
Pantomime in many ways has devolved from Commedia dell'Arte, and here, you can clearly see how, with all the stock characters, mistaken identity, completely over-the-top acting and audience participation – there's even the classic dining scene. And while making do with one other interior (sitting room) and one exterior (Brighton), the scene changes make for delightful interludes, brightened with music from The Craze, occasionally accompanied by cast members: Everyman as Jack of all Trades.
Gavin Spokes puts in a sterling performance (and he's an excellent fit for James Corden's shoes), if at times a little too sure of himself for a man constantly stumbling into predicaments. Patrick Warner is also completely at home with the villainous character of Stubbs, particularly given his surreal flights of fancy.
The whole cast indeed worked their socks off but room to single out just a couple: Edward Hancock as Alan Dangle is refreshing in the hackneyed role of Thespian, balanced by Jasmyn Banks and her successfully heroic efforts as his heroine, dumb blonde Pauline Clench. Meanwhile, Michael Dylan is positively ebullient as the waiter, Alfie; literally a knock-out with prat falls and the like, while Emma Barton (Dolly, the down-to-earth bookkeeper), sparkles in almost a cameo role
An enthralling, hilarious show, although maybe just a bit too calculated and a little too much for some tastes. By and large, though, it's a complete riot.