You are currently browsing the monthly archive for November 2017.
November 30
@ Vanda 'n' Linda's Write Space Short Story Competition
Theme: 'Secrets or Lies'
vandanlinda@gmail.com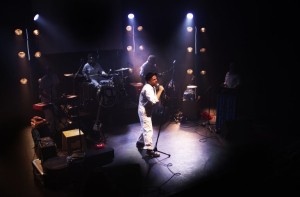 Songs for the End of the World
November 1
Everyman
https://www.everymanplayhouse.com/
3*
Yes, that title certainly does what it says on the can but as for Philip K Dick colliding/colluding with Ziggy Stardust – not so much. K, as in Kindred, incidentally, which is news to me, but the band are clearly kindred spirits, as you will see. Or rather, hear.
October 31 – November 4
Spamalot
Storeyhouse, Chester
Touring – forever, probably
3*
Ok, never a huge fan of Monty Python (except for the sublime 'Spanish Inquisition' sketch – bet you weren't expecting that…), and to be honest, for some strange reason, thought I was going to see Life of Brian. Goodness knows why since this show has been doing the rounds for some time now.
INKTEARS SHORT STORY CONTEST 2017
Deadline: 30 November

http://www.inktears.com/ssentry

November 30
Fish Short Story Prize: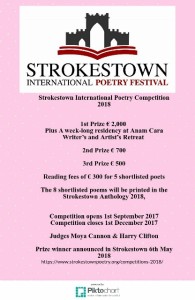 December 1
Strokestown International Poetry Competition 2018
https://www.strokestownpoetry.org/competitions-2018/
Fancy a closer look?
Introductory offer: 2 back issues for just £7, down from £5 each,
and that includes p+p: £1.60 (saving £3) –
because reading magazines helps judge the best match with your work
in order to maximize publication opportunities.
Information is posted virtually every day,
regardless of what the date counter says, unless –
I've been thinking: the worst thing of all in the current climate is that
so many people have had to remain silent for so long, unable
to bring themselves to say anything about the way they have been treated
Subs: £18/4 pa. Single issue: £5, all including p+p
NB, cheques payable to me, not to ORBIS.
Paypal: please use Contact Form or post request for email address 
Also, via LinkedIn or Facebook:
www.facebook.com/n/?group.php&gid=53636000056
And the Poetry Library:
http://www.poetrymagazines.org.uk/magazine/index.asp?id=52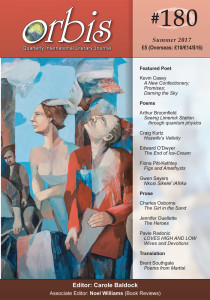 bis 180, Summer
£5 (Overseas: £10/€14/$16); Subs: £18/4 pa (Overseas: £38/€50/$60)
Front cover artwork: 'Day Out by James Walsh ©
back cover, detail from image: www.sarahsamuels.co.uk
Here's one for all those with a child genius, and a vague yearning to learn
(just try googling it…): be intrigued by Laura Seymour
and The fate of the peanut specialist. Not to mention Frances Sackett's
description of the Moon in Flood –and why is Mum's Laughing (Anne Stewart)?
And just how do you go about Outwitting Baba Yaga? Pat Farrington explains,
while John Andrew spins a yarn about his Line of Ancestry.
Join in with Elizabeth Barton's Song of a Suburb, keeping a watch, though,
for Sue Davies and The Strawberry Thieves, as well as The Burner
(Tom Moody). Then relax with some Cocktails in the company
of James Conor Patterson, raising a glass to Neil Beardmore's Amanuensis.
But heed the Teachings of the Shaman from Louis Nthenda, and Sarah Barnsley's
instructions: We have made a number of key appointments –
be sure to keep yours with this issue of Orbis…
Featured Poet Kevin Casey: A New Confectionery; Promises; Darning the Sky
Poems from: Arthur Broomfield, Seeing Limerick Station through quantum physics;
Craig Kurtz, Huswife's Velleity; Edward O'Dwyer, The End of Ice-Cream;
Fiona Pitt-Kethley, Figs and Amethysts; Gwen Sayers, Nkosi Sikelel' iAfrika
Prose from Charles Osborne, The Girl in the Sand; Jennifer Ouellette, The Heroes;
Pavle Radonic, LOVES HIGH AND LOW Wives and Devotions
Translation: Brent Southgate, Poems from Martial
Past Master: Helen Ashley on Edward Thomas
Reviews by Clairr O'Connor, Angelina d'Roza, Philip Dunkerley, David Harmer,
D. A. Prince, Andrew Taylor, David Troman and Noel Williams
Orbis 180 contributors also include
Mike Alderson; Aidan Baker; Linda Benninghoff; Toby Campion; Andrew Curtis;
Nathan Fidler; Angela Howarth; Ian McLachlan; Antony Mair;
Katherine Noone; Val Pargeter; Karen Petersen; Laura Potts; Paul Protheroe;
Natalie Scott; K. V. Skene; David Troman; Chris Woods