You are currently browsing the archive for the Kudos Competitions category.
Other
December 15
0 New Media Writing Prize
Interactive fiction or non-fiction written specifically for digital delivery
July 31
Settle Sessions National Competition
http://settlesessions.blogspot.co.uk/p/blog-page.html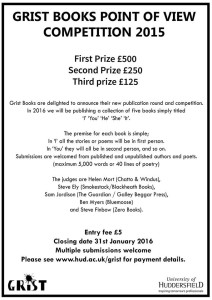 January 31
GRIST BOOKS POINT OF VIEW COMPETITION 2015 (sic)
Calling all amateur and published writers! Grist Books are delighted to announce that they are publishing a collection of 5 books in 2016 simply titled 'I', 'You', 'He', 'She', 'It'.
http://mhm.hud.ac.uk/grist//competitions/index.htm
January 13
@ Barn Owl Trust Open Poetry Competition
"Poetry Competition" Barn Owl Trust, Waterleat, Ashburton, Devon TQ13 7HU
December 31
Martin Lucas Haiku Award
Chris Boultwood, 6 King Street, Chester CH1 2AH
haikupresence@gmail.com