You are currently browsing the monthly archive for July 2021.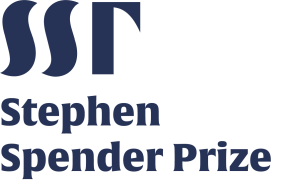 July 16
Stephen Spender Prize for Poetry in Translation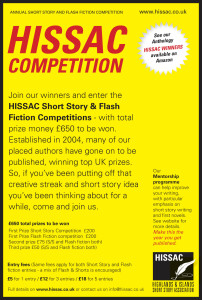 July 31
Annual HISSAC Short Story & Flash Fiction Competitions
www.hissac.co.uk
Fancy a closer look?

And get to know us better: a whole year's worth as pdfs (OS, £20)
+ 1 back copy of the actual magazine: £12 (UK; inc p+p)
Because reading magazines helps judge the best match with your work
in order to maximize publication opportunities.
****
Information is posted at regular intervals,
regardless of what the date counter says
(because I keep forgetting to update it), unless –
I'm busy wondering, how many women
all over the country groaned,
No, not that colour
when Celia Imrie was applying lipstick
in Keeping Faith…

Subs: £18/4 pa. Single issue: £5, all including p+p
Overseas:  £40/€50/$60. Single issue: £11/€14/$16
NB, cheques payable to me, not to ORBIS.
Paypal: please use Contact Form or post request for email address 
Also, via LinkedIn or Facebook:
https://www.facebook.com/groups/53636000056/?ref=br_tf&epa=SEARCH_BOX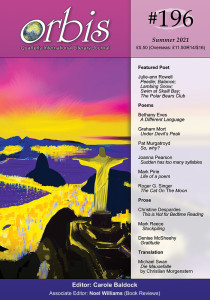 Orbis 196, Summer 2021

£5.50 (Overseas: £11.50/€14/$16); Subs: £19/4 pa (Overseas: £42/€50/$60)
Front cover artwork: 'Redeemer over Rio 2016' by Christopher Langley;
back cover, detail from image: www.christopherlangley.net
A colourful and serene outlook…at long last. So, Why (not) enjoy lounging
in a Hammock as D. R. James suggests, says Pat Murgatroyd… more or less.
And you're sure to find The Cat On The Moon most entertaining,
as does Roger Singer, and maybe a trip to Mongolia with L. B. Jørgensen,
although still intriguing, like Graham Mort's Dorp.
After all, it's always useful  to try A Different Language (Bethany Eves) –
especially when it comes to the Life of a Poem as described by Mark Pirie,
As always, Orbis makes quite a lively read….
Featured Poet Julie-ann Rowell: Peedie; Balance; Lambing Snow;
Swim at Skaill Bay;The Polar Bears Club
Poems from Bethany Eves (A Different Language);
Graham Mort (Under Devil's Peak):
Pat Murgatroyd (So, why?):
Joanna Pearson (Sudden has too many syllables);
Mark Pirie (Life of a poem); Roger G. Singer (The Cat On The Moon)
Prose from Christine Despardes (This is Not for Bedtime Reading);
Mark Reece (Stockpiling): Denise McSheehy (Gratitude)
Translation: Michael Swan: Die Mausefalle by Christian Morgenstern
Past Master: Steve Griffiths on Wilfred Owen
Article: Poetry and the Idea of a Common Culture by David Ball
Reviews by Maria Isakova Bennett, Philip Dunkerley, David Harmer,
D. A. Prince, Theresa Sowerby, Lynn Taylor and Andrew Taylor

Orbis 196 contributors also include
Susi Clare; Robert Cooperman; Mary Earnshaw; Robin Ford; Ray Givans;
Wendy Goulstone; Chris Hardy; Timothy Harwood; Gill Horitz;
Claire Louise Hunt; Tina MacNaughton; Ray Malone ; Mat Riches;
Tricia Robinson; Susan Rouchard; John Scarborough; Michael Swan;
Katherine Swett; Robin Lindsay Wilson; Susan Wismer
---