You are currently browsing the monthly archive for August 2017.
August 31
The London Magazine's Essay Competition 2017
www.thelondonmagazine.org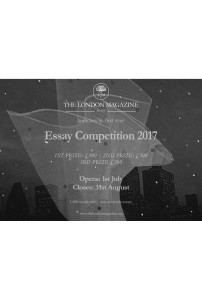 Read the rest of this entry »
August 15
Second Light Open Poetry Competition
for Lond and Short Poems by Women 2017
www.secondlightlive.co.uk/downloads/comp15.pdf
Closing date: Thursday, August 31st 2017
Torbay Open Poetry Competition
www.torbaypoetryfestival.co.uk/competition
£1,000 first prize
plus free weekend at the poetry festival, (19th – 23rd Oct
2017 ), including accommodation and Festival Pass.
£400 second prizeplus a free Festival Pass.
£200 third prizeplus ticket for the
Festival Supper for two.
ENTRANCE FEE: £5.00 per poem, or 5 poems for £20.00.
Winners to be announced at the PRIZE-WINNERS' PARTY on
Saturday 21st October, at the Torbay Poetry Festival, Livermead Cliff Hotel,
Torquay, Devon where short-listed poets will be invited to read their poems.www.torbaypoetryfestival.co.uk/competition Read the rest of this entry »
Alice in Wonderland
Until August 17
Storeyhouse, Chester
3*
Everybody loves Alice and enjoys her adventures and here we are, graced with a most inventive adaptation, which turns out to be an exuberant flight of fancy. That, plus all the wordplay, create an remarkable tribute to Lewis Carroll. However, it did seem like a play of two halves, and if the second one was meant to be based on Through The Looking Glass, Jabberwocky was the only thing which rang a bell, and although there was an extremely clever twist at the end of Part 1 which carried over, basically, Part Deux seemed somewhat superfluous. It was all rather confusing, well,for adults anyway. Read the rest of this entry »
The Beggar's Opera
Until August 18
Storeyhouse, Chester
3*
At long last, here we are in this lovely new building, with the novelty of so many excellent productions.And they may say beggars can't be choosers but here's a choice version being served up, if a touch on the Pantomime side – even to a Dame; tons of local references too.