You are currently browsing the monthly archive for May 2022.
Closing date 31st May 2021
Frome Festival Short Story Competition 2022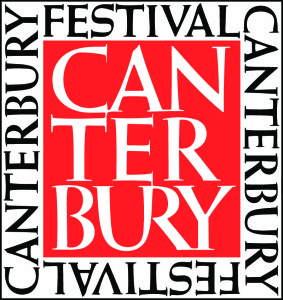 Poet of the Year Competition 2022
Deadline 3 June, 2022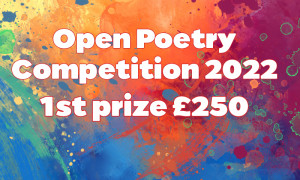 Wirral Poetry Festival 12th Open Poetry Competition
Closing date 27 May, 2022
https://wirralpoetryfestival.org.uk/open-poetry-competition-2022/

Adjudicators: Brian Wake (Open Prizes); Dave Costello (Wirral Prizes).
First Prize: £250 with 4 runners up: £25 each. Special Wirral Prize: £100 with 2 Wirral runners up: £25 each.
Entry fee remains at £4 per poem or £10 for 3 poems.
Winners & runners-up will be invited to read their winning poems at the next Wirral Poetry Festival 7-9 October 2022.
Winning poems will be published on the Festival website.
For further details, and to enter, visit
https://wirralpoetryfestival.org.uk/open-poetry-competition-2022/ Read the rest of this entry »
MAY 31st
THE FROGMORE POETRY PRIZE 2022
www.frogmorepress.co.uk

Fancy a closer look?

And get to know us better: a whole year's worth as pdfs (OS, £20)
+ 1 back copy of the actual magazine: £12 (UK; inc p+p)
Because reading magazines helps judge the best match with your work
in order to maximize publication opportunities.
****
Few magazines are able to offer payment or feedback, but Orbis helps alleviate suffering for Arts' sake: Readers' Award: £50; plus £50 between 4 runners-up
Editor Carole Baldock has also provided proofs with editorial suggestions for every contributor for the past 20 years…

Available for readings and workshops: The A to Y of Getting into Print
Anything at Any level to help Your success:
magazines; collections/books; competitions etc
Everyone said they'd come again which is, of course, the best feedback
(Cheshire County Council workshop)
****
Mentoring and Critique Service
Your editorial expertise was invaluable for improving my work (New York)
Wow – I thought it was finished. You made it so much better (New Zealand)
****
Information is posted at regular intervals,
regardless of what the date counter says
(because I keep forgetting to update it), unless –
I'm busy wondering how we spent our leisure time
before there was Wordle and is getting it in 2 luck or skill?
****
Subs: £19/4 pa. Single issue: £5.50, all including p+p
Overseas:  £42/€50/$60. Single issue: £11.50/€14/$16
NB, cheques payable to me
Paypal: please use Contact Form or post request for email address 
Also, via LinkedIn or Facebook:
https://www.facebook.com/groups/53636000056/?ref=br_tf&epa=SEARCH_BOX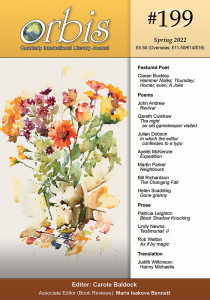 Orbis 199, Spring 2022
Single issue: £5.50 (Overseas: £11.50/€14/$16); Subs: £19/4 pa (Overseas: £42/€50/$60)
Associate Editor (Book Reviews): Maria Isakova Bennett
Please note with new collections, press release in first instance – not review copies
Reviews by Philip Dunkerley; David Harmer; Jenny Hockey; D.A. Prince;
Pauline Rowe; Theresa Sowerby; Andrew Taylor; Lynne Taylor
Front cover artwork: 'Speyside Blooms' by Jonathan Wheeler
back cover, detail from image: www.jonathanwheelerart.co.uk
I'm sure you'll agree with Mary Maher: there's something Special
about this time of year. And although we may not, as C. M. Buckland does,
offer Advice, poetry is full of useful ideas, and interesting tales:
would you like to know who are Our Betters? Ask David Dumouriez.
The Seven Sisters Bracelet? Carmel Summers can tell you, or why is Noel King
telling us that Everybody Has A Swan Poem, So Why Can't I? Maybe you could,
in the nicest possible way of course, get Lost with Nick Conrad, in which case,
the Next Stop, with Tim Dwyer, could be to check R. A. Allen's File Footage.
Yes, Spring Orbis is stuffed full of good things, for example, The Taxidermist
by Verity Oswin. After all, like Clifford Liles, all readers will appreciate
A Subtle Tell of Stones –
and that's in every issue
Featured Poet Ciaran Buckley: Hammer Notes; Thursday; Homer, even; A Joke
Poems from: John Andrew (Revival);
Gareth Culshaw (The night an old gamekeeper visited);
Julian Dobson (In which the editor confesses to a typo);
Ayelet McKenzie (Expedition);
Martin Parker (Neighbours); Bill Richardson (The Changing Fall);
Helen Scadding (Gone granny)
Prose from: Patricia Leighton (Black Shadow Knocking);
Lindy Newns (Testimonial: II); Rob Walton (As if by magic)
Translation: Judith Wilkinson: Hanny Michaelis
Past Master: Peter Viggers, on Rainer Maria Rilke
Orbis 199 Contributors also include
Elaine Alarcontotten; Helen Ashley; Anne Banks; Charlie Baylis; Ed Blundell;
Jim Conwell; Bob Cooper; Christine Curtis; Peter Ebsworth; Jan FitzGerald;
Pam Gormally; Mary Hastilow; Derek Healy; Helen Heery; Martin Kerry;
Jean O'Brien; Caroline Smith; Sheila Spence; Claire Watson
---