You are currently browsing the archive for the News category.
Southport Writers' Circle Annual Short Story Competition 2017
Ends: October 31st
http://www.swconline.co.uk
Fancy a closer look?
Introductory offer: 2 back issues for just £7, down from £5 each,
and that includes p+p: £1.60 (saving £3) –
because reading magazines helps judge the best match with your work
in order to maximize publication opportunities.
Information is posted virtually every day,
regardless of what the date counter says, unless –
I'm busy thinking: it's all in the timing: Ryanair castigated in the News, immediately followed by an ad – for Ryanair…
Subs: £18/4 pa. Single issue: £5, all including p+p
NB, cheques payable to me, not to ORBIS.
Paypal: please use Contact Form or post request for email address 
Also, via LinkedIn or Facebook:
www.facebook.com/n/?group.php&gid=53636000056
And the Poetry Library:
http://www.poetrymagazines.org.uk/magazine/index.asp?id=52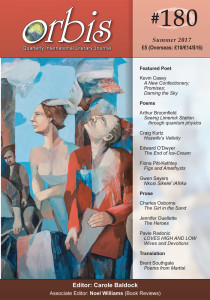 bis 180, Summer
£5 (Overseas: £10/€14/$16); Subs: £18/4 pa (Overseas: £38/€50/$60)
Front cover artwork: 'Day Out by James Walsh ©
back cover, detail from image: www.sarahsamuels.co.uk
Here's one for all those with a child genius, and a vague yearning to learn
(just try googling it…): be intrigued by Laura Seymour
and The fate of the peanut specialist. Not to mention Frances Sackett's
description of the Moon in Flood –and why is Mum's Laughing (Anne Stewart)?
And just how do you go about Outwitting Baba Yaga? Pat Farrington explains,
while John Andrew spins a yarn about his Line of Ancestry.
Join in with Elizabeth Barton's Song of a Suburb, keeping a watch, though,
for Sue Davies and The Strawberry Thieves, as well as The Burner
(Tom Moody). Then relax with some Cocktails in the company
of James Conor Patterson, raising a glass to Neil Beardmore's Amanuensis.
But heed the Teachings of the Shaman from Louis Nthenda, and Sarah Barnsley's
instructions: We have made a number of key appointments –
be sure to keep yours with this issue of Orbis…
Featured Poet Kevin Casey: A New Confectionery; Promises; Darning the Sky
Poems from: Arthur Broomfield, Seeing Limerick Station through quantum physics;
Craig Kurtz, Huswife's Velleity; Edward O'Dwyer, The End of Ice-Cream;
Fiona Pitt-Kethley, Figs and Amethysts; Gwen Sayers, Nkosi Sikelel' iAfrika
Prose from Charles Osborne, The Girl in the Sand; Jennifer Ouellette, The Heroes;
Pavle Radonic, LOVES HIGH AND LOW Wives and Devotions
Translation: Brent Southgate, Poems from Martial
Past Master: Helen Ashley on Edward Thomas
Reviews by Clairr O'Connor, Angelina d'Roza, Philip Dunkerley, David Harmer,
D. A. Prince, Andrew Taylor, David Troman and Noel Williams
Orbis 180 contributors also include
Mike Alderson; Aidan Baker; Linda Benninghoff; Toby Campion; Andrew Curtis;
Nathan Fidler; Angela Howarth; Ian McLachlan; Antony Mair;
Katherine Noone; Val Pargeter; Karen Petersen; Laura Potts; Paul Protheroe;
Natalie Scott; K. V. Skene; David Troman; Chris Woods
Storeyhouse, Chester
All or Nothing
September 27-30
Touring until November 11
4*
I've actually been to Itchycoo Park – and remember it because that was in the 70s, not the 60s.
Storeyhouse, Chester
www.storyhouse.com
Footloose
September 5-9
4*
Another first – not just the musical but the newly opened 800 seater auditorium, so maybe a bit churlish to mention
Alice in Wonderland
Until August 17
Storeyhouse, Chester
3*
Everybody loves Alice and enjoys her adventures and here we are, graced with a most inventive adaptation, which turns out to be an exuberant flight of fancy. That, plus all the wordplay, create an remarkable tribute to Lewis Carroll. However, it did seem like a play of two halves, and if the second one was meant to be based on Through The Looking Glass, Jabberwocky was the only thing which rang a bell, and although there was an extremely clever twist at the end of Part 1 which carried over, basically, Part Deux seemed somewhat superfluous. It was all rather confusing, well,for adults anyway. Read the rest of this entry »
The Beggar's Opera
Until August 18
Storeyhouse, Chester
3*
At long last, here we are in this lovely new building, with the novelty of so many excellent productions.And they may say beggars can't be choosers but here's a choice version being served up, if a touch on the Pantomime side – even to a Dame; tons of local references too.
Events
June 24
A Brief History of Western Philosophy
The Sum
May 6 – July 1
Everyman
https://www.everymanplayhouse.com/
3*
If you haven't lain in bed at night wide awake doing mental arithmetic in every permutation to borrow from Peter to try and pay Paul, you may not fully appreciate this play. But probably all of us have been there in some shape or form at some point. If not in quite such dire straits as Eva, a very spirited performance from Laura Dos Santos. On top of her money problems,and from dementia struck mother to bullied daughter via feckless boyfriend and obsessively infatuated boss, the last thing she needs is to lose her job.
Times is hard; work is scarce, money even more so, but apart from these themes, what is interesting here is the unusual staging: four sort of mini sets, with bedroom and living room on one side, kitchen and garden to the right. And with a variety of lighting overhead, why, it's almost as if BHS had never gone away. It works well for Eva's home as well as McClasker's store (plus a soup kitchen and the boss's pad), as do the cast who finely orchestrate manoevres, even in all the excellent song and dance routines. Nonetheless, eventually it's distracting because you cannot help but be convinced that somebody is bound to come a cropper, especially as the band, also first class, are stuck in the middle with you, or rather, them, down in a hole where memebers of the cast occasionally join them,
But this is to quibble, as is approaching the second half wondering what on earth else could go wrong. Well, Iris (Pauline Daniels on top form, particularly when singing) veers, emotionally, from fear to anger, with granddaughter Lisa proving to be exceptionally eloquent for a teenager; Emily Hughes in a remarkable portrayal. Keddy Sutton stands out as the down-to-earth Steph, Eva's kind-hearted best friend from school while the two main men, as it were, albeit rather pathetic, bring this home by way of contrast, Patrick Brennan as the thoughtless if long suffering rich man, Liam Tobin as Danny Scott, hard up, open-hearted but just as thoughtless.
Ironically, give there is ample, neverending cause for vociferous complaint because of the state of affairs the characters have to struggle through, the jaunty musical side is uplifting. And as a political animal (as we all have to be in these turbulent times) and writer, Lizzie Nunnery has come up with something which deserves to be a roaring success.
June 7-17
Omnibus
Royal Court Liverpool in association with Unity Theatre
www.unitytheatreliverpool.co.uk
1 Hope Place, Liverpool L1 9BG
4*
Life imitating Art… goodness, what a brainwave: Katie Mulgrew has taken this idea and run with it, and then some, when the lives of real people (well, you know what I mean) , which already resemble a soap opera, take a sudden turn with the introduction of a new character.
We're currently in a cosy living room (not the 80s, despite the Dirty Dancing poster…) where Mark and Nell share a house with landlady Lauren. The three of them are busy watching something with gangsters on TV whilst Mark's girlfirend Jess is busy in the kitchen attempting to make dinner; I mean, tea. Then Leslie (gender neutral – and I still spelt it wrongly) turns up with a suspiciously heavy bag, at the wrong house.
The dialogue, as you may have guessed, is packed with catchphrases and running jokes, and extremely funny; it's not that often you get audiences applauding scenes, never mind witty comments. This soars with the jokes and daft remarks, then plummets, laden with sadness. Best of all, it is exceptionally true to life, even to the point of long, meandering, ultimately pointless anecdotes, which it takes an actress of the cailbre of Eithne Brown to deliver. As Nell's Mum, she brings a leg of lamb, along with a whole new dimension to the description 'cameo'.
The farcical plot (in the very best sense of the word) merrily gallops along, breathlessly fast paced – tho how anybody could ignore thousands of pounds lying around is stretching it a bit. But the cast as a whole cannot be faulted, although they seem to veer initially towards sterotypical: sensible, stoical Nell (Gemma Banks), 'sexily stupid' Jess, mournful, drunken Lauren; feckless Mark and flaky Leslie (Danny Burns). But like the playwright, they take these archetypes and run rings round them with their own particular interpretation.So we admire Nell, determined to do the right thing, and we're delighted when she is rewarded; we're entertained by Danny Burns as Mark, even if he could do with a good shake. We feel for Alice Whitney-Bunker's abandoned Lauren and wish her the best in an unusual choice of a future, as we do for Leslie, tormented by dilemma but ultimately determined to do the right thing. Best of all, and quite frankly, worst of all, there's Jess, whom Eva McKenna absolutely goes to town with (Essex), and cleverly plays as screechingly OMG over the top; absolutely infuriating and an utter bitch. She may not earn our sympahty but boy, every time she puts in an appearance, you are glued to your seat.
So it's welcome to the new look Unity, and delighted to have the opportunity to welcome the wnner of the Liverpool Hope Playwriting Prize. Out of 200 entries, Katie Muldrew must have had the judges rubbing their hands with glee – just as audiences will be putting their hands together for this tremendously sparkling production, and for all her future successes too.
April 4- 8
On tour until May 20
Gabriel
Liverpool Playhouse
https://www.everymanplayhouse.com/
3*
There's a nod here to 'Whistle down the wind': an unconscious stranger, discovered on the beach in occupied Guernsey, is brought to a farmhouse for shelter. And a touch of the classic poltergeist set up, with four generations of women including a volatile, unhappy teenager; when the play opens, she is engrossed in casting a spell. The Becquets: mother, daughter, and daughter-in-law, along with housekeeper, Lake, have been forced to relinquish their grand home; the last, with matriarch, Jeanne, scrape a living via the Black Market.
A rickety set, creatively done, represents the oppressive, uneasy atmosphere: cellar, kitchen and bedroom standing for Hell, Earth and Heaven. However, the stairs to the latter seem to turn into an escalator with characters shooting up and down, yet sometimes, they take ages. Maybe picky, but that is not the worst of it. That's the over-indulgence of irony, via misunderstanding and misdirection. It works pretty well the first time, in the scene introducing Jeanne and von Pfunz, except for the caveat that an actor of McGann's calibre is not going to be used in a virtually non-speaking role. But this device is constantly repeated, fatally so, literally, at the most dramatic moment, stage right, when the focus is stage left. The ending pretty much fizzles out, and even the publicity could be misleading because it looks like McGann is actually Gabriel.
Fortunately, plenty of humour in the caustic dialogue balances the underlying tragedy and helps to lighten proceedings. And the cast are largely quite exceptional, particularly Belinda Lang as Jeanne, splendidly arrogant, sarcastic and brave; prepared to go to any lengths to protect her family, resulting in a kind of Stockholm Syndrome with Von Pfunz, although too bizarre to be wholly convincing. Her partner in crime, Lake, played by Jules Melvin, is admirably stoical and down to earth, in contrast to the mercurial and rebellious Estelle; Venice van Someren's is a poignant portrayal of a rather exasperating teenager. Sarah Schoenbeck is perhaps the bravest of them all as Lily, a Jewess in constant fear for her life.
Good to see a wartime drama with four strong female roles, each woman, hard-working (in their own way; Jeanne's ways are nothing like the others), determined and loyal to a fault.
Then there's the two mystery men, both of them with the potential to turn the world upside down. Robin Morrissey as Gabriel, speaking both English and German perfectly, eventually comes round, yet does not altogether come to life. He does however successfully convey anguish, at the loss of identity, then at two dreadful revelations. And whilst many actors relish the opportunity of playing the villain, McGann has to grapple with an unbelievably complex character: a poetic Nazi; buffoon and bully. The occasional silly giggle does nothing to indicate something sinister, yet he is unquestionably in command, in every way, of every scene in which he appears.
It is he who brings the crowds in, but this first play from Moira Buffini, from 20 years ago, is an early indication of her talent. Overall, plenty to provide intriguing entertainment for the audience, and to tell their friends about.