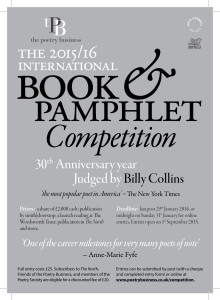 January 29
The 2015/16 International Book & Pamphlet Competition
and the Yorkshire Poetry Prize
30th Anniversary Year
www.poetrybusiness.co.uk/competition. 
Judge: Billy Collins
Deadline: last post on Friday 29th January 2016, or midnight on Sunday 31st January 2016 (online)
Prizes: publication by smith|doorstop; a share of £2,000 cash; a launch reading at The Wordsworth Trust; publication in The North magazine; book vouchers from Inpress and more.
Full price entry costs £25. Subscribers to The North, Friends of the Poetry Business, and members of the Poetry Society are eligible for the discounted fee of £20. All entrants will also receive a 20% off discount code for the Inpress Books website at www.inpressbooks.co.uk. 
entrants are invited to submit a collection of 20-24 pages of poetry. Entries can be submitted by post (with a cheque and completed entry form) or online at www.poetrybusiness.co.uk/competition.