You are currently browsing the archive for the News category.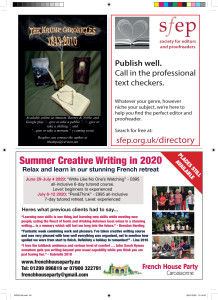 French House Party
Creative Writing Course,
Carcassonne, Southern France
Monday, 28 September
to Saturday, 3 October
February 8-March 14
The Suicide
Chester Storyhouse
https://www.storyhouse.com/

Reviewed for Writebase: https://writebase.co.uk/
4*
Billed as a comedy, actually a farce, and with a title like that – what could possibly go wrong? And considering drama is expected to be based on conflict, it opens with Simon expostulating with his spouse, Marie (over sausage rolls…), bickering with bossy Sarah, his mother-in-law, and
lambasting his unscrupulous landlord, Alexander. No guesses here why the leading man is heading for being described as late. He's lost his job and his money and they are reduced to living in a hovel, lovingly, if you'll excuse the word, evoked (likewise) by a scruffy bedroom, background full of piled up cardboard boxes, flanked by rickety door and window, with a staircase leading up to the dodgy toilet.
The stage is set, the wheels are in motion – as are the cogs in Alexander's brain as he grasps at the means of making a quick buck. Although he has no wish for his reputation to be blighted by a death on his premises, what if he, and others, apart from Marie and Sarah of course, could benefit from Simon's demise? And there's the smoking gun…
In fast succession, and even faster costume changes, the unfortunate man receives a series of callers, each of them hinting, or even insisting, that when putting an end to himself, it should be the start of something glorious: he must kill himself for a cause, whether political, financial or religious. Not forgetting, and how on earth could we in this day and age, a reality show and social media. And my word, do the supporting characters come into their own in a myriad of roles, rewriting and breathing life into virtually every stereotype, from  Phillip Laing, gamely glad in a onesie as 'Man in toilet' to Sophie Robinson, equally stunning as cynical Father MacAnally and airhead influencer Melody; can't wait to see her again tackling another role, especially as this type of character is featured more and more often on TV shows, and invariably a daffy blonde when it takes considerable brains to be IT savvy, and the rest. That includes Emma Lau, smart as mediaperson,Florence Moon, then dread-locked Seren, so politically correct and environmental and gender etc aware, it's a wonder she dare move or speak at all. And just about crowning them all, Camille Mallet de Chauny, as splendid as his name, sweet as the kind-hearted Freddy la Bouff, Alexander's definitely better half, sour as steely entrepreneur, Jimmy Wood, who adopts a variety of persona in a determined effort to persuade Simon to get on with it.
Thus the main protagonists have a job on their hands to avoid being eclipsed but manage just fine. Corrupt, conniving Alexander (Tim Frances) makes a plausible villain of the piece while Tom Davey manages to retain our sympathy as the hapless, hopeless hero, constantly dithering, and partnered by his lovely, long suffering wife, Natasha Bain. As for Sarah, played here by Nicola Blackman, another jewel, right up there in the Comedy department, winning over the audience every time with acerbic comments and wisecracks.
Comedy, expertly done, and here as much physical theatre and props as dialogue and running jokes, brings serious issues to the fore to be considered in a whole new light. A packed audience enjoyed an excellent evening's entertainment, with some special effects which I'll leave for a nice surprise. It makes you curious to discover more about the source material, a play written by the Russian, Nikolai Erdman, always a good thing, and also means you can't wait to watch the next plays coming to this theatre near you – and certainly well worth travelling some distance to see too.
February 20-March 13
Miss Julie
Chester Storyhouse
Reviewed for Writebase: https://writebase.co.uk/
3*
What is it with some of these Nordic leading ladies? I hesitate to call them heroines, and besides, the lady here is doing a lot of leading… on. But this is a fascinating adaptation, what you could call an inspired move, from 19th century Sweden and Midsummer Eve to Chinese New Year in 1940s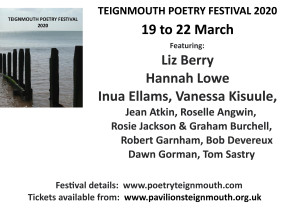 TEIGNMOUTH POETRY FESTIVAL 2020
March 19-22
Featuring: Liz Berry, Hannah Lowe, Inua Ellams, Vanessa Kisuule and many others
Festival details: www.poetryteignmouth.com/festival-2020
Tickets available from: www.pavilionsteignmouth.org.uk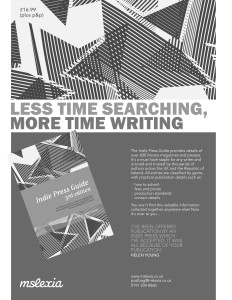 Indie Press Guide, 3rd edition –
everything you ever needed to know, or could ever possibly want to know (and I should know...)
about competitions; magazines; publishers.
By Françoise Harvey & Debbie Tayor; published by Mslexia, £16.99
https://mslexia.co.uk/products/indie-press-guide/indie-press-guide-3/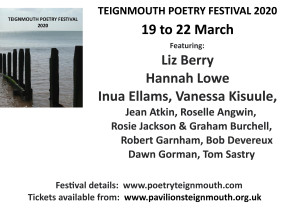 March 19 -22
Teignmouth Poetry Festival 2020
Featuring: Liz Berry, Hannah Lowe, Inua Ellams, Vanessa Kisuule and many others
Festival details: www.poetryteignmouth.com/festival-2020
Tickets available from: www.pavilionsteignmouth.org.uk
February 4-8
An Inspector Calls
Liverpool Playhouse
https://www.everymanplayhouse.com/
On tour until May 23
4*
Make no mistake, this is most bizarre, so much so, that comes an announcement early on requesting the audience to leave the building, no mad rush for the exit because everybody assumed it was to do with the play. As if that didn't provide more than enough drama for one night….
Peter Pan
Storyhouse
December 21-January 12
Reviewed for Writebase: https://writebase.co.uk/
4*
Storyhouse of course enters into Christmas spirit full blast with this first class adaptation of an old classic. The aerial feats are absolutely amazing (balanced by the characters' frequent descents below stage), as is the entire design, exquisitely realised via setting, music and costume. What's not to like, especially having Tinker Bell upgraded to virtually partnering Peter Pan and Captain Hook played by a woman.

November 11-16
Mary Shelley's Frankenstein
Liverpool Playhouse
https://www.everymanplayhouse.com/
3*
It was a dark and stormy night… back in 1816, the Year Without Summer, when Byron challenged his companions to write something to rival a German ghost story. Fruitful indeed, considering Dr Polidori's tale of The Vampyre seems to have influenced Stoker's Dracula. And curious that neither Byron himself nor Shelley were able to conjure anything up, while it turned out to be Mary Shelley's claim to fame
Yes, here we are again, and yet another Gothic production, but this time, there's a distinctly modern sensibility as Ms Shelley herself is narrating, commentating, and smashing up the Fourth Wall. Eillidh Loan whirls around the stage, hefty book clutched under her arm like a Journal, doing a splendid job, part emo teenager, part junior version of Fleabag, if rather flippant at times. One suspects that Mary Shelley, undoubtedly precocious, was altogether more serious and sophisticated.
But what an impressive set, visually stunning, which, mostly in monochrome, imbues a dream-like atmosphere. A window-lined gallery also serves at the opening as the prow of Walton's ship in the Arctic wastes. Throughout the play, access to this level is gained by stylized, wizened trees, although being white does bedeck a cheerful hint of Christmas. The stark whiteness, nonetheless, is becomingly set off by black costumes, mostly World of Leather. However, the Monster is clad in flesh coloured long johns which emphasises his vulnerability – Michael Moreland is quite remarkable, combining stilted jerky motion with, almost literally, heart on sleeve emotions. For all his atrocious deeds, he still engages our sympathies. Likewise, Mary's; fascinated and fearful, facing up to what it is which she in fact created.
Now I must confess never, somehow, having got round to reading the actual book although I have seen a couple of adaptations, and the film of the RSC production, but of course, all versions are different so some aspects seem new, or least, have you racking your brain. Or turning to Google… But one particularly interesting interpretation is that Mary Shelley and the brilliant young scientist Victor Frankenstein are drawn almost as two sides of the same coin, so driven and so passionate, almost as if they have collaborated in writing this epic tale. Ben Castle Gibb, obsessed, frenetic, has also met his match in the monster, both so good at portraying Father and Son, Creator and Creation, Hunter and Hunted, both doomed never to find peace.
On the other hand, Sarah Macgillivray was perhaps a little too much over the top to endow Justine with sufficient pathos while Thierry Mabonga, called upon to provide some variety as the Captain, younger brother William and old friend Henry, as the last, seemed mostly focused on the importance of being earnest. There again, Dr Frankenstein would not have been the easiest of people to deal with. Hence Natalie McCleary's delicate turn as exasperated fiancée, Elizabeth. And Greg Powrie as the sombre, down-to-earth father, appropriately, helped to hold the whole thing together.
The purpose of this production, as announced by its heroine is to be the ultimate in horror stories, although in trying a bit too hard and a bit too loud to emphasise that, it tends to undermine questioning the morality of the experiments made by men of science. But Frankenstein is indeed an astonishing story. The eponymous doctor brought the dead to life but it was a clever young woman who animated something revolutionary, and that has proved to be the enduring stuff of legend.
Reviewed by Carole Baldock
November 11
Robert Louis Stevenson's The Strange Case of Dr Jekyll & Mr Hyde
A new version for Storyhouse by Glyn Maxwell

October 5-19
Storeyhouse, Chester
Reviewed for North West End: www.northwestend.co.uk
4*
It's the classic horror trio, Dracula, Frankenstein (ok, the monster – or is it?) and Dr Jekyll and Mr Hyde. Well, quartet then, perhaps. And maybe the most memorable. Everybody understands what is meant by a 'Jekyll and Hyde' personality. So no pausing for exposition, and you're immediately