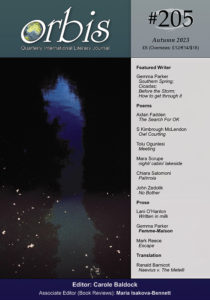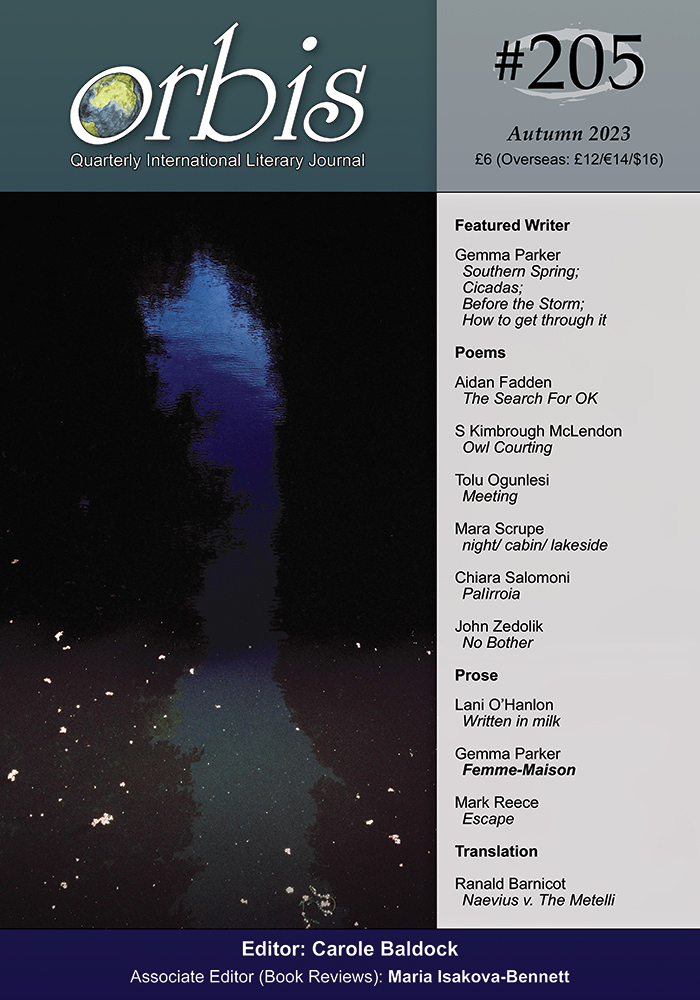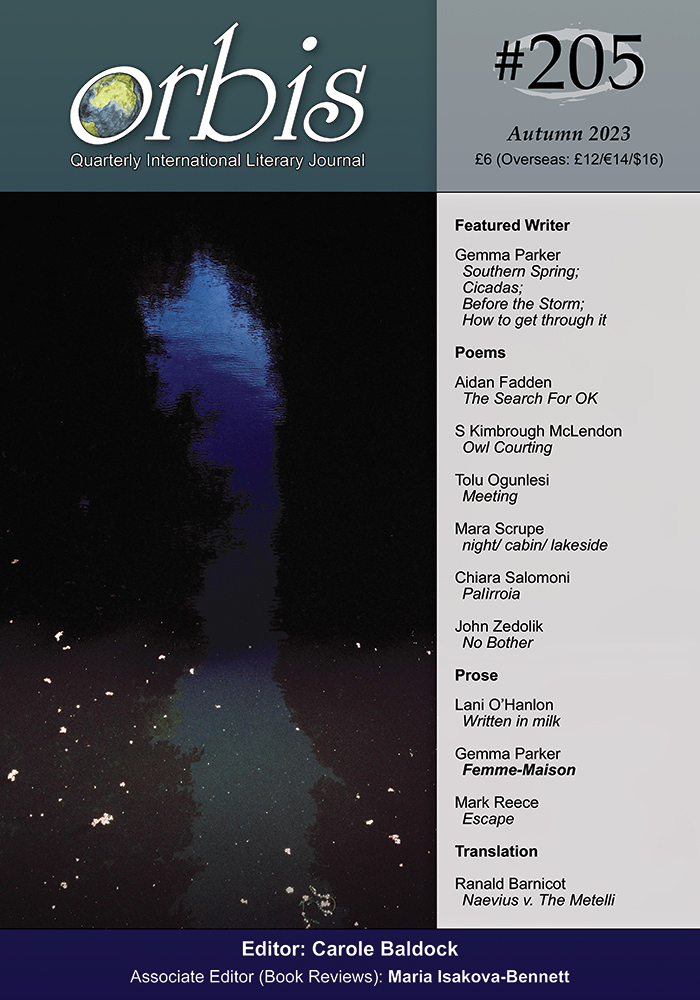 Orbis 200: 'All the best to you, and to Orbis!'
(Glyn Maxwell; shortlisted for Best Collection in the Forward Prize)

'Best wishes for the journal – and congratulations
on such a successful magazine over the years'
(Joy Harjo, United States Poet Laureate)
****
Single issue: £6.00 (Overseas: £12/€14/$16); Subs: £20/4 pa (Overseas: £45/€50/$60)
Associate Editor (Book Reviews): Maria Isakova-Bennett
Reviews by: Philip Dunkerley; David Harmer; Jenny Hockey;
Jennifer McGowan; D.A.Prince; Andrew Taylor
Please note with new collections, press release in first instance –
not review copies.
****
Front cover artwork: 'Chora 32' by Matthew Smith
Back cover, detail from image:  matthew-smith.co.uk
Twinkle, twinkle… a whole host of stars within, in fact, what Chris Parsons
describes as a Constellation. Which you may enjoy watching along with
Mara Adamitz Scrupe, night/ cabin/ lakeside, tho maybe no Painted Angels
despite Matthew Smith telling you about them.
Down to earth… these days, you can understand J. Burke asking
Where did all theporpoises go? while Ellen Zhang makes the most of
Waiting for Those Pink River Dolphins. Endangered species include us of course,
the Dispossessed, as Phil Walsh reminds us, trying not to think about
Spindle, Thread and Shears (Ali Rowland). But be consoled by John Zedolik
and his reassuring, No Bother. All the more so, if like Aidan Fadden,
you want to embark on The Search For OK. You'll find it here all right –
indeed; better than OK
Featured Writer: Gemma Parker
Southern Spring; Cicadas; Before the Storm; How to get through it
Poems from
Aidan Fadden,The Search For OK; S Kimbrough McLendon, Owl Courting;
Tolu Ogunlesi, Meeting; Mara Adamitz Scrupe, night/ cabin/ lakeside;
Chiara Salomon, Palìrroia; John Zedolik, No Bother
Prose from Lani O'Hanlon, Written in milk;
Gemma Parker, Femme-Maison; Mark Reece, Escape

Translation: Ranald Barnicot, Naevius v. The Metelli
Past Master: Philip Dunkerley on Miguel Hernández
Orbis 205 Contributors also include
Pratibha Castle; A.C. Clarke; John Irving Clarke;
Jill Eulalie Dawson; Bill Dodd; Jenny Hamlett; Robin Helweg-Larsen;
Tony Horitz; Annette Iles; Ben Keatinge; Kathy Miles; Lindy Newns;
Mark Paffard; Jenna Plewes; Jean Prior; Elva Robins; Paul Saville;
Terry Sherwood; Christopher Southgate; Miriam Sulhunt;
Peter Sutton; Paul Truan; Judith Wilkinson; Lesa Walker