Fancy a closer look?

And get to know us better: a whole year's worth as pdfs: £12;
+ 1 back copy of the actual magazine; UK only (inc p+p)
Because reading magazines helps judge the best match with your work
in order to maximize publication opportunities.
****
Few magazines are able to offer payment or feedback, but Orbis helps alleviate suffering for Arts' sake: Readers' Award: £50; plus £50 between 4 runners-up
Editor Carole Baldock has also provided proofs with editorial suggestions for every contributor for the past 20 years…

Available for readings and workshops: The A to Y of Getting into Print
Anything at Any level to help Your success:
magazines; collections/books; competitions etc
Everyone said they'd come again which is, of course, the best feedback
(Cheshire County Council workshop)
Mentoring and Critique Service
Your editorial expertise was invaluable for improving my work (New York)
Wow – I thought it was finished. You made it so much better (New Zealand)
****
Information is posted at regular intervals,
regardless of what the date counter says
(because I keep forgetting to update it), unless –
I'm busy wondering how to get the hang
of this updated version of WordPress;
for example, how to change the date…
Subs: £20/4 pa. Single issue: £6.50, all including p+p
Overseas:  £42/€50/$60. Single issue: £11.50/€14/$16
NB, cheques payable to me
Paypal: please use Contact Form or post request for email address 
Also, via LinkedIn or Facebook:
https://www.facebook.com/groups/53636000056/?ref=br_tf&epa=SEARCH_BOX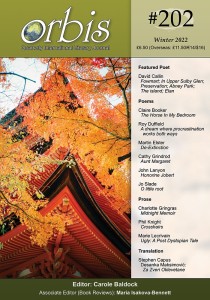 Orbis 202, Winter 2002
All the best to you, and to Orbis!
(Glyn Maxwell; shortlisted for Best Collection in the Forward Prize)

'Best wishes for the journal – and congratulations on such a successful magazine
over the years' (Joy Harjo, United States Poet Laureate)
****
Single issue: £6.50 (Overseas: £11.50/€14/$16); Subs: £20/4 pa (Overseas: £42/€50/$60)
Associate Editor (Book Reviews): Maria Isakova-Bennett
Reviews by Philip Dunkerley; David Harmer; Jenny Hockey;
Maria Isakova-Bennett; Jennifer McGowan; D.A. Prince;
Pauline Rowe; Theresa Sowerby; Pam Thompson

Please note with new collections, press release in first instance – not review copies.
****
Front cover artwork: 'Miyajima 09' by Niels Nielsen
back cover, detail from image: www.petrifiedclouds.com

Oh come, all ye faithful: readers, subscribers, contributors –
something to warm your heart in this bitter Winter.
Let us whisk you away to somewhere exotic, and join Jackie Wills
when Cruella de Ville visits Brighton, or Charles Wilkinson, looking at
The House in the Forest. No? Well, how about Alexandra Corrin-Tachibana…
At the Fishmonger's with my son. Then you could be transported by Tim Houghton – |
and T-Rex, unless you've reached a Watershed; that's you
and Nathanael O'Reilly both. But if you're wondering what Martin Worster
means by The Let-Down, or Carolyn Oulton, asking What am I supposed to call this?
Catherine O'Brien may have the answer in A Lexicon Of You,
unless Rob McCarthy will translate From The Greek,
or George Moore,  using the Rosetta Stone. All the same, it's no mystery
because reading Orbis. can help bring joy to the world.
Featured Poet, David Callin:
Fowmart; In Upper Sulby Glen; Preservation; Abney Park; The island; Elan
Poems from Claire Booker, The Horse In My Bedroom;
Roy Duffield A dream where procrastination works both ways;
Martin Elster De-Extinction; Cathy Grindrod, Aunt Margaret;
John Lanyon, Honorine Jobert; Jo Slade, O little root 
Prose from Charlotte Gringras, Midnight Memoir ; Phil Knight, Crosshairs;
Marie L'Ecrivain, Ugly: A Post Dystopian Tale
Translation: Stephen Capus, Desanka Maksimović: Za Zveri Oklevetane
Past Master: Mary Earnshaw on Anonymous
Orbis 202 Contributors also include
Jane Blanchard; Mark Carson; Alastair Clarke; Tina Cole;
Mark Czanik; Robin Ford; Peter French; Richard George;
Jill Jones; Judith Pollinger; David Punter; Michael Spinks;
Julia Stothard; Katherine Swett; Anne Symons;  Carolyn Waudby;
Isobel Williams; Susan Wismer; Marjory Woodfield
---