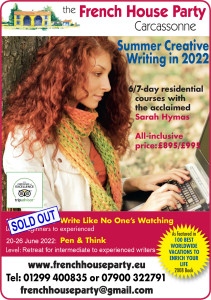 French House Party
Creative Writing Course, Carcassonne, Southern France
June 20-26
Pen &Think: Tutored Retreat
www.frenchhouseparty.eu/creative-arts/writing/
Creative Writing Course, Carcassonne, Southern France

French House Party has received many media plaudits for its 'World's Best' excellence…
The Sunday Times, The Daily Telegraph and National Geographic.
June 13-18 SOLD OUT
Write Like No One's Watching
****
June 20-26
Pen &Think: Tutored Retreat
6 day course in a relaxed ambience
for intermediate to experienced writers: £995
tutored by professional mentor and prizewinning poet Sarah Hymas.
at a chic 8 bedroom house with pool and tennis court.
Dr. Sarah Hymas, an Arvon Foundation prize-winner, is co-founder of The Writing Smithy,
a UK mentoring and manuscript appraisal service.
Widely published: poetry, plays, lyrics and short stories,
she has been French House Party's resident Creative Writing tutor since 2008.
Sarah Hymas: one of the greatest tutors I've had the pleasure to know Brendan Harding, writer.
Beautiful countryside, lovely people, amazing food – and a really gifted tutor
Maria McGeoghan, Manchester Evening News
Sarah was a very skilled, empathetic instructor who developed our confidence Zayneb Allak
'I had never been on a writing course before – it was a brilliant few days:comfortable house; excellent food and wine; entertaining and pleasant company.
I left feeling happier about my writing and feeling generally cosseted Ann McGrath
To book, contact frenchhouseparty@gmail.com
or phone 01299 400835/ 07900 322791
Bookings and payments may also be made
via the website: https://www.frenchhouseparty.eu/creative-arts/writing/