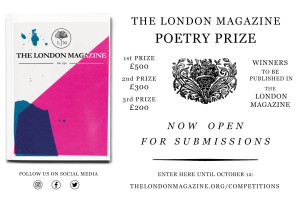 October 12
The London Magazine's Poetry Prize 2020
https://www.thelondonmagazine.org/the-london-magazine-poetry-prize-2020/
The UK's oldest literary journal has been home to some of the most prestigious poets
from John Keats to Sylvia Plath and Derek Walcott.
All poems submitted must be previously unpublished and no longer than 40 lines.
No criteria as to theme, form or style, and the competition is open internationally.
This year's shortlist is judged by Ella Frears (Magma Poetry editor),
Joe Dunthorne (Faber) and T.S. Eliot Prize winner Roger Robinson.
Deadline: 12th October 2020
First Prize: £500
Second Prize: £300; Third Prize: £200
The winning poems will be published in future issues of The London Magazine
Enter at https://www.thelondonmagazine.org/the-london-magazine-poetry-prize-2020/