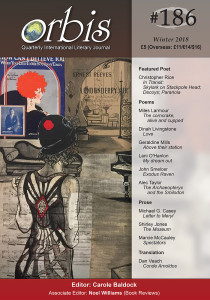 Orbis186, Winter
£5 (Overseas: £11/€14/$16); Subs: £18/4 pa (Overseas: £40/€50/$60)
Front cover artwork: 'Art Deco' by Phillip Ward
back cover, detail from image: www.artgallery.co.uk/artist/phillip__ward
A Raven and a Crow walked into a bar? No joke ,
but a tale you're sure to want to sample, about Ted Hughes, and John Smelcer.
And indeed, such a good start to the year with an issue ranging far and wide,
literally from the Sublime to the Ridiculous, if via the rather Grim:
Self Portrait with Death Playing the Fiddle, anyone? Thanks to Kevin Densley.
So perhaps I should ask myself, like Christine Curtis, Am I doing this right?
And move swiftly on to the practical, to watch Lorraine Carey, Patching up Loulou,
or fathom out the perplexing, in Keith Moul's description of Avid Disinterest:
the Yogi, the Mentor, the Model. Or we could join Camino Victoria Garcia
By the Aspetuck River, well, rather than following Eurydice's Husband,
in Úna Ní Cheallaigh's version. while David Mark Williams can bring us
back to Reality in Light Programme Avenue. Then we'll finish off
with Love from Dinah Livingstone – and from Orbis, wishing you all the best for 2019.
Featured Poet
Christopher Rice: In Transit; Skylark on Stackpole Head; Decoys; Paranoia
Poems from: Miles Larmour, The Corncrake, Alive and Cupped;
Dinah Livingstone, Love; Geraldine Mills, Above their station;
Lani O'Hanlon, My dream out; John Smelcer, Exodus Raven;
Alec Taylor, The Archaeopteryx and the Smilodon
Prose from: Michael G. Casey, Letter to Meryl; Shirley Jones,The Museum;
Marcie McCauley, Spectators
Translation: Dan Veach: Conde Arnoldos
Past Master: Sue Tyson on Edward FitzGerald
Reviews by Angelina d'Roza, Philip Dunkerley, David Harmer,
Jenny Hockey, D. A. Prince, Lynn Taylor and Noel Williams
Orbis 186 Contributors also include
David Ball, Clare Bevan, J. E. G. Blanchard, Sheena Bradley,
Jennifer Compton, Robin Ford, Richard George, Caroline Gill, Chris Hardy,
Derek Healy, Ashleigh John, Tim Love, Elspeth McLean, John McOwat,
Keith Moul, Natalie Scott, Roger Singer, Sue Tyson and Robert Penn,
Olivia Walwyn, Helen Whitten, Richard Williams
Orbis185, Autumn
£5 (Overseas: £11/€14/$16); Subs: £18/4 pa (Overseas: £40/€50/$60)
Front cover artwork: 'The Travellers' by Jane Indigo Moore
back cover, detail from image: www.janeindigoart.com
Fancy a taste of The Full English Brexit, offered up by Michael Henry?
Or fed up already, perhaps that's why Frederick has gone to ground;
Anne Osbourn has a puzzle to solve, And if you'd also like to escape
the gloomy weather,along with Maxima Kahn, in this Gathering Fall,
lose yourself in Art, and enjoy Kevin Cahill's description
of How They Met Themselves. Well, better than giving cause for concern:
Stratford A. Kirby'sSheep Worrier –
even more so with the Cow Trespassing, from Bill Dodd;
could end up thinking, may as well Make me a wilderness, like Matthew Smith…
or even a Red Brick Wall (John Bartlett). But one thing's for sure,
reading Orbis helps build up inspiration.
Featured Poet
Fokkina McDonnell: Animate and inanimate objects relating to J Abraham;
Just another week; Partial view of a loch
Poems from: Chrissy Banks, An Agnostic's Christmas; Kevin Cahill,
How They Met Themselves; Chris Raetschus, Limerence;
Frank Wood, Pericles, His Diary
Prose from: María Castro Dominguez, Blind Insight;
Phil Knight, Campanula Capratica;
Fokkina McDonnell,This is a portrait if I say so;
Vincent Smith, Love that will not let me go
Translation: Ranald Barnicot, From the Italian of Gabriele D'annunzio
Past Master: Jocelyne Thébault on Arthur Rimbaud
Article: 'His Chosen Islands: Richard Murphy' by Benjamin Keatinge
Reviews by Angelina d'Roza, Philip Dunkerley, David Harmer,
Clairr O'Connor, D. A. Prince, Andrew Taylor and Noel Williams
Orbis 185 Contributors also include
Nick Burbridge; David Burridge; Malcolm Carson; Eileen Casey; Ian Caws;
Doreen Duffy; Attracta Fahy; Carol Featherstone; Lorna Grinter;
Claire Louise Hunt; Simon Lewis; Ray Malone; Probal Mazumdar;
Dave Medd; Stuart Pickford; Marilyn Ricci; Sheila Spence;
Jill Townsend; Davide Trame; Frank Wood
Orbis184, Summer
£5 (Overseas: £11/€14/$16); Subs: £18/4 pa (Overseas: £40/€50/$60)
Front cover artwork: 'Dragon with Hiroshige' by Jeff Gettis
back cover, detail from image: https://jeff-gettis.pixels.com/
What are we to make of this fabulous Summer? Yes, enjoy the Heatwave,
along with Julie Mellor; it's a veritable River of Light (Ali Pardoe),
as Peter SuttonEcho o o o o (s). But let's start by finding out about
Mark Paffard'sMountaineers of Leningrad, or trust Margarita Serafimova,
and venture to The Water's Edge. However, if we find ourselves wondering about
Colin Pink's Beautiful Lies, it may lead to Lara Frankena
and The Plagiarist's Lament, or perhaps all turn out to be Magic,
as Hiram Larew says. So why not stop to smell the (Pressed) Flowers,
from Marybeth Rua-Larsen, although sadly, they're not to be found
in Denise Bennett's account of Blossom Alley, or with Calamity's Child,
as Daragh Bradish explains. And before it's all what Tim Dwyer calls an
Imagined Memory, snap up a bargain, for example, In This Style, 10/6
(Georgina Titmus). And here's another one to make the most of –
make this issue of Orbis top of your reading list.
Featured Poet
Ian McEwen: The riches of embarrassment; A spell of wind; Homily on practice
Poems from: Michael Atkinson, Kafka's Garden; Holly Day, The Sacred Texts;
Briege Duffaud, La Vie Simple à la Campagne;
Mary O'Donnell, A Report to the Home Galaxy on 'Speck';
John Zedolik, Concluding Comfort
Prose from: Peter Eagan, Mr Tortilla;
Mitchell Krockmalnik Grabois, Turbine Syndrome and The Baroness;
Fiona Vigo Marshall, The Library of Dreams
Translation: Luba Ostashevsky, Two poems by Anna Akhmatova
Past Master: Hannah Stone on Andrew Marvell
Reviews by
Maria Isakova Bennett, Angelina d'Roza, David Harmer, Jenny Hockey,
D. A. Prince, Andrew Taylor, Lynne Taylor, David Troman and Noel Williams
Orbis 184 Contributors also include
Anne Banks, Jill Boucher, Peter French, Mary Melvin Geoghegan,
Ann Gibson, Alice Kinsella, Pete Langley, Gill McEvoy, Robert Ronnow,
Paul Saville, Pam Thompson, Carl Tomlinson, Ray Whitaker