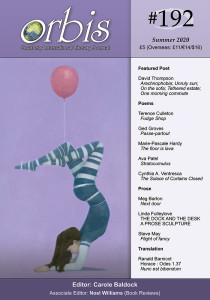 Orbis 192, Summer 2020
£5 (Overseas: £11/€14/$16); Subs: £18/4 pa (Overseas: £40/€50/$60)
Front cover artwork: ''The Pink Balloon II' by Steve Mitchell
back cover, detail from image: https://www.stephenmitchellart.com/
Let your troubles just float away; here's a wondrous world
in which to immerse yourself. After all, it's Summertime, so are you ready
to smell the roses,  or Jimmy Rodda's Purple Lilac?
Although you need to be careful,  when Marie-Pascale Hardy tells you
that The floor is lava, and if perplexed just how Dead fish can't be bored, l
et Maureen Jivani explain, while Keith Moul can reveal all about
the Drama Hidden in Clouds.  And yes, as Andrew Oram reminds us, The day is short
but for those of you putting your enforced leisure to good use,
you probably already know about Sidhe Gaoithe. along with Attracta Fahy.
But, Almost Blue, like Patricia Carragon? No need when there's plenty
to keep you occupied, entertained and inspired, here,
in the latest issue of Orbis
Featured Poet,
David Thompson:  Arachnophobia; Unruly sun; On the sofa;
One morning commute; Tethered estate
Poems from Terence Culleton, Fudge Shop; Ged Groves, Passe-partout;
Marie-Pascale Hardy,The floor Is lava; Ava Patel, Stratocumulus;
Cynthia A. Ventresca, The Solace of Curtains Closed
Prose from Meg Barton, Next door;
Lydia Fulleylove, THE DOCK AND THE DESK
A PROSE SCULPTURE; Steve May, Flight of fancy
Translation Ranald Barnicot: Horace : Odes 1.37 Nunc est bibendum
Past Master Phil Knight on Vladimir Mayakovsky
Reviews by David Harmer, Jenny Hockey, Clairr O'Connor,
D. A. Prince, Andrew Taylor and Noel Williams

Orbis 192 contributors also include
Liz Birchall; Charlie Brice; Michael Casey; Jim Conwell; Kathy Cullen;
Christine Curtis; Michael Farry; Simon Fletcher; Daniel Hinds;
Greg Huteson; juli Jana; Alex Josephy; Patricia Leighton;
Clifford Liles; Pauline May; Karla Linn Merrifield; Cedric Pickin; Dorothy Pope;
Ewan Smith; Edwin Stockdale; John Whitehouse; Jay Whittaker; Martin Zarrop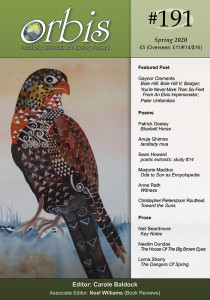 Orbis 191, Spring 2020
£5 (Overseas: £11/€14/$16); Subs: £18/4 pa (Overseas: £40/€50/$60)
Front cover artwork: 'Hawk' by Jan FitzGerald
back cover, detail from image: www.paintingpoets.co.nz
It's a whole new world out there – unfortunately prophetic words
to introduce the last issue. So now it's poetry in the time of you-know-what
(Hell on Earth); Dave Martin is not far wrong), something to cheer and inspire
and at least take our minds off it for a little while granting us Grace Evangelical
(Tina Tocco), following A Simple Act; Complex Antecedents as Sam Smith points out.
Well, we could sympathise with Jack Debney's The Cack-Hander's Lament,
especially when, like Mike Barlow, The voice takes a break.  And we can always
escape, visit Richard Hughes, to appreciate some Variations at a taverna,
then the City Of Tulum with Kathryn MacDonald
(although you ask me, ignorance is bliss when it comes to the Maya),
or find out more about All those myths in the dark forest from
Penny Sharman, or The numen (Jan FitzGerald)  and what's inside
the Powder Closet, Southside House… Ben Bransfield knows. Meanwhile,
Finola Scott can tell you all about Spoils and Divisions, although you need to read
David Greenslade to work out Calf. Overall, could be you'll agree with Beth Booth:
Splendid is a good description of Orbis
Featured Poet,
Gaynor Clements: Bole Hill; Bole Hill II; Badger;
You're Never More Than Six Feet From An Elvis Impersonator; Pater Unfamilias
Poems from Patrick Deeley, Bluebell Horse; Anuja Ghimire, landlady mua;
Sean Howard, poetic extracts: study #14;
Marjorie Maddox, Ode to Son as Encyclopedia;
Anne Rath, Witness; Christopher Pieterszoon Routheut, Toward the Suns
Prose from Neil Beardmore, Key Notes; Neelim Dundas,
The House Of The Big Brown Eyes; Lorna Sherry, The Dangers Of Spring
Past Master
Michael Spinks on The book of Job
Article
Pauline Hawkesworth on A. S. J. Tessimond – The 'Lesser' Poet
Reviews by Maria Isakova Bennett, Jenny Hockey, David Harmer,
Clairr O'Connor, D. A. Prince, Theresa Sowerby and Lynne Taylor
Orbis 191 contributors also include
Aidan Baker;Maggie Butt; Claudia Court;Natalie Crick; Bill Dodd;
Isabel Greenslade; Derek Healy; Doreen Hinchliffe; George Hopewell;
Jack Houston; Richard Hughes; Gloria Keeley; Simon Leonard;
Rozanne McCoy; Simon Perchik; Peter Sutton; Anne Symon
Readers' Award 191
A slightly different, shorter version appears in the magazine.
And if you're curious about all the writing which has inspired these comments,
you only have to ask… and cough up for a copy of #191: £5
I enjoyed your editorial, and here are my nominations
1. Claudia Court for Lap of Honour –
I enjoyed the way the situation was revealed piece by piece.
2. Maggie Butt for Even Now – Musical, beautiful and urgent.
3. Jack Houston for No! – I liked the use of form
to mirror the growing, shifting, understanding of what is happening.
4. Derek Healy for Remission –
An interesting thought, cleverly unpacked (Ralph Mold)

I enjoyed the current issue of Orbis –
thank you again for including two of my poems.
The four I enjoyed the most:-
Claudia Court's Lap of Honour and its final line
'The engines roar, purring his dirge.'
Finola Scott's Spoils and Division
for the picture of divorce utilising an historical demarcation.
Lorna Sherry's The Nightjar,
and the phrase 'the lithe length of you'
Doreen Hinchliffe's The Return, particularly the clever choice
of the six line end words to make the sestina work (Dave Martin)
1. At Dinner, Nathalie Crick. Great use of what isn't said.
2. Splendid, Beth Booth. Wonderfully violent.
3. Lap of Honour, Claudia Court. Cool use of tension (Jack Houston)
I especially enjoyed You're Never More Than Six Feet from An Elvis Impersonator
I love the treatment of the authentic and disguise, the combination of
'brylcreem / and fakery'. The use of words like antimacassars transport
the reader to a particularly grimy past which contrasts the the supposed glamour
of LA and stardom with crisps, evoking a world where even the Pied Piper
isn't the real thing, hinting at the danger of fakery being acceptable
(Simon Leonard)
A lot to delve into here and of the close runners-up, certainly also
worth applause: Beth Booth's Splendid, Peter Sutton's Metamorphosis
(I wish I'd come up with that last line) and Anne Symons' Corsetiere
with an equally wonderful last line.
Then, David Greenslade, haltered As a Horse, Natalie Crick's well-paced 30 Days,
Jack Houston's elegant Elegy for Myself, Lorna Sherry's beautiful Nightjar,
and Simon Perchik's dense Asterisk.
But my choices for the top three have to be shared between
Gaynor Clements (Bole Hill); Maggie Butt (Silence); with top note
to Penny Sharman for All those myths in the dark forest (Michael Spinks)
Lorna Sherry, 'The dangers of spring'
David Greenslade, 'Calf'
Bill Donald, 'Small bird'
Richard Hughes, 'Old song'
All of which had me scanning them closely for details,
like one of those 'Where's Wally?' crowdscapes:
occurrences of the dog; the dotted synecdoches;t
he phoneme /t/; clues to which town was being remembered for its changes
(Aidan Baker)
Claudia Court, Lap of Honour, great pace and use of images of movement
Gaynor Clements, Bole Hill; last two lines are devastating –
a good thing in a poem
Natalie Crick, At Dinner; restrained, powerful, and a life in one moment
Bill Dodd, small bird; travels from the particular to the numinous
and back again – tt tt is following me as I type (Isabel Greenslade)
Orbis 191 is full of good writing but I'd like to vote for Even Now by Maggie Butt,
beautifully balanced, and enhanced by the lack of punctuation (Lorna Sherry)
Difficult to single out anything but my love is for short poems which takes me
straight into someone's emotional state, cancelling out everything else
for the moment of reading. Therefore my choices are:
1. Jointly: Witness by Anne Rath and The Nightjar by Lorna Sherry.
I love the sensuality contrasting so vividly with the sense of loss and time passing.
3.Lap of Honour by Claudia Court. The visual strength brilliantly understates
yet highlights the emotion.
4.Mock Sonnet 1X by Sam Smith.
I love that question: who are the insane amongst us (Christine Curtis)
I really enjoyed 191, and not easy, making my final choice:
Sam Smith (Mock Sonnet IX)
Gaynor Clements (Bole Hill II)
Claudia Court (Lap of Honour)
David Healy (Remission) (Wendy Everett )
What a difficult job selecting a handful of poems from all the good stuff
in an issue of Orbis, but worth doing because it makes you think more
about what you are reading, especially the ones to which you keep.
Often, the real qualities hit me only at the 3rd or 4th reading.
Maggie Butt – Silence
Lovely use of sound. It takes us on a journey into the silence,
from ordinary life into the place and finally into the body itself.
Jack Houston – Elegy for Myself
A little poem that says a lot very elegantly about ourselves and nature.
Claudia Court – Lap of Honour
I loved the image of the dad 'swerving full throttle on the wind'.
A difficult situation to write about without it
becoming inadvertently comic
but this is very handled very beautifully (David Lukens)
Thank you for another great issue of Orbis.
My nominations for the Readers' Award for issue 191,
in order of appearance:
Bole Hill by Gaynor Clements
Passenger by Beth Booth
All those myths in the dark forest by Penny Sharman
Mr Starling by Isabel Greenslade (Ann Gibson)
Thank you for keeping Orbis going in print form in difficult times
I found it extremely difficult to choose because there were so many
excellent poems taking unusual and illuminating viewpoints, ranking them
seemed invidious. I really enjoyed this issue. I thought all Featured Poet
Gaynor Clements' poems were excellent but will nominate as my first choice
Pater Unfamilias with its spare but wonderfully suggestive use of imagery
and the emotional tension running through to the very last, powerfully emotive line
Second choice is Beth Booth's Passenger which struck a chord with me,
a fearful traveller in any car. I liked the way its structure mimicked
the headlong speed and lurches, its effortless fluency and conversational tone,
and the occasional brilliant turn of phrase – 'funerary recklessness';
cynicism 'that grows like mould'.
Third choice is Mike Barlow's The Voice Takes a Break, a clever riff
on the common experience of losing one's voice, with a charged last line –
and perfectly structured .
Fourth choice Finola Scott's Spoils and Division, with its unexpected
and brilliantly original use of the surveyors, whose Mason-Dixon line
settled territorial disputes in the US, to point up a similar situation
in a failing marriage, succinctly evoked (A C Clarke)
Great issue and I really enjoyed Gaynor's poems, especially Badger.
Beth Booth, for the wonderfully rich Splendid and Passenger.
They both read as though they had spilled out, but
beautifully controlled and perfectly pitched all the way through.
Jack Houston, for his stunningly effective pantoum No!
Maggie Butt, for a haunting description of Silence (Cat Campbell)
As always, it's impossible really, to rank the many engaging poems
that tugged at me but here are four, and one extra:
1. Mike Barlow, The voice takes a break. Some of the images here seem
particularly resonant now: the lost voice and 'dear old world of endearments';
the cancelled trains. This travels such a long way, with subtle modulations.
Then it rises into a meditation on that 'perfect space/between the notes'
and a sense of something just beyond understanding. A fine piece.
2. Claudia Court's 'Lap of Honour.' I love the way she springs her surprise,
right at the centre, and the beautifully consistent motor racing imagery.
Original and moving, in an unassuming way, as the best poetry always is.
3. Maggie Butt's 'Silence'; so full of all the sounds of such a 'silence',
and with the rhythmic sense of the lake underlying the whole thing.
4. Doreen Hinchcliffe's 'The Return'. A subject well suited to sestina:
the circling thoughts and memories evoked by a significant place.
There are returns within returns here, and I like the way the poet s
skilfully inserts closely observed details into the hypnotic cycle of repetitions,
then leaves the place as 'mysterious' as ever.
5. I want to mention too the lovely, light, birdlike footsteps
taken in Bill Dodd's 'small bird.' (Alex Josephy)
1. Anne Symons. Corsetière.
I so admired this. Each verse, though describing some insignificant particular,
opens a window to a much greater reality. The reader's imagination
immediately sits up, engaged and put to work. Marvellous.
2. Lorna Sherry. The Dangers Of Spring. I was taken by the clarity of the writing.
It describes so precisely the two people involved and their situation.
And the wonderful final two sentences; turning the key which sets everything into motion.
3. Sam Smith. Mock Sonnet IX. The argument tugged at me,
this is so desperately a time 'that truth will have to be spoken'.
4. Neelim Dundas. The House Of the Big Brown Eyes.
This one is mesmerizising and draws you right in. The narrator is that irresistible character;
the pompous man of position who has no conception of how he reveals
his essential weakness with every word (Ewan Smith)
1 landlady mua by Anuja Ghimire; very moving in its few short lines.
2 Bole Hill 11 by Gaynor Clements. Loved the knowledge
of plants and the natural world in all her poems. Found them very mysterious too.
3 Key Notes by Neil Beardmore (Hilarious and real) and small bird by Bill Dodd.
4 Silence by Maggie Butt (Frances Sackett)
Unusual for me to choose 4 joint winners but such good writing.
Joint 1st Claudia Court Lap of Honour. So visual. I like 'swarming circuit'.
It makes you think of movement and sound. 'Scatter his years'
is a good description, easy to relate to this account of scattering the ashes.
The furtive nature is told well, with a particularly good last stanza
Joint 1st Gloria Keeley The Ninth Life. Brilliant first 2 lines!
I like the comparison of lemmings and the elephants in the line
about a circus. The connections are really interesting,
and I kept going back to read this one. Pure poetry!
Joint 2nd Maggie Butt Silence. I like the listing of the permitted sounds
in a convent. 'The lapping of your life' is a fantastic ending. I also enjoyed 'Even Now.
Joint 2nd Neil Beardmore Key Notes The dialogue is so effective.
As I was/am a daydreamer, I related to this, and I loved the realistic snapshot
of school life. The boy's musing on his grandmother and music touching.
Joint 3rd Finola Scott Spoils and Divisions. An interesting take on a marital split.
I like the allusion to Mason and Dixon. It was deft to gently refer to
the important parenting acts that are often not valued.
Joint 3rd Anne Symons Corsetiere
A vivid picture of a woman's job. It cleverly highlighted
her sales technique and her customers.
Joint 4th Isabel Greenslade Mr. Starling
Fantastic three lines opened this poem. Sad, reflective poem.
Vivid details. I like the way children's behaviour is portrayed.
Joint 4th Mike Barlow The voice takes a break
Very unusual subject. I love the simile in the 1st stanza.
I like 'shy squeeze of air'   (Gene Groves)
I enjoyed Sam Smith's two pieces, Mock Sonnet IX
and A Simple Act, for their directness and clarity.
A touch of humour saved them from excessive didacticism.
I admired very much the poise, restraint and originality of
Mick Barlow's The voice takes a break. There's a poet with an ear
for rhythm, who listens to what he writes!
I enjoyed too the lively, playful poems by Penny Sharman
(Zip) and Peter Sutton (Mr Bounce).
I'll mention finally Neelim Dundass' short story,
The House Of The Big Brown Eyes, for its slice of life from another world (David Ball)
Here are my favourite poems from your excellent 191 edition.
First – Silence by Maggie Butt. I love this poem, so evocative
of a place I know well. I have always wondered about these
cloistered nuns, isolated in paradise. This is a poem I wish I had written.
Second – Bluebell Horse by Patrick Deeley. Yes I can imagine this horse.
Such a lovely name Bluebell Hill. You don't expect a dead paddock
smelling of diesel exhaust. Poor horse.
Third – Elegy for Myself by Jack Houston. A short poem
about a tree, or not. How simple but strong. How we only notice things
when they are broken/cut or perhaps just that they are unusual or out of place.
I love the honey-gold circumference of its centre (Virginia Griem)
From a wealth of wonderful poems:
1. Claudia Court's Lap of Honour -brilliantly understated, concise and vivid.
2. Finola Scott- Spoils and Divisions
3. Anne Rath – Witness
4. Abuja Ghimire- landlady mua (Lynn Kramer)
Orbis 191 – Reader's Choice
Joint First: Beth Booth: Splendid, and Passenger; David Greenslade:
Calf; Derek Healy: Remission
Joint Second: Gaynor Clements: Bole Hill;
Patrick Deeley: Bluebell Horse
Joint Third: Mike Barlow: The voice takes a break;
Jack Houston: Elegy for Myself
Honorable Mention: Lorna Sherry: The Dangers Of Spring ( Gail Dendy)
1. Jack Houston's 'No!' is a remarkably powerful example
of how restrictive form can harness emotion, the shock of loss
and the devastation of grief. These fugue and accrue with each verse.
2. In 'Pater Unfamilias' Gaynor Clements generates a disconcerting
and finely-balanced ambiguity in describing the small details and large damage
of a thirty-year-old relationship. Skilfully, the poem reveals
how pivotal memories torment and affect us variously, over time.
3. There is a particular serenity about Simon Perchik's '*',
as its imagery pours down the page, like the fluid being observed
in a loved one's cup. The apparently real links seamlessly with the figurative.
4. The measured tone of 'Mock Sonnet IX' belies a condensed
and lucid reflection on perceptions of madness. At the same time,
Sam Smith gives a reasoned voice to that older mindset, where doubt,
rather than apparent wisdom, accumulates over time (Will Daunt)
Thank you for another delightful choice of poems, difficult to pick just four.
(1) Maggie Butt Silence. Wonderful imagery of cloistered living.
(2) Patrick Deeley Wedding Gift Vivid insight to a clock's life,
so like our own, with skipped beats and pauses.
(3) Gaynor Clements Pater Unfamilias A great poem
of love and forgiving.
(4) Anne Rath Witness Great description, a garden
of beauty etched with sadness (Katherine Noone)

Enjoyed #191, and for once I'm not too late to make a choice.
First: Lorna Sherry: The Nightjar. A very moving poem,
in which form and content work beautifully together.
Second: Doreen Hinchcliffe: The Return. Another moving poem;
the account of the writer's experience and memories flows naturally,
without the sestina form becoming obtrusive. Not an easy feat.
Third: Claudia Court: Lap of Honour.
A powerful metaphor and a brilliant ending.
Fourth: Tina Tocco: Marriage. A really accomplished haiku:
a demonstration of how to say something important
in seventeen syllables (Michael Swan)
Orbis #191 was a great issue with several standout poems.
I admired Jack Houston's 'No!' and Penny Sharman's 'Zip'.
But my votes go to:
1. Lorna Sherry, 'The Nightjar' for its mysterious beauty
2. Anna Rath, 'Witness' which is a brittle
and poignant tribute to W.S. Merwin
3. Doreen Hinchliffe, 'The Return', a deftly-worked sestina
that responds brilliantly to Edward Hopper's canvas 'House by the Railroad'.
Tina Tocco, 'Marriage', a haiku that really succeeds (Ben Keatinge)
Here are my votes for the Readers' Award, #191
1: Mock Sonnet IX by Sam Smith
2: Yellow Earth by Isabel Greenslade
3: Badger by Gaynor Clements
4: Silence by Maggie Butt (Phil Knight)
Reader's awards – My first preference is Mike Barlow's
The voice takes a break, second Maggie Butt's Even now,
third Jack Houston's Elegy for myself   (John-Christopher Johnson)
1. Isabel Greenslade, Yellow Earth.
Striking personification with some great lines
2. Derek Healy, Remission.
Form well-matched to the idea. Good sonnet with slant rhymes.
3. Richard Hughes, Variations at a Taverna.
Nice use of sounds to capture a moment.
Any poem that includes Bach gets my vote.
4. Doreen Hinchliffe, The Return.
Apt use of form again. I know how hard sestinas are.
Otherwise, a bit too much cliché (Clifford Liles)
Many thanks for Issue 191, and a very fine one it is too
which made choosing my top four difficult although as chance
would have it the first poem my eyes fell upon when I opened my copy
was the one I have chosen as my winner. Spooky.
1.The Ninth Life by Gloria Keeley: an astonishing piece,
a tight rope poem no less! It has astonishing propulsion and scope.
2. The Cack-Hander's Lament by Jack Debney: an inventive delight
that is amusing and confidently realised throughout.
3. The Dangers of Spring by Lorna Sherry: so well-written,
a note perfect short story. I also enjoyed her poem The Nightjar.
4. Badger by Gaynor Clements: an unflinching anti-pastoral poem
that is decidedly not beige.
Doreen Hinchliffe came close to being in my top 4 with her excellent sestina,
The Return, which is all the more remarkable because I have an aversion to sestinas!
Honourable mentions also to Anne Rath, David Greenslade, Mike Barlow,
Maggie Butt, Finola Scott and Jack Houston (David Mark Williams)
Hard to choose for the vote as it's such a subjective response
amongst such a high standard.
But here goes: Joint first for Patrick Dooley's Wedding Gift
and Bluebell Horse. I loved the detail and the feeling in both –
showed such empathy for that horse and as a retired
primary school teacher I was interested to hear the children's reaction –
don't find many poems about the classroom?
3. Splendid by Beth Booth – intrigued by the first line and loved the clicks.
4. The voice takes a break by Mike Barlow – liked the form
and the intriguing last couplet (Pam Gormally)
Here are my nominations for Orbis 191.
Lots of excellent poems and stories, so selection was difficult.
The piece I enjoyed most was a story:
Neelim Dundas The House of The Big Brown Eyes.
The writing was really good and drew me in immediately,
keeping my interest right to the end. It introduces us to the
horrors of the poor end of an Indian town, close to where
the priest's sister and family live. We are introduced to the family
and how understanding and accepting of the state of things everyone is,
even the children. The 9-year old, like her mother, resents the priest's
trying to give them a helping hand in the form of something lifted
from the collecting box. It is they who seem able to give the priest
a little lesson in morality, and he in turn is irked by it. Lovely tale.
Finola Scott. Spoils and Division. The sadness, almost tragedy
of a broken marriage with the protagonists arguing over how to divide
up the possessions. It's something that h