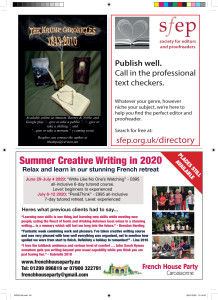 Summer Creative Writing Courses, Carcassonne, Southern France
29 June – 4 July 2020
6 July – 12 July, 2020
Six and seven-day residential courses; all-inclusive workshops tutored  by professional mentor and prizewinning poet Sarah Hymas.
at a chic 8 bedroom house with pool and tennis court.
French House Party has received many media plaudits for its 'World's Best' excellence…
The Sunday Times, The Daily Telegraph and National Geographic.
29 June – 4 July, 2020: 'Write Like No One's Watching'
6 day tutored course, a relaxed ambience for beginners or experienced writers: £895
6 July -12 July, 2020: 'Pen&Think'. 7 day tutored Retreat for more experienced writers
who require personal mentoring in a beautiful, tranquil location: £995
Dr. Sarah Hymas, an Arvon Foundation prize-winner, is co-founder of The Writing Smithy,
a UK mentoring and manuscript appraisal service.
She has published poetry, plays, lyrics and short stories
and has been French House Party's resident Creative Writing tutor for 15 years.
Sarah Hymas: one of the greatest tutors I've had the pleasure to know" Brendan Harding, writer.
Ingeniously clever as a creative writing tutor,
Sarah is the perfect choice at the French House Party, Carcassonne writer Rick Beech, writer.
I love the laidback ambience and serious level of comfort
Gabrielle, past participant, and prize-winner, Orbis #189 Reader's Award.
To book, contact frenchhouseparty@gmail.com or phone 07900 322791 (UK mobile).
Bookings and payments may also be made via the website: www.frenchhouseparty.eu