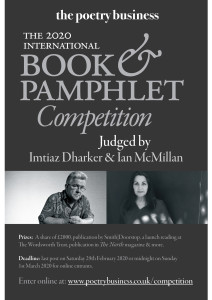 March 1
The 2020 International Book & Pamphlet Competition
Judged by Imtiaz Dharker and Ian McMillan
Deadline: last post, February 29; midnight, March 1st, online entries.
Prizes: publication by Smith|Doorstop; a share of £2000 cash;
launch reading at The Wordsworth Trust; publication in The North magazine;
book vouchers from Inpress; and more.
Fee: £28 Length: 20 pages
Subscribers to The North, Friends of the Poetry Business,
and members of the Poetry Society: £25
The 2020 New Poets Prize
17-24s
Judge: Luke Kennard
Fee: £8 Length: 12 pages
Four winners: collection published under The New Poets List
and a year's support from The Poetry Business.
Also, publication in The North magazine and a masterclass with the competition judge
followed by a prize winners' reading, Summer 2020.
Two of the winners: a place on an Arvon residential of their choice in 2020/21.
Campo House, 54 Campo Lane, Sheffield, S1 2EG
www.poetrybusiness.co.uk