Fancy a closer look?
Introductory offer: 2 back issues for just £7, down from £5 each,
and that includes p+p: £1.60 (saving £3) –
because reading magazines helps judge the best match with your work
in order to maximize publication opportunities.
Overseas, 2 back issues: £16 (€18/$22),
down from £10 each, saving £4
NB, 'back issues' does what it says on the can,
ie here, it doesn't mean current and previous issue
because they're still on sale,
although most issues sell out pretty swiftly:
#170 – #173; #175- #184.
Information is posted at regular intervals,
regardless of what the date counter says
(because I keep forgetting to update it), unless –
I'm busy thinking, will Ocado top the poll
again this year for worst customer service?
Subs: £18/4 pa. Single issue: £5, all including p+p
Overseas:  £40/€50/$60. Single issue: £11/€14/$16
NB, cheques payable to me, not to ORBIS.
Paypal: please use Contact Form or post request for email address 
Also, via LinkedIn or Facebook:
https://www.facebook.com/groups/53636000056/?ref=br_tf&epa=SEARCH_BOX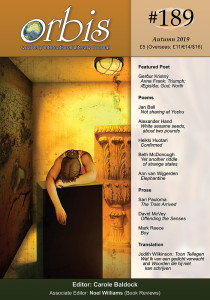 Orbis 189 (Autumn)
£5 (Overseas: £11/€14/$16); Subs: £18/4 pa (Overseas: £40/€50/$60)
Front cover artwork: 'The Silent room' by Van Renselar
back cover, detail from image: http://www.van-renselar.com/
Do not despair…
We may be going less than gently into the darkest part of the year,
taking too much of a Forward Step along with Elizabeth McSkeane,
but like Harry Gallagher, best keep Clutching At Dreams because it'll soon be
you-know-what, and that could mean Pass the parcel with Alison Chisholm,
raising a Toast with Liz Byrne – and a few Presents from Michael Swan.
But some of you may perhaps follow Rob Walton's lead, making Assignations,
while others, as Linda King suggests, could make themselves useful mending; no,
not those kind of Seams, from Tracey Hope but what Laura Potts is telling us about
The Body Broken. Or finding out  about Samuel Prince's Olympus Camera Rupture
and Martin Bennett's Staffordshire Macwhirr.
Yes, it may be cold outside but you can always escape into the warmth of Orbis.

Featured Poet Gerður Kristný: Anne Frank; Triumph; Ægisíða; God; North
Poems from:
Jan Ball, Not sharing at Yoshu;
Alexander Hand, White sesame seeds, about two pounds;
Heikki Huotari, Confirmed; Beth McDonough,Yet another riddle of strange states;
Ann van Wijgerden, Elephantine
Prose from
Sari Pauloma;The Train Arrived; David McVey, Offending the Senses;
Mark Reece, Boy
Translation, Judith Wilkinson: Toon Tellegen, Wat Ik van een gedicht verwacht
and Woorden die hij niet kan schrijven
Past Master: Peter Viggers on Cesar Vallejo
Article: 'The Spring And Fall In A Writer's Step' by Will Daunt
Reviews: Maria Isakova Bennett, Ross Cogan, Philip Dunkerley, David Harmer,
Clairr O'Connor, D. A. Prince, Theresa Sowerby and Andrew Taylor
Orbis 189 Contributors also include
Alex Barr; Jill Boucher; Brian Docherty; Peter Ebsworth; Joel Robert Ferguson;
Anas Hassan; Alistair Heys; Nigel Jarrett; Carl Nelson; Mhairi Owens;
Khadija Rouf; Frances Sackett; Hermione Sandall; John Short