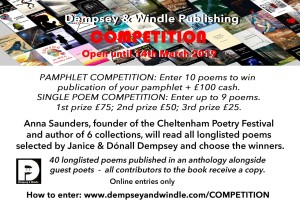 March 14
The Brian Dempsey Memorial Poetry Competition 2019
www.dempseyandwindle.co.uk/competition.html
You could be a 'published poet' in 2019,
either as a winner or as a contributor to our anthology
This year, only entries of 10 poems will be eligible for the first prize of pamphlet publication.
All poems entered will be considered for the SINGLE POEM prizes
The winner of this prize will be offered publication
of a 36 page pamphlet of their poems including 20 copies, and £100 cash.
Single poem category (1 to 9 poems): First prize: £75.00
Second prize: £50.00; Third prize:£25.00
All long-listed poets will receive a copy of the Competition Anthology.
The competition closes March 14
Longlist on website, March 28; winners informed by April 30
The Judges:
All entries will be read by Janice and Dónall Dempsey,
who will select a long-list of entries in each category.
Anna Saunders, founder of the Cheltenham Poetry Festival,
will read all the long-listed poems
Fees: One poem: £4.00; £7/3; £9/4; £11/5; £13/6; £15/7; £17/8; £19/9; £20/10
Poems should not be longer than 40 lines including stanza gaps.