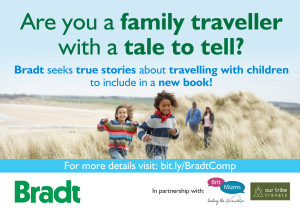 14 January 2019
Bradt Travel Guides Competition
www.bradtguides.com/travelling-with-kids-terms
Calling on parents/grandparents/guardians –
have you a memorable tale to tell of a trip you've taken with children?
Perhaps you've gone outside your comfort zone
by visiting somewhere incredibly off-beat and adventurous as a family.
Perhaps your child has saved the day or helped you to engage
with a destination in a surprising way.
Perhaps a trip has made you view your child in a new light –
or, indeed, encouraged them to view you differently.
Did the wheels come off the family wagon in spectacular fashion?
How did you all deal with the challenge?
The publishers are on the hunt for entertaining, out-of-the-ordinary true stories of family travel for inclusion in a new book, provisionally titled Travelling with Kids – due for publication in autumn 2019. If you have a story that's inspiring, amusing, quirky, thrilling or even downright frightening (albeit with a happy ending) this is your chance to see it immortalised in print.
In addition to their entry being published in the book
(together with a short accompanying biography and photo),
each entrant will receive a small fee, and 2 free copies of the book.
Entries must be between 1,000 and 2,000 words in length
Deadline: midnight 14 January 2019.
Winning entrants notified by the end of April 2019.