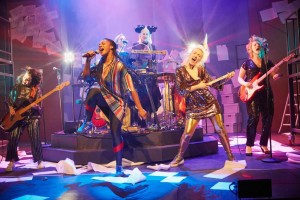 A Pacifist's Guide to the War on Cancer
January 26 – February 3
On tour until March 29
Liverpool PLayhouse
https://www.everymanplayhouse.com/
4*
I particularly wanted to see this show because it's Bryony Kimmings with Complicite – a killer combination. You think that's bad? You ain't seen, or heard, anything yet. The production is of
necessity propelled by the darkest of what we might describe as humours. Myth, mystery and misconception surround, swirl round, what we think we know about cancer.
Staging is superb, chaotic and precarious – art mirroring life. Two huge scaffolding structures at each side, one for Bryony in her office cum ivory tower as it were, the writer having to start doing research into cancer; the other for Lara Veitch, around whom much of the plot revolves; she has LFS, a predisposition to cancer, They are manoeuvred around the stage during explorations into the testimony of people with cancer, and visits, to friends, hospital and time spent in two very different places, the kingdom of the well and the kingdom of the sick. The boundaries can prove insurmountable; implacable barriers.
In the middle of the stage is a band stand, and the music is, fittingly, mostly punk, belted out by the four wmen who also, splendidly, take on, and excel in, various roles: Eva Alexander; Gemma Storr; Lottie Vallis; Elexi Walker. It is a shame however that dialogue is occasionally drowned, especially when there is much of importance to say.
It is a very autobiographical piece, the playwright having blurted out the pitch in a meeting. She then has to follow up and deliver the grimmest of goods, whilst of course producing a play which is going to put bums on seats. But as my companion says, cancer is something which affects everybody in some way. Indeed, we all have it but some of us are luckier than others. Undoubtedly, all the advice and suggestions are invaluable; who the hell knows what to say or do when somebody we know, or love, tells us the dreaded diagnosis. And it is crass to cavil but nonetheless, now and then, it all got a little bit too personal, almost indulent, making us look at the writer rather than the writing. For example, a line like 'I love working class women' is not going to go down well with everybody. And the claim that one of the cast is neither actress nor singer may be true, and yet, there they are. Above all, the invitation for extremely moving audience participation would have made a much more poignant ending.
Nontheless, a vital productio in all senses, with a powerful message. One scene alone is unforgettable, when anguish is almost unbearably conveyed by sound effects so prolonged and discordant they drill mercilessly into brain and bone.
Like or not, and none of us do want to think about these things, this is a show which everybody would be well advised to come along to see.