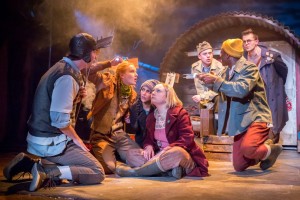 December 1 – January 14
The Secret Seven
Storeyhouse, Chester
4*
Can there be a child anywhere in this country who hasn't read something by Enid Blyton – maybe simply because adults may tend to frown on such popular writers. Well, the past isn't just another country but invariably politically incorrect and a nightmare for upholders of Health
and Safety. I mean, children running wild, day and night with their parents having no idea where they are or what they're up to – and no mobile phones of course. It should be noted, incidentally, dubious areas like child abduction are well handled in Glyn Maxwell's adaptation; the sinister implications of subtext do not overwhelm the plot. And as regards things like feminism, Ms Blyton probably didn't give a fig, too busy creating clever, lively girls every bit as good as the boys, and in every way.
The plot, admittedly, does get rather complicated and there is of necessity a re-cap towards the end of the production. Initially, the main thing keeping the Secret Seven busy is avoiding Jack's infuriating stister, Susie, and her even more annoying sidekick, Binkie. Fair enough, but they enliven the action no end, as jumpily subversive as a pair of punks. And the every day doings of the band of friends are in such contrast to the strange goings on of Joko, Nimms and Goldie, the latter's seem positively surreal. Or rather, negatively because these, mostly, are the villains. And then, strange sightings and even stranger doings start to provide clues and the Seven are eager to start investigating. What's going on in the haunted cottage? Why is the grand Xmas celebration planned for the Village Hall at risk?
Although not a Pantomime, some of those traditions feature here, such as audience participation which as ever, wouldn't know a rhetorical question if you asked it. Just as amusingly, it ran the gamut, from unexpectedly helpful youngsters to a bit of audience contradiction. Pass the parcel probably seemed like a very good idea on paper but evolved into something more like Chase the Ace (present). Like a panto, it is occasionally messy with inconsistencies stretching credulity, and too much going on, such as a climactic chase scene embellished with acrobatics.
The set is a glorious, complex jumble, most of the action taking place in the Seven's headquarters, an Anderson shelter. At the back stands the haunted cottage, while the landscape is decorated with buildings and walls suggesting the town, even a pond, rather under used at the end when some of the children go skating. To the side is the orchestra whose musicians venture forth as the villagers, singing carols.
It is quite a large cast (yes, the clue is in the title) but they manage to manoeuvre very well, on and off stage, and with each individual standing out; no easy task, but director and writer have pulled it off. Interestingly, and not really surprisingly, the most child like actor, George Caple, as naughty Jack proved the most popular with the auidience, closely followed by madcap livewire Binkie (Tilly-Mae Millbrook), They are terrific, along with the other five:Harry Jardine's Peter is earnest and a wee bit pompous as leader Peter, George (Anton Cross), treated somewhat as a pet, with Kaffe Keating as the obligatory brainbox Colin. Aryana Ramkhalawon is occasionally inaudible as the rather fey Pam, while the other two, Barbara (Molly Logan) and Janet are robustly determined, practical and sensible, Harriet Sister making a smashing job as the latter. After all, it's not easy being a grown-up… Nick Figgis switches from no-nonsense Dad to a very effective villain, Joko, who clearly appealed to a lot of the audience, unlike his accomplice, Nimms, Jeel Sams being rather subdued. But Evangeline Hartley (Goldie) is suitably ethereal and dainty as a pierrot Goldie, and a magical mime, while Barbara Hockaday as Mum turned in a delightful cameo, coming on with skewiff headscarf and flour daubed cheek, having been at the mulled wine. And there's a dog, briefly; otherwise a niftly operated monosyllabic puppet which goes down a treat.
Yes, tumultuously anarchic and winsomely nostalgic, ultimately charming children and adults alike, what can you say but – jolly good show.