Orbis 181, Autumn
£5 (Overseas: £10/€14/$16); Subs: £18/4 pa (Overseas: £38/€50/$60)
Front cover artwork: 'Bridge Over Troubled Waters' by Shanina Conway
https://shanina-conway.pixels.com/index.html?tab=images&page=3
The Long and the Short and the Tall? Well, long poems this time, certainly,
and a lot that rhyme  (which perhaps this should do in honour of the occasion),
except – Helen Harrison's  The Rhythm of Wood. Plus a couple under 10 lines,
and maybe you'll agree with  Gregory Arena, that We're all Dr Who?
Yes, quite a few Tales of the Unexpected: ever come across
The Patagonian Su? Let Colin Sutherill explain. Or you could visit  Mt. Hiei
in the company of Pauline Flynn, perhaps pay a Cold Call, with Martin Malone.
Meanwhile, Lay by Gale Acuff is entirely open to interpretation,
and better pay heed to Marie Dolores's suggestion: Beware the Meek.
What exactly does Cathy Whittaker have in mind, saying, I will buy a trunk?
No prizes however for guessing whom Grahame Lloyd's
Trumpery Trumpety Trump is about. And forgive us
if we seem to be blowing our own trumpet, Because reading the magazine –
you'll soon see why…
Featured Poet

Lyn Moir: Life Drawing; Playing Deck Shuffleboard with Somerset Maugham, 1948;
At the Movies, Ohio 1942
Poems from Matt Barnard, A Portrait of the Artist as a Sasquatch;
Judith Drazin, A Blue Time; Jonathan Edwards, Best Man;
Eve Jackson, The Dutch Circus Came To Town and They Missed It;
Grahame Lloyd,Trumpery Trumpety Trump
Prose from
Gregory Arena, Examination: the Italian English Certification Centre Cambung ©;
Christine Despardes, MassCity; Joanne Feltham, Perspectivo (Translation):Perspective
Past Master: David Troman on Johann Wolfgang von Goethe
Article: Carol Sausman: On Rhyme and Reason
Reviews by Maria Isakova Bennett, Ross Cogan, Angelina d'Roza,
David Harmer, Lindy Newns, Lynne Taylor, David Troman and Noel Williams
Orbis Contributors also include
Kevin Barrett; Jane Blanchard; A. C. Clarke; Michael Coy;
David Crann; Fiona Donaghey; Kieran Egan; Scott Elder;
Aidan Fadden; Leo Holloway; Patricia Leighton; Tim Love; Julie Lumsden;
Patricia McCaw; D. A. Prince; Tanya Prudente; Alexandra Sashe;
A. K. S. Shaw; Anne Symons; Philip Williams; Alessio Zanelli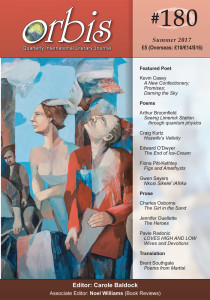 bis 180, Summer
£5 (Overseas: £10/€14/$16); Subs: £18/4 pa (Overseas: £38/€50/$60)
Front cover artwork: 'Day Out by James Walsh ©
back cover, detail from image: www.sarahsamuels.co.uk
Here's one for all those with a child genius, and a vague yearning to learn
(just try googling it…): be intrigued by Laura Seymour
and The fate of the peanut specialist. Not to mention Frances Sackett's
description of the Moon in Flood –and why is Mum's Laughing (Anne Stewart)?
And just how do you go about Outwitting Baba Yaga? Pat Farrington explains,
while John Andrew spins a yarn about his Line of Ancestry.
Join in with Elizabeth Barton's Song of a Suburb, keeping a watch, though,
for Sue Davies and The Strawberry Thieves, as well as The Burner
(Tom Moody). Then relax with some Cocktails in the company
of James Conor Patterson, raising a glass to Neil Beardmore's Amanuensis.
But heed the Teachings of the Shaman from Louis Nthenda,
and Sarah Barnsley's instructions:
We have made a number of key appointments –
be sure to keep yours with this issue of Orbis…
Featured Poet Kevin Casey: A New Confectionery; Promises; Darning the Sky
Poems from:
Arthur Broomfield, Seeing Limerick Station through quantum physics;
Craig Kurtz, Huswife's Velleity; Edward O'Dwyer, The End of Ice-Cream;
Fiona Pitt-Kethley, Figs and Amethysts; Gwen Sayers, Nkosi Sikelel' iAfrika
Prose from Charles Osborne, The Girl in the Sand;
Jennifer Ouellette, The Heroes;
Pavle Radonic, LOVES HIGH AND LOW Wives and Devotions
Translation: Brent Southgate, Poems from Martial
Past Master: Helen Ashley on Edward Thomas
Reviews by
Clairr O'Connor, Angelina d'Roza, Philip Dunkerley, David Harmer,
D. A. Prince, Andrew Taylor, David Troman and Noel Williams
Orbis 180 contributors also include
Mike Alderson; Aidan Baker; Linda Benninghoff;
Toby Campion; Andrew Curtis; Nathan Fidler; Angela Howarth;
Ian McLachlan; Antony Mair; Katherine Noone; Val Pargeter;
Karen Petersen; Laura Potts; Paul Protheroe; Natalie Scott;
K. V. Skene; David Troman; Chris Woods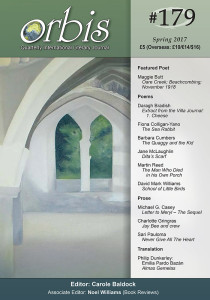 Orbis 179, Spring
£5 (Overseas: £10/€14/$16); Subs: £18/4 pa (Overseas: £38/€50/$60)
Front cover artwork: 'Waverley Abbey' by Melanie Zohrabi  
back cover, detail from image: www.artgallery.co.uk/artist/melanie_zohrabi_2
It's easy to get confused: do you need to be a Mystic,
like Marilyn Donovan, to be able to understand what lies Beyond,
as Nick Conrad says, or even fathom out the Rubber Hand Trick
with the help of Sue Norton. Coming From Here with Nick Carding,
you can find out why the Half-Light at Scarborough is important to
Sue Spiers, before learning from Helen Harvey, who is Coming Home to Roost?
On a more serious note, Lavinia Kumar tells us about
A Slave Catching God's Eye, and there's a warning from
Jill Boucher: Droit du seigneur. But you can still enjoy Michael Swan's Ballade
and relish Audrey Molloy explaining why Envy is a Daylily,
then let Antony Johae tell you all about an African Epiphany. So remember,
if Marlon Brando makes his Debut on a Shopping Channel (Peter Ebsworth),
you're all welcome to make yours here in Orbis…
Featured Poet: Maggie Butt: Oare Creek; Beachcombing;November 1918
Poems from: Daragh Bradish, Extract from the Villa Journal. Cheeses;
Fiona Colligan-Yano, The Sea Rabbit; Barbara Cumbers, The Quaggy and the Kid;
Jane McLaughlin, Dita's Scarf; Martin Reed,The Man Who Died in his Own Porch;
David Mark Williams. School of Little Birds
Prose from: Michael G. Casey, Letter to Meryl – The Sequel;
Charlotte Gringras, Jay Bee and crew; Sari Pauloma, Never Give All The Heart
Translation: Philip Dunkerley: Emilia Pardo Bazán, Almas Gemelas
Past Master: Pat Galvin on William Butler Yeats 2
Article: Lyn Cooper: Poet from 19 to 91 by Marti Cooper
Reviews by Maria Isakova Bennett, Clairr O'Connor,
Angelina d'Roza, David Harmer, D. A. Prince, Lynne Taylor,
David Troman and Noel Williams
Orbis 179 contributors also include:
Marti Cooper; Clive Donovan; Michael Farry; Doreen Hinchliffe; Charlie Jones;
Marie Lecrivain John McOwat; Lee Nash; Tanya Nightingale; Charles Osborne;
Felix Purat; Zara Raab; Lynne Taylor; Li C. Tien; John Whitehouse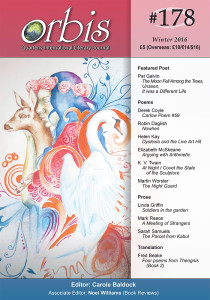 Orbis 178, Winter
£5 (Overseas: £10/€14/$16); Subs: £18/4 pa (Overseas: £36/€50/$60)
Front cover artwork: 'Underneath the Grove of Sycamore" by Gavin Singleton
back cover, detail from image: https://www.artgallery.co.uk/artist/gavin_singleton
Not long now, surely…Saving the Light (Tom McFadden) tells us
Spring is on the way.and we'll all be outside, tucking into Haagen Dazs
alongside Geroge Saito,somewhere, oh I don't know, perhaps overlooking
a Harbour Scene, sharing the view with Jack Little.
We could be looking for Charlie Baylis and his Mermaids, or even
The Witch, Her Book in Martha Street's tale.However, given the English weather,
more likely we'll be thinking Sarah Sibley's got it right: The wind is a curse,
if not quite as bad as what Vuyelwa Carlin says concerning
a Rat in the Frosty Garden. But let's get serious and discover
what Dorothy Yamamoto knows about A brief history of footwear.
Or should that be Surreal? Courtesy of Michael Henry, Je suis un mouchoir –
because you can enjoy all sorts, even the unexpected, in Orbis.
Featured Poet
Pat Galvin: The Moon Fell Among the Trees; Unseen; It was a Different Life,
Poems from: Derek Coyle, Carlow Poem #59; Robin Daglish, Nowhen;
Helen Kay, Dyslexia and the Live Art Hit; Elizabeth McSkeane,
Arguing with Arithmetic; K. V. Twain, At Night I Covet the State of the Sculpture;
Martin Worster, The Night Guard
Prose from: Linda Griffin, Soldiers in the garden;
Mark Reece, A Meeting of Strangers; Sarah Samuels, The Parcel from Kabul
Translation: Fred Beake, Four poems from Theognis (Book 2)
Past Master: Philip Dunkerley on Cora Coralina
Reviews by
Ross Cogan, Clairr O'Connor, David Harmer, Afric McGlinchey,
D. A. Prince, Lynne Taylor, David Troman and Noel Williams

Orbis 177 contributors also include:
Mark Behan; Denise Bennett; Gail Dendy; Richard George;
Ann Gibson; Alan Hester; Dorrie Johnson; Fred Johnston; Robert Kennedy;
Mary Lee; Michael McCarthy; Dave Medd; Nancy Anne Miller;
Simon Perchik; Jenna Plewes; Joan Sheridan Smith; Ginny Sullivan;
Peter Sutton Merryn Williams; Martin Worster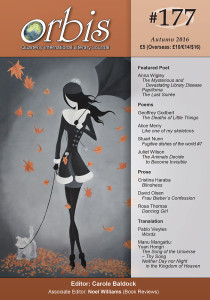 Orbis 177, Autumn
£5 (Overseas: £10/€14/$16); Subs: £18/4 pa (Overseas: £36/€50/$60)
Front cover artwork: 'Copper Rain' by Kelly Marie Davidson
back cover, detail from image: www.artgallery.co.uk/artist/kelly_marie_davidson_2
Singing in the Rain, and Walking the Dog; as you may guess
from the cover, plenty here to be making a song and dance about,
rather than having to think about Xxxx…present buying,
unless a copy of the magazine of course, could be Contained,
Alison Chisholm claims, while Jenny Hockey makes the case more strongly:
Why not end your days without because you and Bobbie Sparrow both,
could be awaiting The quiet intercession of Eros,
or savouring the sound of Noctilucence with Noel Williams.
Isn't that The key (John Brooke)?
Craig Dobson tells us all about Water's Way,
but the way we do things at Orbis is to ensure
that you continue enjoying the magazine.
Featured Poet
Anna Wigley:The Mysterious and Devastating Library Disease;
Papilloma; The Last Soirée
Poems from:Geoffrey Godbert: The Deaths of Little Things;
Alice Merry: Like one of my skeletons;
Stuart Nunn: Fugitive dishes of the world #7;
Juliet Wilson: The Animals Decide to Become Invisible
Prose from: Cristina Haraba: Blindness; David Olsen: Frau Bieber's Confession;
Rosa Thomas: Dancing Girl
Translation: Pablo Vieytes: Words;
Manu Mangattu:Yuan Hongri:The Song of the Universe – Thy Song;
Neither Day nor Night in the Kingdom of Heaven
Past Master: Stuart Nunn on Alexander Pope
Reviews: Maria Isakova Bennett, Philip Dunkerley, David Harmer,
D. A. Prince, David Troman and Noel Williams
Orbis 177 contributors also include:
Christopher Allan; James Aitchison; Anne Banks; Stephen Bett;
Jo Burns; Mark Czanik; Adele Fraser; David Harmer; Richard Hughes;
David Lloyd; Michael Loveday; Eamonn Lynskey; James McKee;
Olha Matso; Kathy Miles; Anita Ouellette; Ali Pardoe; Sari Pauloma;
Fred Pollack; Neil Reeder; Marilyn Ricci; Marg Roberts; Davide Trame;
Jay Whittaker; Helen Whitten; Nicky Winder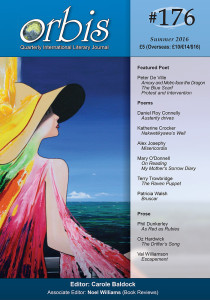 Orbis 176, Summer
£5 (Overseas: £9/€12/$16); Subs: £17/4 pa (Overseas: £35/€42/$58)
Front cover artwork: 'Horizon' by Peter Leslie Wilks
back cover, detail from image: www.artgallery.co.uk/artist/peter_leslie_wilks
Still waiting for the sunshine? Maybe this issue will brighten things up
with Helen Ashley and some Borrowed Light, whether you join
Grahaeme Barrasford Young, Playing, Lorna Sherry up in Edinburgh,
Nicki Griffin, In Carnadoe Waters, or go with Juli Jana on a Bus Ride
Further still: Alec Taylor's Space Ilimad. And humming along to
Lara's Theme (John Arnold), you could enjoy Miraculous Kashgar,
a Story told by Li Suo and Liang Yujing, and Watching The Invisible Man
with Patrick Deeley. But fine weather or not, unlike Hilaire, (I make no) Apology,
because to experience anything fully,as Bibhu Padhi tells us,
what's needed is: Touch, Taste, and Time –
all of which you can have with Orbis
Featured Poet
Peter De Ville:
Amoxy and Metro face the Dragon; The Blue Scarf; Protest and Intervention
Poems from: Daniel Roy Connelly: Austerity drives;
Katherine Crocker: Nakwetikyawa's Well;
Alex Josephy: Misericordia:
Mary O'Donnell: On Reading My Mother's Sorrow Diary;
Terry Trowbridge: The Raven Puppet; Patricia Walsh: Bruscar
Prose from: Phil Dunkerley: As Red as Rubies;
Oz Hardwick: The Drifter's Song;
Val Williamson: Escapement
Past Master: Sean Howard on Charles Sorley
Reviews: Maria Isakova Bennett, Philip Dunkerley, David Harmer,
D. A. Prince, David Troman and Noel Williams
Orbis 176 contributors also include:
Gary Beck; Jane Blanchard; C M Buckland; Lucinda Carey;
Jim Conwell; Stella Davis; Judith Dimond; Frances Galleymore;
Chris Hardy; Ashleigh John; Gloria Keeley; Richard Livermore;
Tim Love; Terry Quinn; Chelsea Ruxer;
Caroline Smith; Jean Taylor; F. J. Williams