Multi Genre
May 31
# The Bridport Prize 2016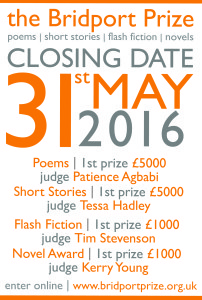 Poems/Short Stories/ Flash Fiction/Novels
Prizes: £5000, £1000, £500; £100 x10 (Short Story and Poetry);
£1000, £500, £250; £100 x 3 (Flash Fiction);
£1000 + mentoring, The Literacy Consultancy; £500 + mss appraisal;
£300 + 50 page mss appraisal x 3 shortlisted
Dorset Award: £100.
Anthology publication (£12.25/OS: £16.25).
Top 4 poems submitted to the Forward Prize;
top 13 stories, BBC and Sunday Times/EFG Awards;
winning stories and shortlist read by leading London literary agents.
Results, October;
Prizegiving, October 18.
Fee: £10 (story); £9 (poem); £8 (flash fiction); £20 (novel)
Length: 5000 words; 42 lines; 250 words; 8000 words..
Judges (shortlist): Patience Agbabi (Poems); Tessa Hadley (Short Stories);
Tim Stevenson (Flash Fiction); Kerry Young (Novels)
Over 16s.
Enter online, or
SEND SAE: The Bridport Prize, PO Box 6910
Bridport, Dorset DT6 9BQ; 01308 428333