You are currently browsing the monthly archive for June 2015.
June 19
Canterbury Festival Poet of the Year Competition 2015
Just out – the new Grey Hen chapbook series
Themes: Colour, Weather and the Seasons.
http://www.greyhenpress.com/books/

Small enough to fit in a pocket
and priced to be a good small present or stocking-filler
at £4 each.
North West launch of Shades of Meaning, Transitions and Outlook Variable
at Central (Harris) library in Preston, 3-4.30 pm, June 6
Readings by various contributors.
http://www.greyhenpress.com/books/ Read the rest of this entry »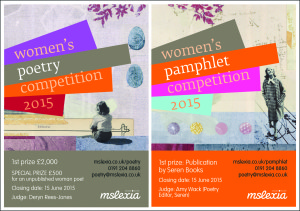 June 15
Mslexia Women's Poetry Competition 2015
www.mslexia.co.uk/poetrycompetition