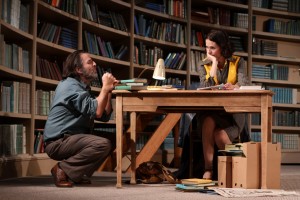 February 6 – March 7
Educating Rita 
Liverpool Playhouse
Reviewed for Whatsonstage:
http://www.whatsonstage.com/liverpool-theatre/reviews/educating-rita-liverpool-playhouse_37134.html
Image: Stephen Vaughan 
4*
Imagine going to Hamlet, knowing next to nothing about the play, or Shakespeare, for that matter – can't be done, not in these information rich days. Back in 1979, however, Willy Russell magically conjured up one such scene, one of many, with Rita experiencing Macbeth.
Though Educating Rita isknown for its comedy, in the world according to Frank, by his definition, and his actions and attitude, it is also a tragedy: a man who was a gifted poet, is doomed, after a brief renaissance, hell-bent on the path to self-destruction. Australia, in fact, in a jaunty conclusion which may seem an oddly happy ending. Leanne Best excels in this final scene but while she deals adroitly with an infatuated alcoholic, his apparently calm acceptance does not ring quite true. His petty jealousy has previously erupted in a comment about Mary Shelley, knowing Rita now fully understands the cruel allusion. Education leads you forward, offering choices, but also alienates; the risk of being marooned, between those left behind, and those at a level you still may not be able to attain.
OK, nitpicking, because right from the start, the audience is in for a treat. The set is damn near as breathtaking as the first view of the magnificent Picton Library: a tome lined, almost tomb like chamber; hidey hole for him, a whole new world for her. Dominated by a low, tilted circular ceiling cum screen, this is somewhat under-used; after a whizz through 1970s images, there's just a close-up and details from a painting Rita admires.
Perhaps one of the most amazing things about this play and its long shelf life, you could say, is that given this solitary location, it is gripping, with remarkable, sparkling dialogue matched by first rate actors. Rita, passionate, determined, and goodness, so brave and funny, is a completely enchanting heroine. And genuinely so, embarking on her quest, and succeeding, against all the odds. It helps of course that she is so attractive, in her trendy clothes – yes, even for the 70s. Frank is stuck with his cardies, in a kind of monochrome uniform.
And for an erudite man, he should know a lot better as the roles shift, his mentor bewitched by her muse. Harking back to Pygmalion and Galatea, Rita is far more than raw material to be moulded, or indeed, owned. Initially, she feels she has not the mind or the language to express her feelings and thoughts, similarly, words can barely do justice to Leane Best's performance – as if born to play this role. Meanwhile, Con O'Neill almost eradicates thoughts of Michael Caine though just as well he's playing a drunk; at times, his voice is strained almost to the point of speechlessness.
There was of course, a standing ovation, for the actors, Willy Russell, the play, and for Liverpool – tickets have nearly sold out, so make sure of yours.