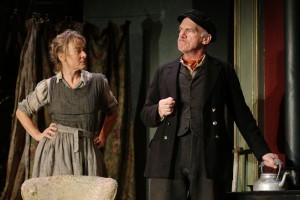 October 1-18
Juno and the Paycock
3*
I was so fortunate taking my exams once upon a time, to have the opportunity to study some wonderful literature: Hamlet; Persuasion; Staying On; the poems of Wilfred Owen and John Donne. And Shadow of a Gunman by Sean O'Casey, which also appeared at the Playhouse, many years ago. And I saw the NT production of Juno and the Paycock, so it has been interesting to contrast and compare, especially since Juno was played by Sinéad Cusack.
The staging here is undeniably impressive, about the most literal metaphor you could come across: everything, furniture and all, piled up at the back nearly to the ceiling like a gigantic rubbish tip, in a 'state of chassis'. It's a constant reminder of Dublin's precarious tenement slums, and the lives of the inmates. Not to mention their hopes, plans and dreams, epitomised in the story of the Boyle family in the 1920s, and all their woes. Poverty is endemic and feelings run high, sympathetic one moment, scathing the next; rival factions are deadly enemies during The Troubles, dear me, that most peculiar euphemism, as if a slight ailment which could be easily cured by popping into the local chemist for a drop of something.
But just like Frank in Shameless, any excuse for a party, and who wouldn't pull out all the stops to celebrate an unexpected windfall? Who could blame the Boyles for wanting to forget their troubles, particularly maimed, tormented son, Johnny (Donal Gallery) and the Paycock himself, feckless, workshy Captain Boyle. Des McAleer is magnificent, if one can use such a word, with this portray of an incorrigible walking disaster.
However, it is a pity that virtually every character is over the top and played for laughs, from Neil Caple's cameos, though eyecatching, to Robin Morrissey's Charles Bentham, suitor to daughter Mary (Maureen O'Connell); highfalutin' and gawky as a heron, it's nigh impossible to imagine him in any way capable of seduction or deceit (although that may be the idea of course). As she was unfortunately a bit stilted in some scenes, it would have been quite a good match, but consequently, none too easy to empathise with her plight.
The Paycock himself just about gets away with it with his (panto)mimes of outraged innocence and imaginary pain, in one scene, metamorphosing from bird to mouse, whiskers twitching at delicious smells. Likewise, his constant companion, that sleazy scrounger Joxer, superbly evoked by Louis Dempsey. You could not get a greater contrast to the twin layabouts than the industrious, honest Juno, well played by Niamh Cusack. Similarly, the tragic Mrs Tancred (Maggie McCarthy) mourning her murdered son, and spirited songbird, Maisie Madigan (Aoife Mamahon).
Plenty to reflect on, and, sadly, plenty that simply does not change. But for all that, you have to echo Joxer – a darlin' production.