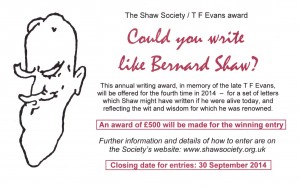 Playwriting
September 30
THE SHAW SOCIETY / T F EVANS AWARD 2014
www.shawsociety.org.uk
1st prize: £500
Winner notified by: 15 December 2014
Entry: FREE
A set of letters which Bernard Shaw might have written if he were alive today,
and reflecting the wit and wisdom for which he was renowned. 
For full details, see the Society's website: www.shawsociety.org.uk
Judges include: Michael Friend, Edward Kemp. Alan Knight, Barbara Smoker and Sylvia Syms.
Emailed entries preferred (send to: tfevansaward@shawsociety.org.uk)
or send 3 copies to: Shaw Society / T F Evans Award, c/o 22 Selborne Road, London, N22 7TL .