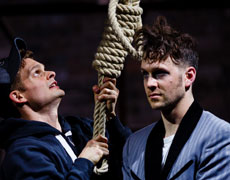 June 21-July 12
Touring until October 26

Dead Dog in a Suitcase and other love songs
Everyman, Liverpool
www.everymanplayhouse.com
Reviewed for Whatsonstage; shorter version here:
http://www.whatsonstage.com/liverpool-theatre/reviews/06-2014/dead-dog-in-a-suitcase-tour-liverpool_34877.html
4*
Yes of course it's a musical, but so varied – there's method in their Madness, as well as Sid Vicous etc, etc in there, and so passionate, it's like no other.
Not that it would be, with Kneehigh in charge. The satirical Beggar's Opera has been dragged, kicking, screaming, and unbelievably, energetically entertaining, into the 21st Century.
As far as the eye can see, there are umpteen things going on, although that can be distracting. The setting itself is the world's most complicated fairground and adventure playground, incorporating a slide, a fireman's pole and inventive puppetry: maybe the most anarchic ever Punch & Judy.
The cast are all singing, all dancing and all completely brilliant; exceptional musicians and actors both. In playing the classic antihero, Macheath, Dominic Marsh somehow effortlessly picks you for his side, probably because he is up against the conniving Peachums, a great double act from Martin Hyder and Rina Fatania, and the corrupt Lockit, a puckish, punkish Giles King. Then you have three ladies as heroines, their exquisite performances further enhanced by beautiful voices: Patrycja Kujawska (Widow Goodman, determined on justice), Audrey Brisson (Lucy Lockit, with extra dollops of feistiness) and Carly Bawden as Polly Peachum, undergoing a remarkable transformation. But Andrew Duran (Filch) has the Midas touch, shining in each of his several roles – certainly pretty damn good at everything.
To say you can rely on Kneehigh productions is a misnomer where the verb is concerned, for they never concern themselves with the obvious and bring a unique interpretation to all their shows. Some misfires, notably the one about Steptoe. And my son emphatically cites a visit to the 'Umbrellas of Cherbourg' should there ever be any doubt that he loves me. Well, I quite enjoyed it, and Meow Meow was amazing, but it's difficult to take something seriously when singing 'Hi, Guy…', French accent ou non.
However, to reiterate, what we have here is a musical quite unlike any other with all the potential of becoming a perennial hit. In parts, sheer chaos but overall, a sheer delight, worthy of the standing ovation.