April 8-12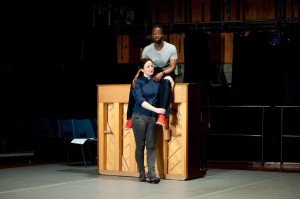 On tour until August 2
The Events
Everyman, Liverpool
www.everymanplayhouse.com
4*
It's hard to imagine anything more serenely beautiful than the sound of a choir, or more frightening than the noise of sudden gunfire.
How the former comes literally under fire, and the effects on victim, Claire and villain, The Boy, are explored here in a most inventive way.
The stage is virtually bare apart from the seating, the customary table for tea urn and cups, and an orange backdrop curtain. It fills up with the community choir, a different one each time; we were fortunate to see Sense of Sound Singers, who open proceedings by demonstrating a unique harmony and versatility.
And there's the Boy, listening but unwilling to join in. Clifford Samuel is quite astonishing as a lad who identifies so strongly with the underdog, from an Aboriginal child to a beaten teenage girl, but barely articulate his feelings. Obviously, what Claire, who is conducting the rehearsal, most needs to know, and come to terms with, is why he chose to go on the rampage. And then there's the question of revenge… It goes without saying that Amanda Drew, last seen at the Playhouse as a poignant Blanche, is very much in charge here, particularly when most disorientated.
Now you really have to pay attention because Samuel plays a whole host of characters, including, remarkably, a white racist, as well as Claire's lover. Not surprisingly, this takes a little getting used to, and some characters are not so sharply delineated so a switch of scene can begin with the audience at a loss. Similarly, you can't help but wonder whether Claire's putting out the chairs for a brief sit down by the choir, then putting them away again is purely to give her something to do. On top of that, the play is not linear but jumps back and forth, although this certainly adds impact to some of the lines, as does the occasional juxtaposition of humour, often satirical.
Although this curious jigsaw of a production at times seems to have pieces missing and is a little too fractured to follow at all easily, this mirrors the state of mind of both protagonists. Besides, a degree of discomfort is wholly appropriate and makes for a thoroughly intriguing production.