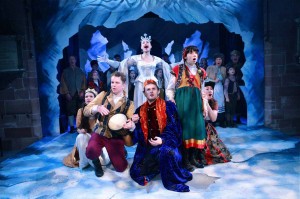 December 5 – January 11
The Snow Queen
St Mary's Centre, Chester
http://theatreinthequarter.co.uk/
Reviewed for Whatsonstage
3*
An interesting choice of Christmas show to play in a church: very gothic.
And despite the irony of references to Norse myths. Conversely, this tale resonates in Narnia of course, and here, there's a nod to The Naked Gun, Ray Bradbury, and, if you ask me, Gogol Bordello, but who's to say adaptations cannot be adaptable: the band of robbers seems to draw on pirates as well as gypsies. However, their introduction appears out of nowhere, and other scene setting does not quite gel.
But as you can tell, music, dance and singing is lively and nicely done, particularly with all the children, as well as the versatile Michelle Long, whether she is hobbling around as Nanna or hopping about as Muninn the raven. Katie Foster Barnes stars too, twinkling away as the intrepid Gerda; a remarkable heroine.
Unfortunately, two villains prove more distracting than doubling up on tension. Ben Tolley's Sorcerer tends to win each round, and he switches niftily from dark to light, as it were, playing Huginn and the Robber King. By comparison, the Snow Queen (Cassandra Charlick) sometimes pales almost into insignificance, except when singing, from operatic to Sade crooning; maybe not entirely appropriate considering David Edwards' brave struggles with Kai's torment.
The show is enhanced via the excellent design: a backdrop with atmospheric video and animation, and the wonderful range of costumes. So there is plenty to appeal to all ages, notably picking up on the Penguin sequence. And if more enthusiasm than expertise, the production nonetheless was clearly much appreciated by the large audience.